Bottle Cap Necklace
Today I finished my very unique one of a kind creation. And I'm sure it's the only one like it. LOL! Like my husband says "It's different". But then, if you look at my other jewelry creations one might say that some of them are a little different as well.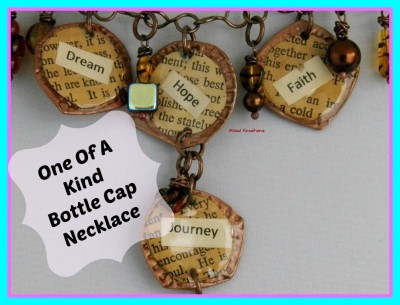 When I first started saving some bottle caps I had no idea what I was going to make. I not only was experimenting with the bottle caps but I also found mod podge dimensional magic. And it is so cool.
I wish I would of took some pictures of the process of making this necklace, but I didn't so I will walk you through the process. First you will need:
How To Make A Bottle Cap Necklace
1. First I hammered the bottle caps flat
2. Spray painted bottle caps (I let mine dry over night)
3. Then I cut out a some what circle shapes from my aged paper to fit on top of each bottle caps
4. I used mod podge to glue them down. Let dry
5. I now glued the paper words on top of the circle shapes with mod podge. Let dry
6. Then I painted a coat of mod podge over the top.
Now I was getting ready to put my creation together when I spotted the mod podge dimensional magic. Hmm, wonder what that would look like. So I grabbed the bottle and…
7. Apply mod podge dimensional magic on top of the bottle cap to cover the paper. (don't shake bottle) Be careful not to get any bubbles in it. If you do just hold bottle upright and squeeze bottle then turn over and suck the bubble right off. Let dry over night.
8. Get your headpins and beads of your choice (I made my own headpins from 20 gauge copper wire that I heat on one end to form a ball) Now thread the beads onto the headpins and make a wire loop and wrap.
9. Punch or drill a small hole just large enough for your jumprings to fit through into the top of your bottle caps. If you want to connect two bottle caps together, or attach beads to the bottom of the caps, then drill a hole on the bottom of the bottle caps too.
10. Now it is time to start connecting it all together. Take your chain and jumprings (I made my own chain and jumprings out of 18 gauge copper wire) and start adding the bottle caps to the chain using your jumprings. Now add your beads.
11. Last of all add your clasp (I used a hook clasp that I made from copper wire).
***This post contains affiliate links, if you click on an affiliate link & buy something I may receive a small commission at no extra charge to you. The affiliate money I earn helps pay the expenses to keep this site running. Please read my full advertising disclosure for more info. Thanks so much for your support!***
Material List
Bottle caps
Rust-Oleum hammered spray paint copper color
aged paper
word on paper
Mod Podge
Mod Podge Dimensional Magic
beads
jumprings
headpins
chain
clasp
hole punching tool or drill
two bent nose pliers
optional- I oxidized and tumbled my chain, headpins, and jumprings before I put it all together.
Ta Da my bottle cap creations. Tell me what you think. Is it different or what?