I have always loved outdoor vintage gardens, but haven't ever thought of making my own outdoor vintage garden. That is until I shared an outdoor vignette by Organized Clutter on my FB page, and the hubby seen it, and said we should make one along the side of the house where we have had a hard time getting things to grow.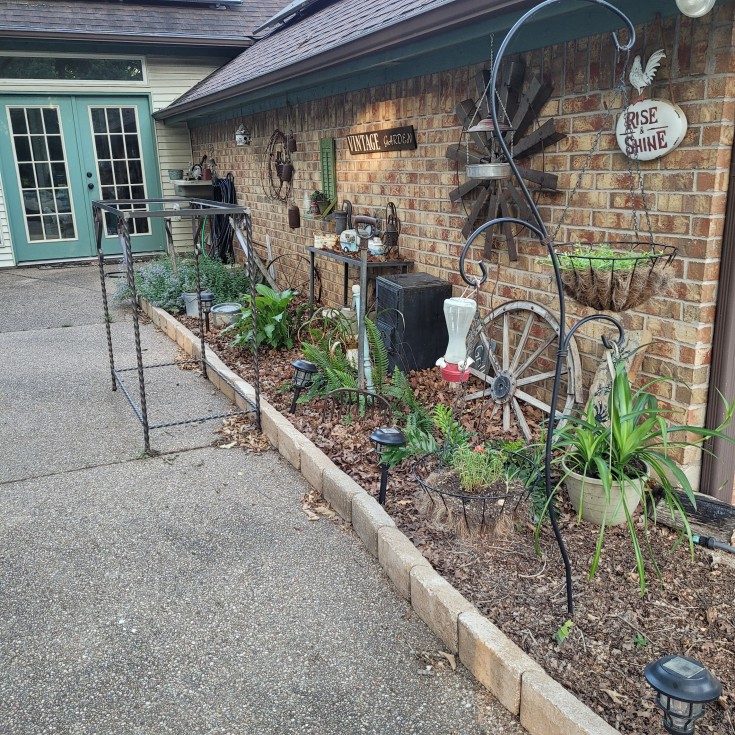 We had some things already that would be perfect for this project. Like the wagon wheel, enamel bucket, fake water pump with small bucket. We also had this old plow, and vintage bells, and this old cast iron heater.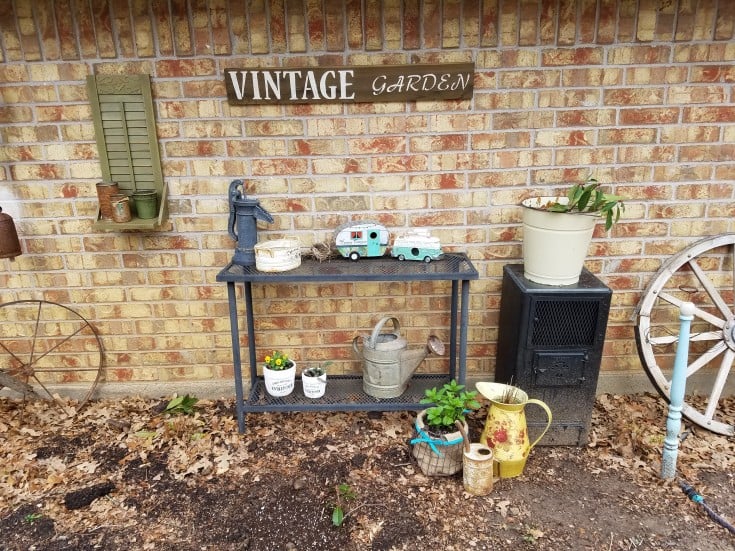 It just so happened to be first Monday trade days in Weatherford when we had decided on doing this vintage garden. So we drove on out to Weatherford to see what other good vintage junk finds we could pick up for our outdoor vignette.
We happened onto the green wood shutter for $2.00 and couldn't pass that up. Next find was the vintage watering pitcher the hubby bought for $20.00. I couldn't bring myself to pay that much because I'm cheap. LOL. But he knew that I liked it so he purchased it for me. That was all that we found, everything else cost a fortune.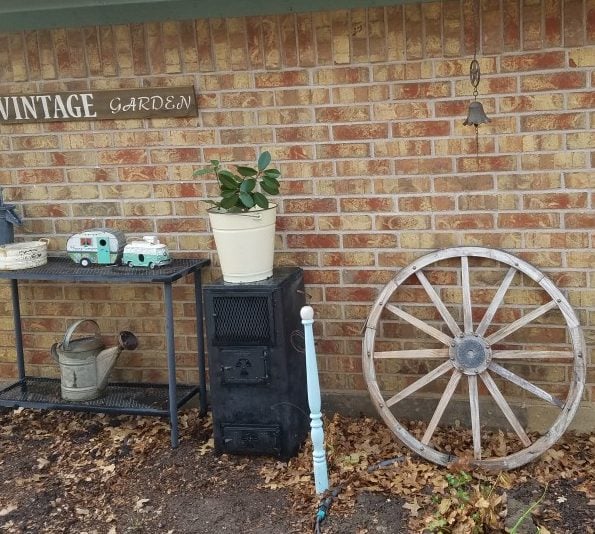 Looking around at home some more I found this floral vintage pitcher, and gas can. The hubby found the birdhouse camper, and Van at the Dollar General. The burlap and wire basket I found at Walmart. The small white pots cams from Home Depot.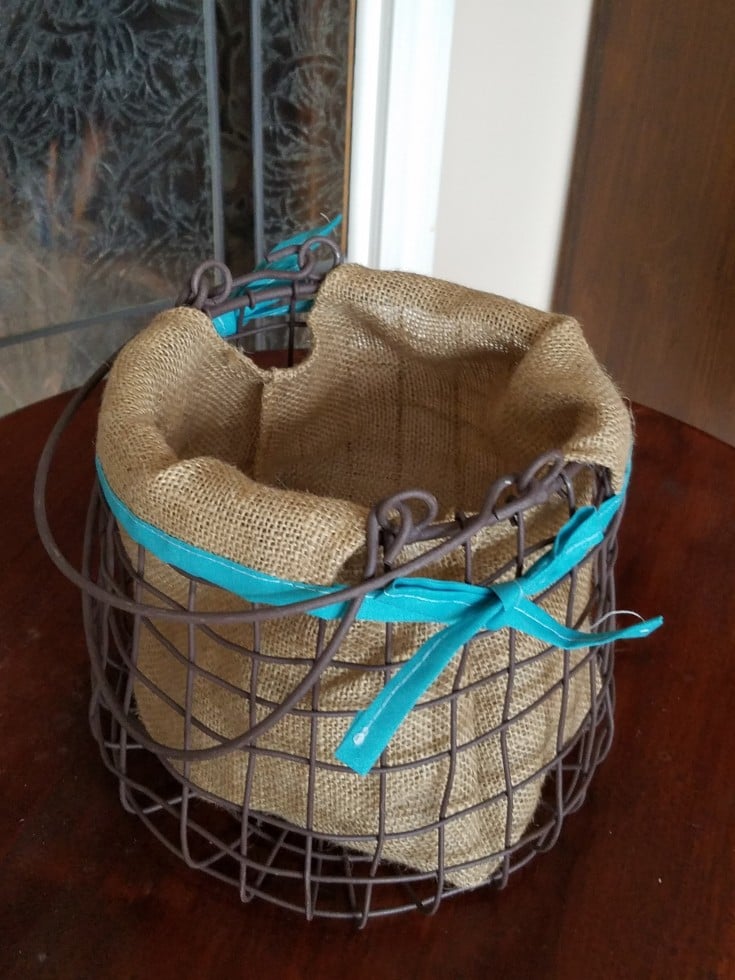 Putting Our Outdoor Vintage Garden Together
We set the black wrought iron shelf in the center with the vintage heater on one side. The plow on one end, and the wagon wheel on the other end. Then we just started adding things.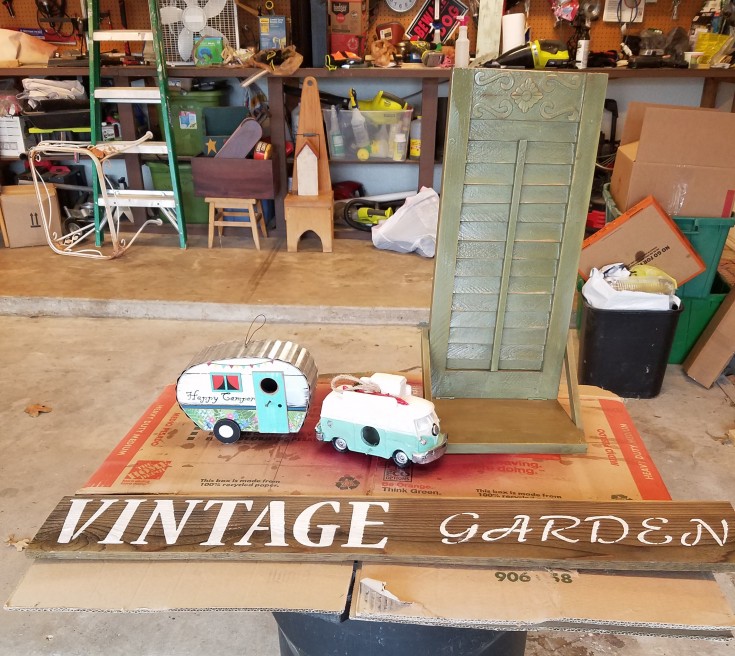 I added some antiquing gel to the green shutter, then sealed the shutter, wooden vintage garden sign that I made from a cedar picket, and the birdhouses with Minwax Helmsman Spar Urethane.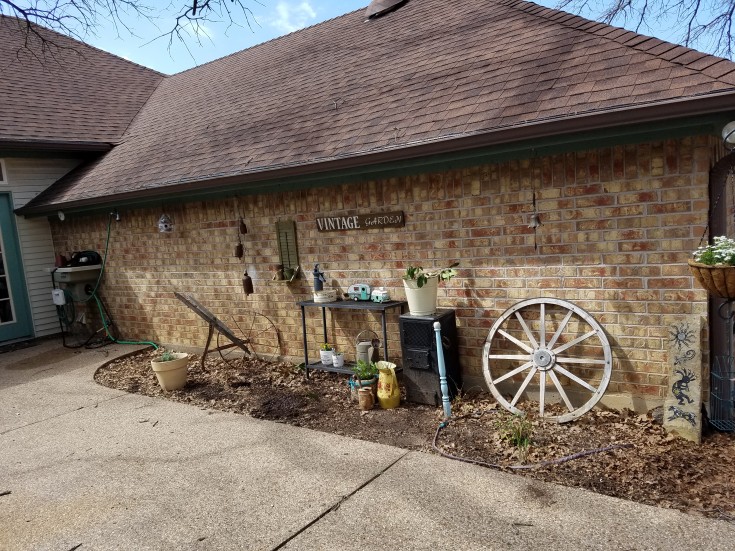 The shutter, and sign were hung on the side of the house. I added a couple rusty cans, some potted plants. A couple hanging flower baskets, and a wire birdcage with a rusty can succulent planter.
I have a few ferns, and Hosta planted, and we will be adding more fun junk to our Outdoor Vintage Garden as we find more items till it fills the whole area that we have designated. Then I will start working on another area. Do you have a Vintage Garden Vignette?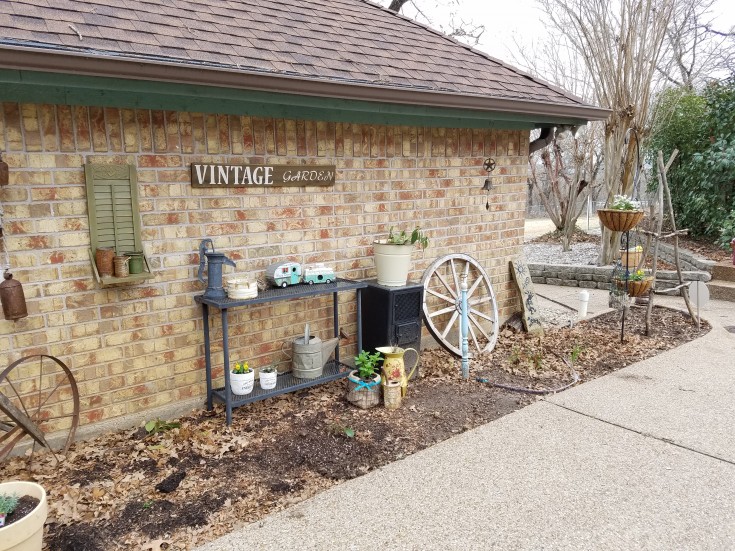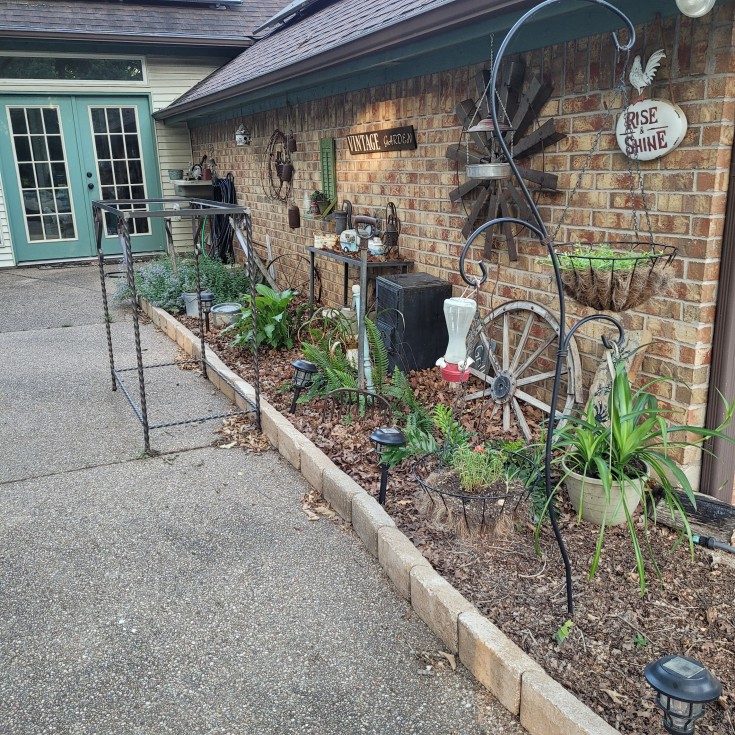 More Post You May Enjoy!
Turning a Wooden Ladder into Yard Art
How to make rusty cans
Thrift Store Vintage Finds