Hi All! I'm a little behind on getting started on my diy Patriotic succulent tin can planters. It's been pretty hectic around her lately. Between my day job work picking up for the summer, yard work, normal housework, and my oldest finding out that she is going to have to have surgery. She couldn't get the help she needed where she lives so she came back to her doctor that she used and delivered her first born when she was living here in the Fort Worth area.
All the previous doctor said nothing was abnormal, but nope things weren't normal. If only the other doctors would of just went farther then just a regular exam. All that was needed was a sonogram, and insurance would have paid for that.
The doctor was so upset with the other doctors because this problem has been going on for several years, and they were making her believe that it was all in her head. Her doctor wants the names of the other doctors, he may contact them.
She is going to have surgery on one of the doctors non-surgery days because he didn't have an opening anytime soon, and he was that concern. So hopefully within a few weeks she will be all better and pain free.
Well enough of what's been going on here, and now let's get on with my Patriotic succulent tin can planters.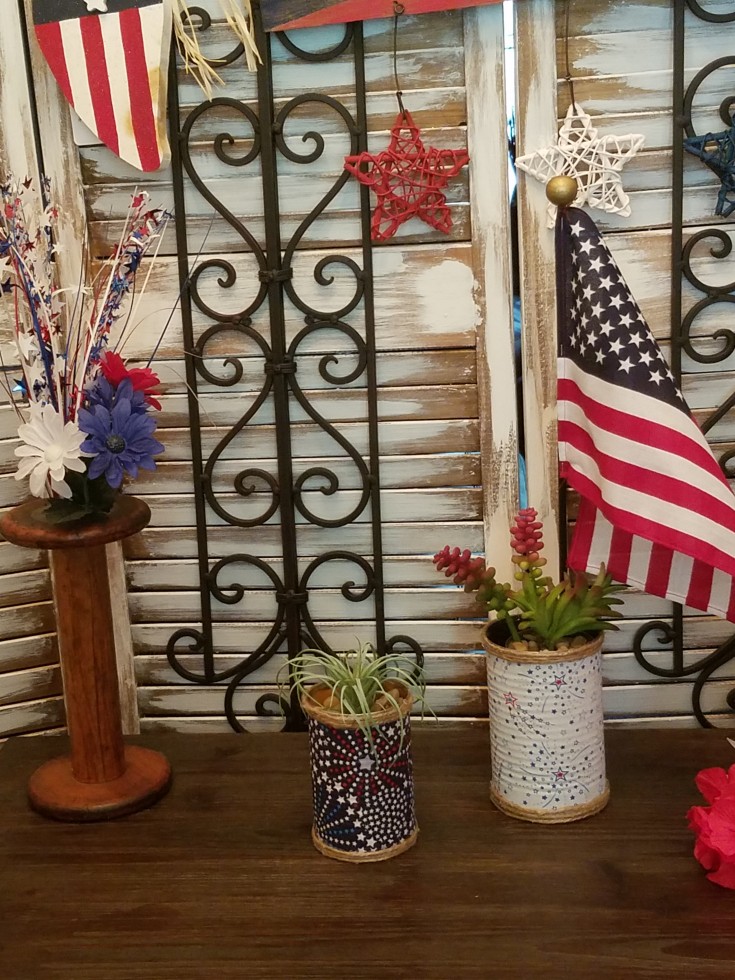 ***This post contains affiliate links, if you click on an affiliate link & buy something I may receive a small commission at no extra charge to you. The affiliate money I earn helps pay the expenses to keep this site running. Please read my full advertising disclosure for more info. Thanks so much for your support!***
Do you like upcycling empty cans? What are some of the things that you make with them?
Supplies Needed
2 empty cans
Mod Podge
2 fabric remnants
Scissors
Paint brush
Twine
Hot glue gun with extra glue sticks
Rocks
Faux succulents
Pen
How to Make Patriotic Succulent Tin Can Planters
Start by washing cans, removing labels, and sticky gunk from the cans.
Wrap fabric around cans and mark with pen so that you know where to cut your fabric to fit cans. Cut with a little bit of an overlap.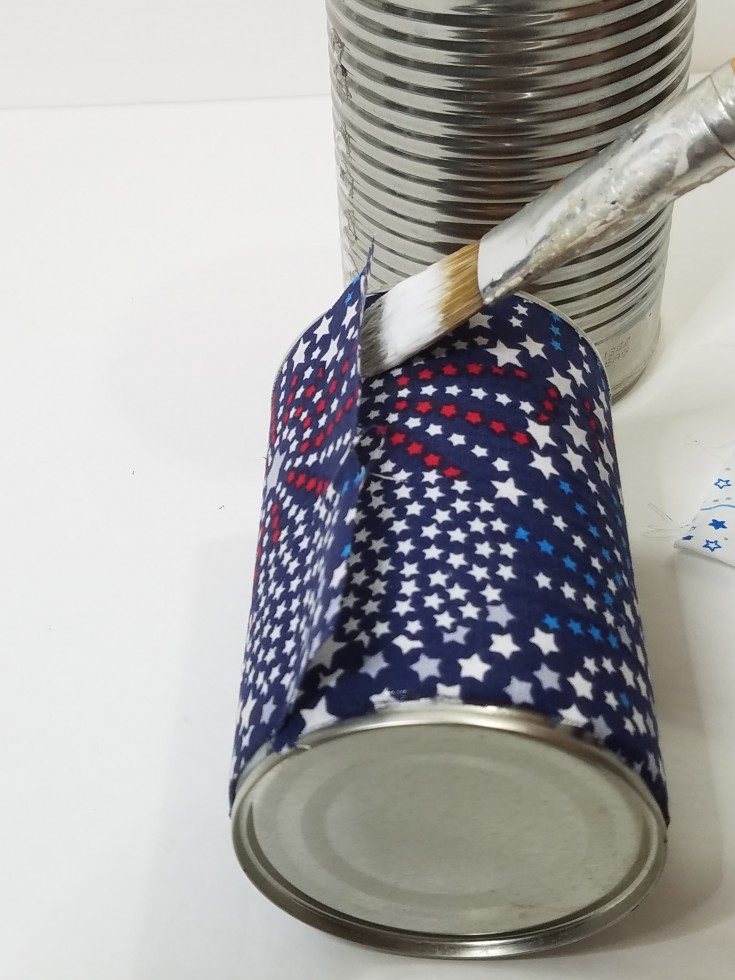 Use Mod Podge to start gluing the fabric around the cans working small sections at a time lining the fabric edges with the top and bottom edges of the cans.
Finish by gluing down the overlapping of fabric.
Next start gluing the twine around the top of the can starting at the rim and working your way down. I made three twine wrap rolls.
Now go to the bottom and start at the rim and work your way up with three rolls.
Fill the cans up with rocks and place the fake succulent stem down into the rocks to hold it firmly in place.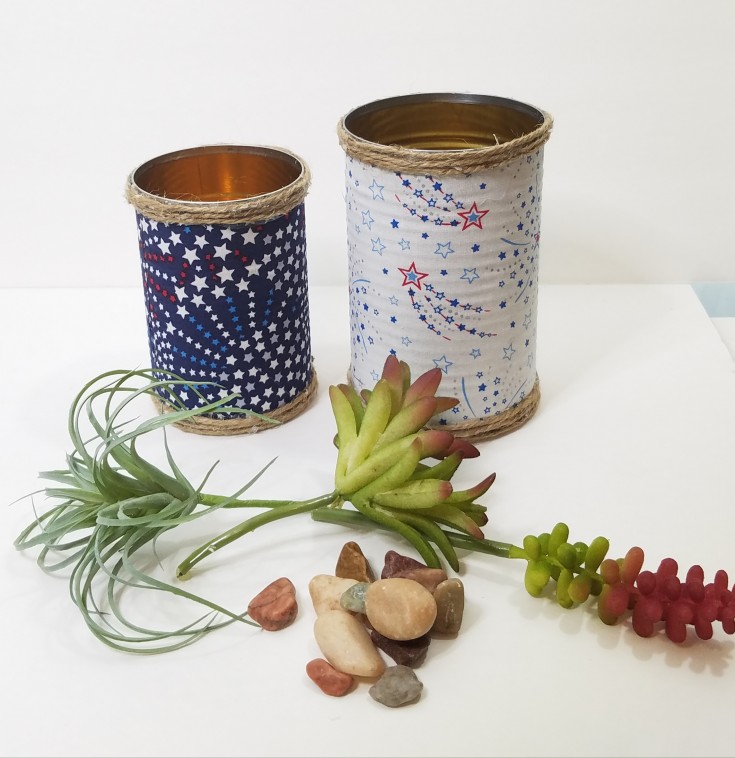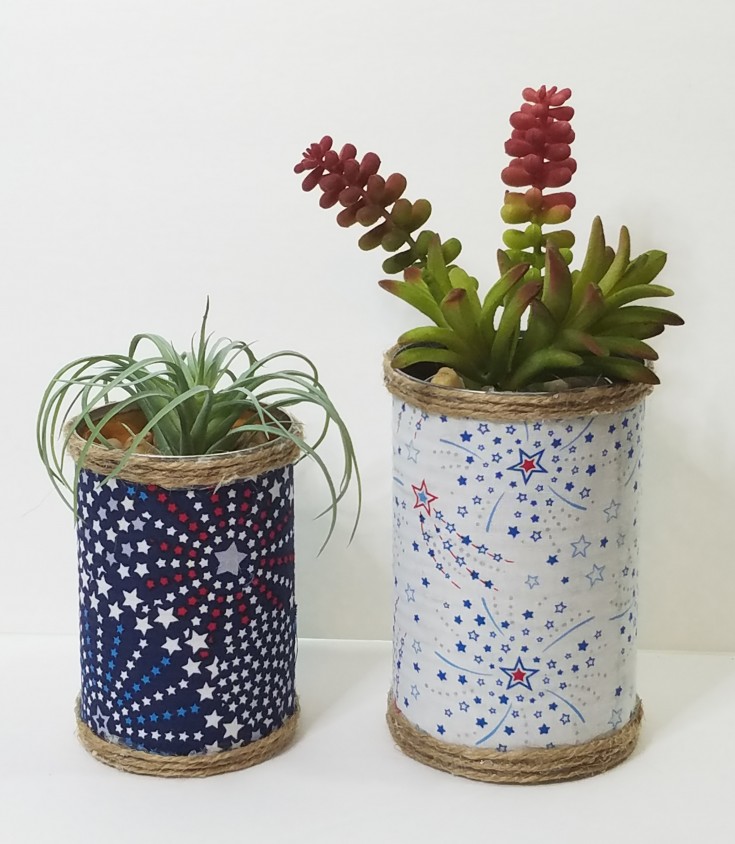 There you have it. Simple Patriotic succulent tin can planter. Now mix it with other patriotic décor, use for a table centerpiece or just place on the mantle or shelf.
More Fun Faux Succulent Planters
Pig planter with faux succulents
Faux succulent planter
How to remove sticky gunk off cans and jars