Hi All! You all know by now that I love to upcycle cans, and by upcycling them into cute and useful items to use around the house I am doing my best in keeping as many as I can out of the landfill. Today I will be sharing my red white blue upcycled cans, a simple and inexpensive way to upcycle three cans into some cute patriotic décor that can be used as candle holders, utensil holders or vases.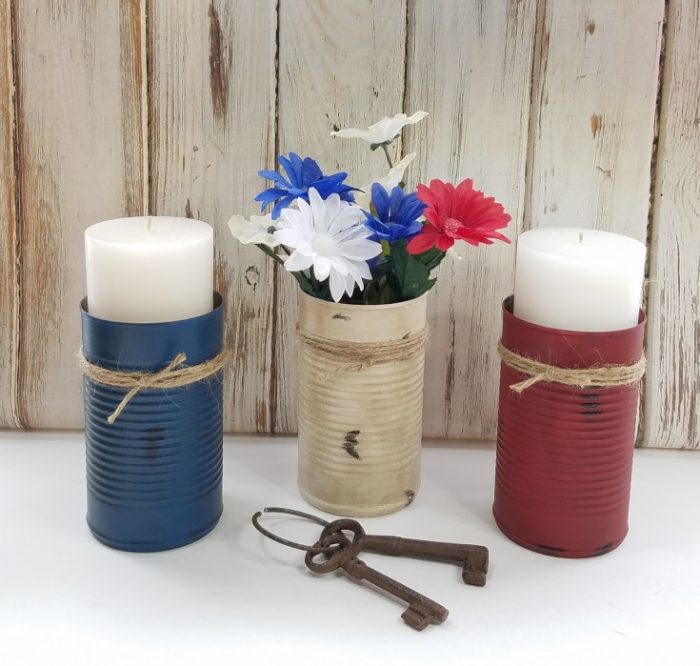 ***This post contains affiliate links, if you click on an affiliate link & buy something I may receive a small commission at no extra charge to you. The affiliate money I earn helps pay the expenses to keep this site running. Please read my full advertising disclosure for more info. Thanks so much for your support!***
Upcycled Cans Supply List
3 empty food cans
Red, white, blue, black chalk paint
Dark wax
Paintbrush
Twine
Wooden stars (optional) with a faux galvanized finish
Red White Blue Upcycled Cans
For this project, you will need three empty cans washed and dried.
Next, give each can two to three coats of paint using red white blue chalk paint. Acrylic would work too I just love chalk paint because it adheres to most surfaces easily.
Once the cans are completely dry go back and give each of your red white blue upcycled cans a few smudges of black paint. Here and there on the cans. This will help with the faux rustic look that I desire.
Then add a light coat of dark wax over each can. Letting each can dry before buffing each can adding to the rustic look and help to seal and protect the cans.
If you don't have any dark wax you could antique the patriotic cans by applying some watered down brown acrylic paint working in a small section and wiping off excess as you go. Add Mod Podge to protect and seal.
Next, wrap a piece of twine around each can and that's it, or you could add a star that has been given the faux galvanized technique. Like my two-tier faux galvanized tray.
Use these red white blue upcycled cans as utensil holders, vases or add some tall white pillar candles and use them as candle holders at your next 4th of July picnic.
Do you upcycle cans? Have you done any patriotic projects using cans?
More Fun Upcycled Cans!
How to make rusty tin cans
Easy diy tin can pumpkins
Dallas Cowboys tin can pencil holder