Hi All! Today I'm going to share how to make a redneck bird feeder made out of toilet plunger and wheel. This is one of the easiest projects ever. There was a photo on Pinterest floating around a while back and had to make one of my own. I never found the original post with tutorial just a photo. But no problem it's so simple not tutorial is needed. But for those that like tutorials I will walk you through the steps, I take in making my own redneck bird feeder.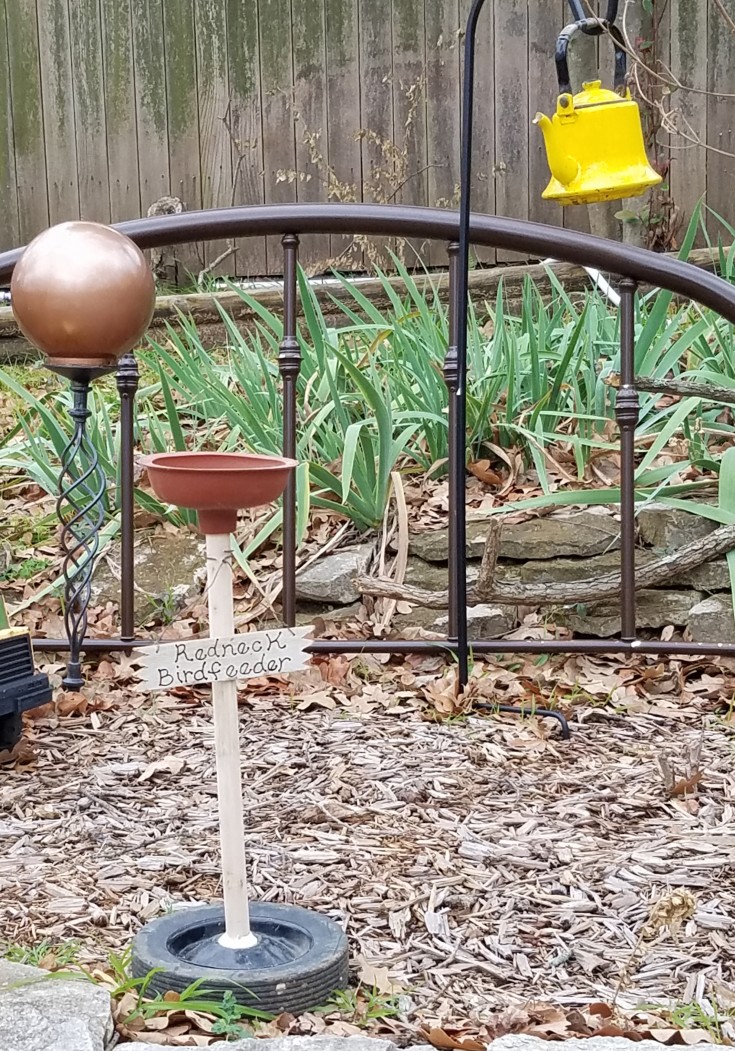 ***This post contains affiliate links, if you click on an affiliate link & buy something I may receive a small commission at no extra charge to you. The affiliate money I earn helps pay the expenses to keep this site running. Please read my full advertising disclosure for more info. Thanks so much for your support!***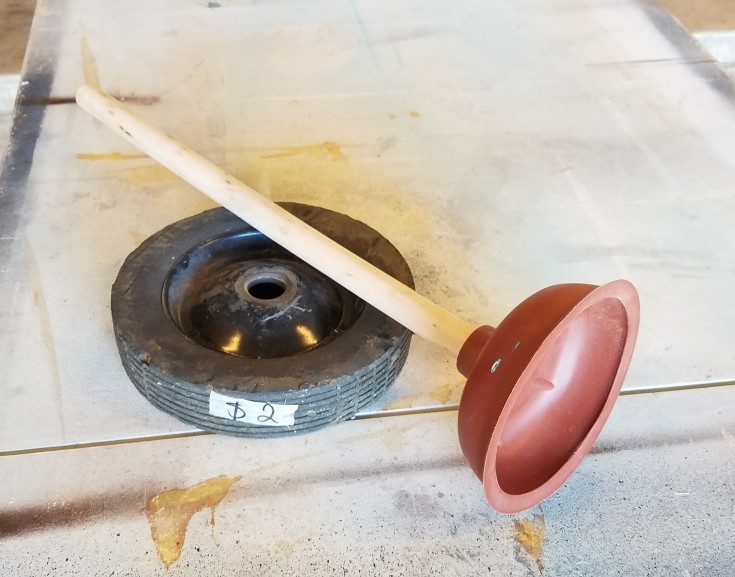 Found the plunger at the Dollar Tree, and not wanting to just stick the end into the ground like the one that I saw. While on one of our junkin trip I ran across a heavy wheel that had a large enough opening in the center for the wood plunger handle to fit into.
Let's Get Started on the Redneck Bird Feeder

First, I sanded the handle where the price tag bar code was because it would not peel off. ☹ Grrrrr!
Next, I drilled a hole up close to the plunger head for hanging a sign.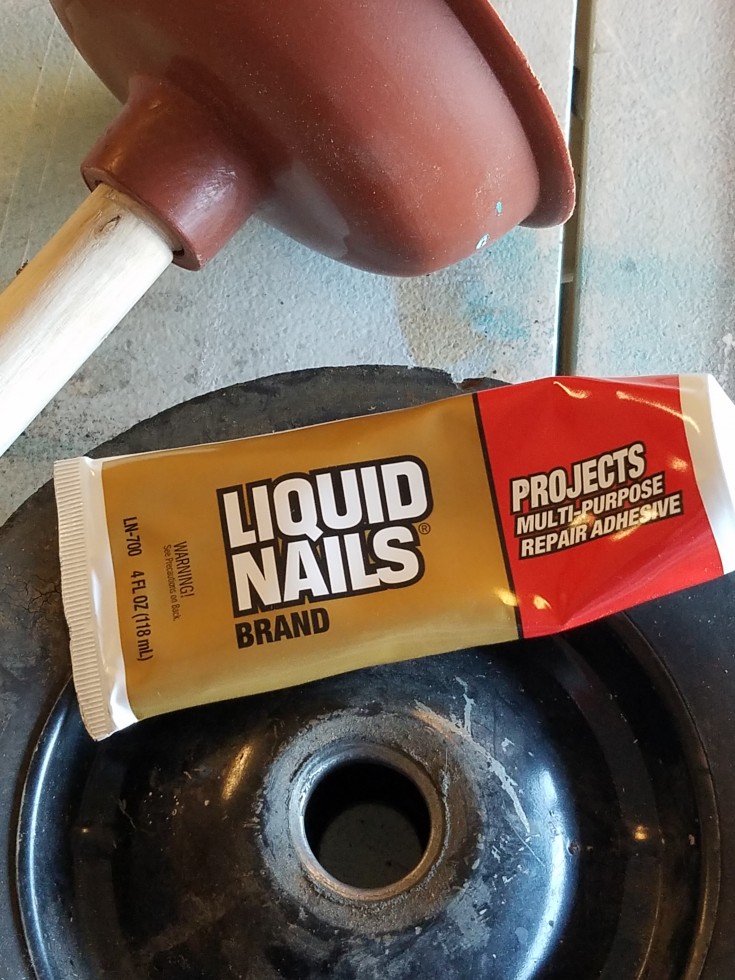 Then I laid the wheel down flat and place the wooden handle into the hole and put a thick bead of liquid nails around it to hold it upright and in place. Placing some wood around it to hold it straight and upright until the liquid nails harden.
Now I need to find a sign so I went digging through my wood parts stash knowing that I had some small wood signs cut-out that I had made years ago.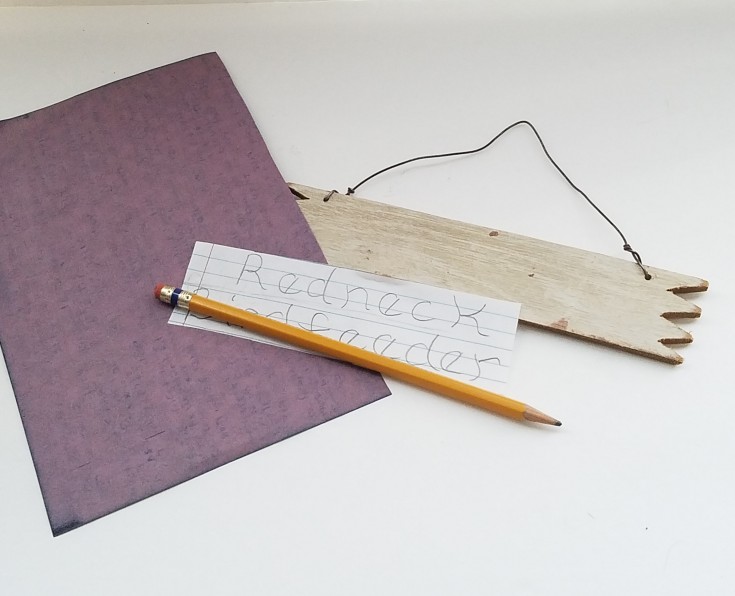 Finding the perfect wood sign to use I then measured off on a piece of paper the size I needed for my Redneck Bird feeder sign. Then I wrote out the wording and transferred it to the wood using carbon paper.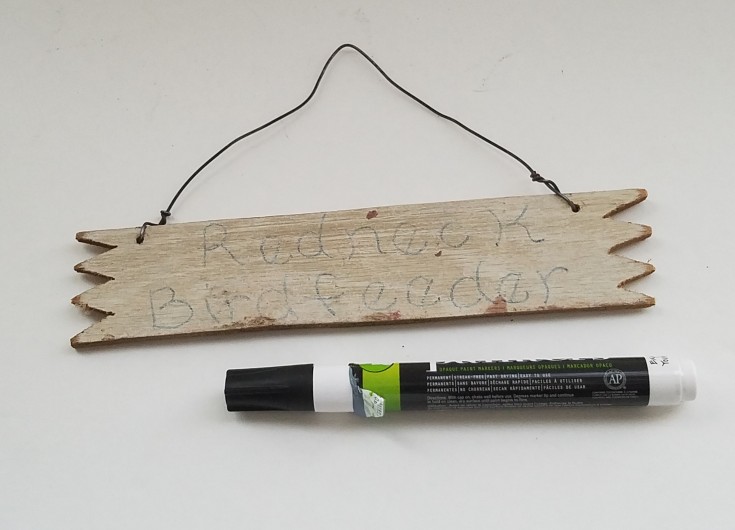 Since this was a really easy project, I decided to make the sign just as easy by using a paint marker to go over the wording.
Once the liquid nails are dry the sign can be attached by running wire through the hole.
Only things that's left for the redneck bird feeder is to add some birdseed then go sit it out in the garden for my feathered friends.
Supplies Needed for Redneck Bird Feeder
Toilet bowl plunger
Wheel
Carbon paper
Paint Marker
Liquid nails
Wire
Birdseed
Wood for sign
This redneck bird feeder cost me $3.00. One for the plunger, and two for the wheel. I had everything else on hand.
More Fun Projects You May Enjoy!
Repurposed Birdfeeder from two thrift store items
Coffee cup suet feeder for the birds
Turning a wooden ladder into yard art
If you enjoyed this post, would you mind taking the time to: