Hi my crafty friends! Today I am join to share with you how I made my Repurposed Birdfeeder from Two Thrift Store Items. It all started when I went thrifting with my mother and brother while the sister in-law sat at home with a broken arm. Now we didn't leave her at home to be cruel because she loves thrifting as much as the rest of us. She stayed home because of the pain (having to wait a week before they do the surgery). But not wanting my brother to have to put off his weekly mother brother day where they go thrifting, and estate sales then out to eat.
My mother daughter day is on Saturday, but since they were going on Friday this week I decided to go with them Friday as well. This gets my mother out of the house, like she really needs help. For 88 she still gets around really well, still drives herself to church, and to the gym five days a week. So off we went thrifting while the sister in-law was home mending a broken arm from falling off a pool ladder.
Now back to my homemade bird feeder. I have been wanting to make one but just find the right items needed for what I wanted until that day. We went into my brothers favorite thrift store and there was the perfect pot lid that I've been seeing in my visions of the perfect junk bird feeder. Than a few feet away I found the perfect pan, an angel food cake pan. I was so excited I found the perfect pair for making my bird feeder. My mother and brother probably thought that I was crazy for buying those. See I am the junk/crafter in the family. They just go for the good buys, not to create things.
Now all I needed was some chain, and I got that the next day when the hubby and I made our morning trip to Home Depot. Let's put this baby together! I mean this birdfeeder.
Supplies for Homemade Birdfeeder
The perfect pot lid
Angel food pan
Chain (I bought 10 ft.)
Sturdy Jumping's
Drill
Curved nose pliers
Sturdy lobster clasp, or strong ring
The reason I used a lobster clasp, and jumping's is because I have tons of jewelry making supplies that I can use in other projects saving myself some money.
Repurposed Birdfeeder from Two Thrift Store Items
Start by eyeballing your pot top in thirds, then drill three holes. Next drill three holes in the pan where they match up with the three in the lid.
Decide how much space you want between the two and cut three pieces of chain the same length for connecting the pot lid and pan together.
Using the curved nose pliers and jumping's to connect the chain to the lid and pan in the three holes.
Once they were connected I cut 3 more pieces of chain the same length to go above the lid. Then I added a single chain and added the lobster clasp to the end for hanging. That's it! Now it's time to hang my repurposed birdfeeder from two thrift store items and feed the little birdies.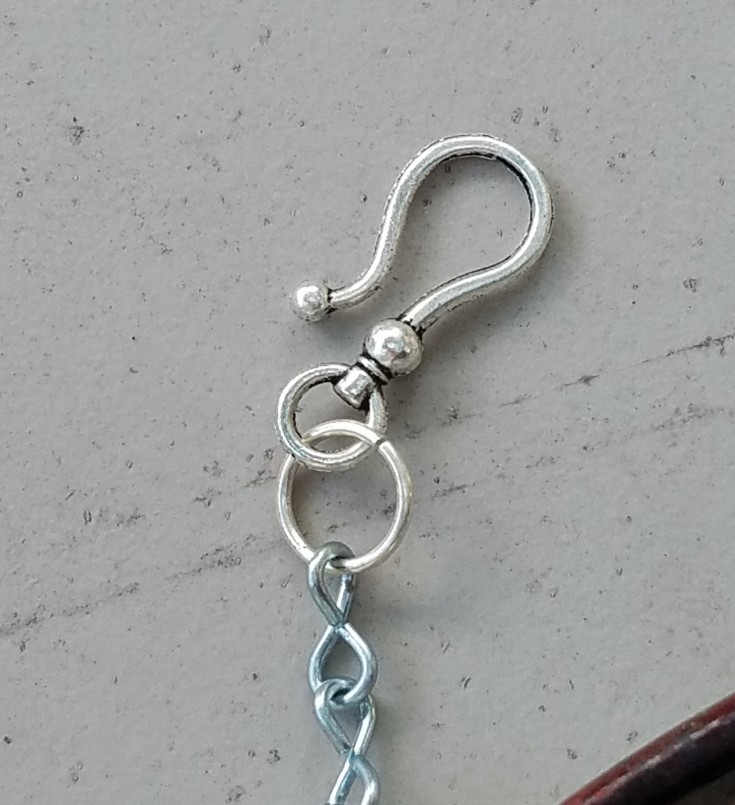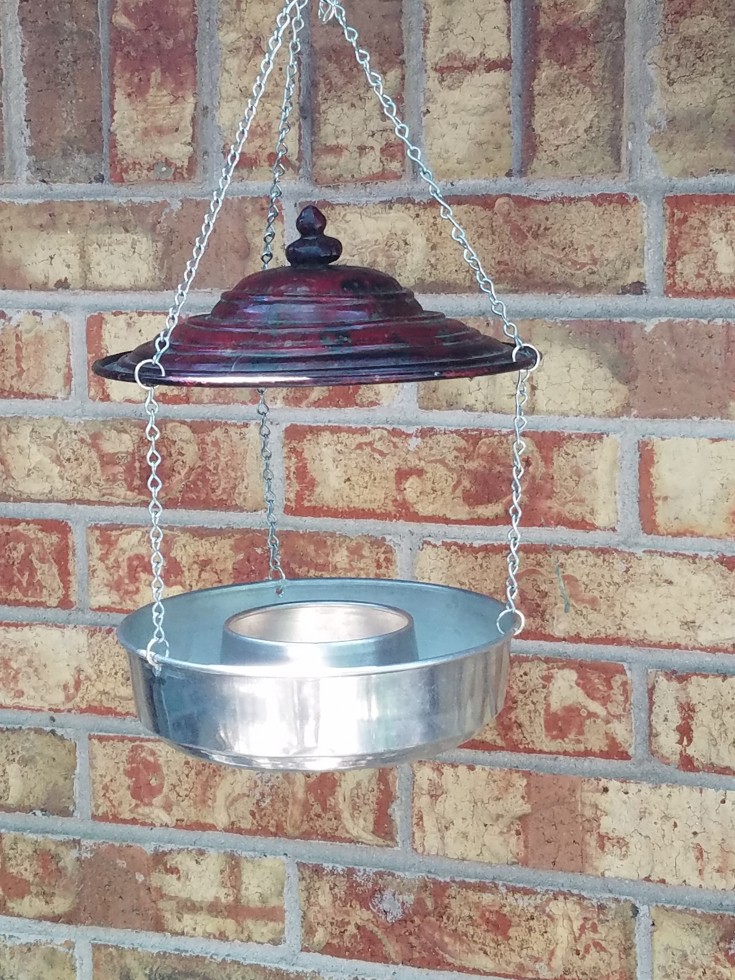 Have you made any birdfeeders from junk items or thrift store finds?
More Thrift Store Makeovers!
Repurposed Ironing Board
vintage train case makeover
Thrift store prayer sign makeover