Hi All! Another month gone, and a new one starting. Did you do anything fun for Halloween? Same ole thing for us, go to bed early, and up early for work. I guess I better get on with today's project before this month is gone as well. LOL. Today I want to share a quick project on Repurposing a Metal Tray into a Sign – Gather.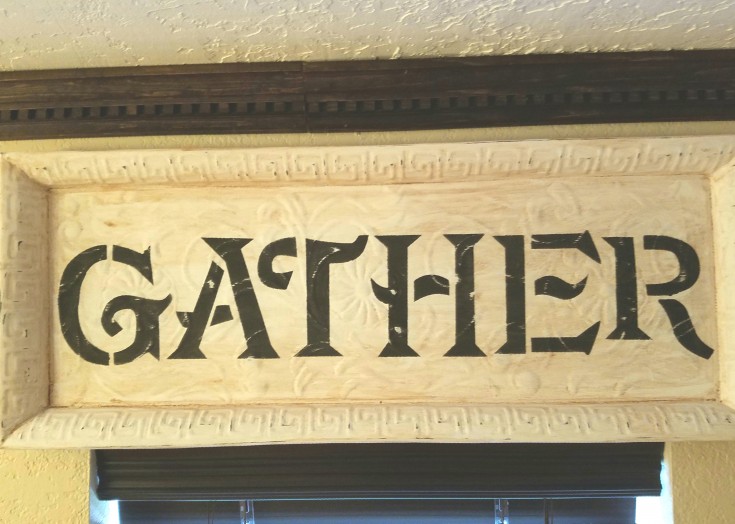 I had found this large rectangular metal tray with a raised floral design at a yard sale several years back. Don't even remember what color it was. I spray painted it with Rust-oleum hammered bronze. But didn't like how it turned out, so it's been sitting in the garage ever since we moved.
Now that I am trying to clear out some of my yard sale/thrifty finds, I decided to pull it out give it a quick coat of chalk paint and stencil the word Gather on it. Then send it to the crat booth.
Well I got as far as the chalk paint when the hubby seen it, and claimed it. He bought me a different letter stencil font than what I had to use on the metal tray sign.
It still surprises me when he wants to keep one of my projects that I've made. My ex never said I want that, or I'm keeping that myself. He would say that's nice work, but that's about it.
I am sorry that I don't have photos of each step, but I can walk you through the steps of this easy project.
Repurposing a Metal Tray
First, I gave the large rectangular metal tray two coats of white chalk paint, letting each coat dry thoroughly.
Next, I laid out my letter stencils, spacing them evenly, then used black paint for stenciling in the word Gather.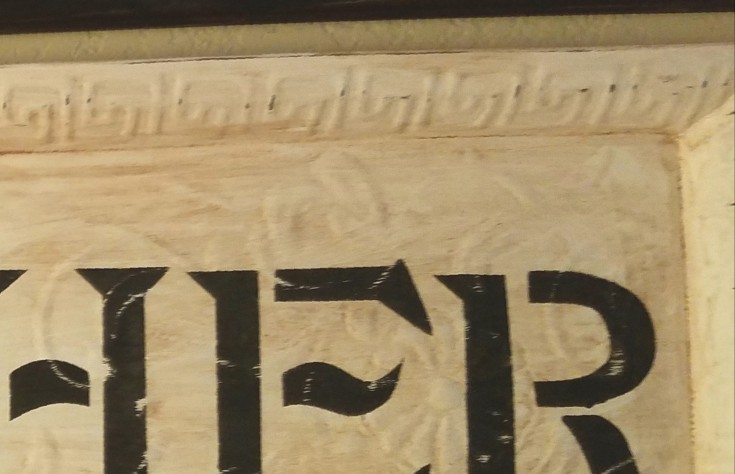 Once the wording was dry I distressed it using sandpaper, bringing some of the hammered bronze that was underneath.
Lastly, I used my antiquing medium to give the metal tray even more of an aged appearance. The chalk paint seems to absorb the antiquing medium pretty quick, so I watered it down quite a bit. Then worked in small sections quickly wiping of any excess. Leaving it heavier in the crevices.
That's all there is to repurposing a metal tray into a sign. What have you repurposed lately?
***This post contains affiliate links, if you click on an affiliate link & buy something I may receive a small commission at no extra charge to you. The affiliate money I earn helps pay the expenses to keep this site running. Please read my full advertising disclosure for more info. Thanks so much for your support!***
Supplies Needed for Repurposing a Metal Tray
Large metal tray
White, black chalk paint
Paint brushes
Letter stencils
Stencil brush
Antiquing medium
Sandpaper
More Repurposed Signs You May Enjoy!
How to give two thrifty finds a farmhouse makeover
Thrift store prayer sign makeover