How To Make A Rustic Texas Flag
This rustic Texas flag was made from a cedar fence picket that I hand-painted then wired together.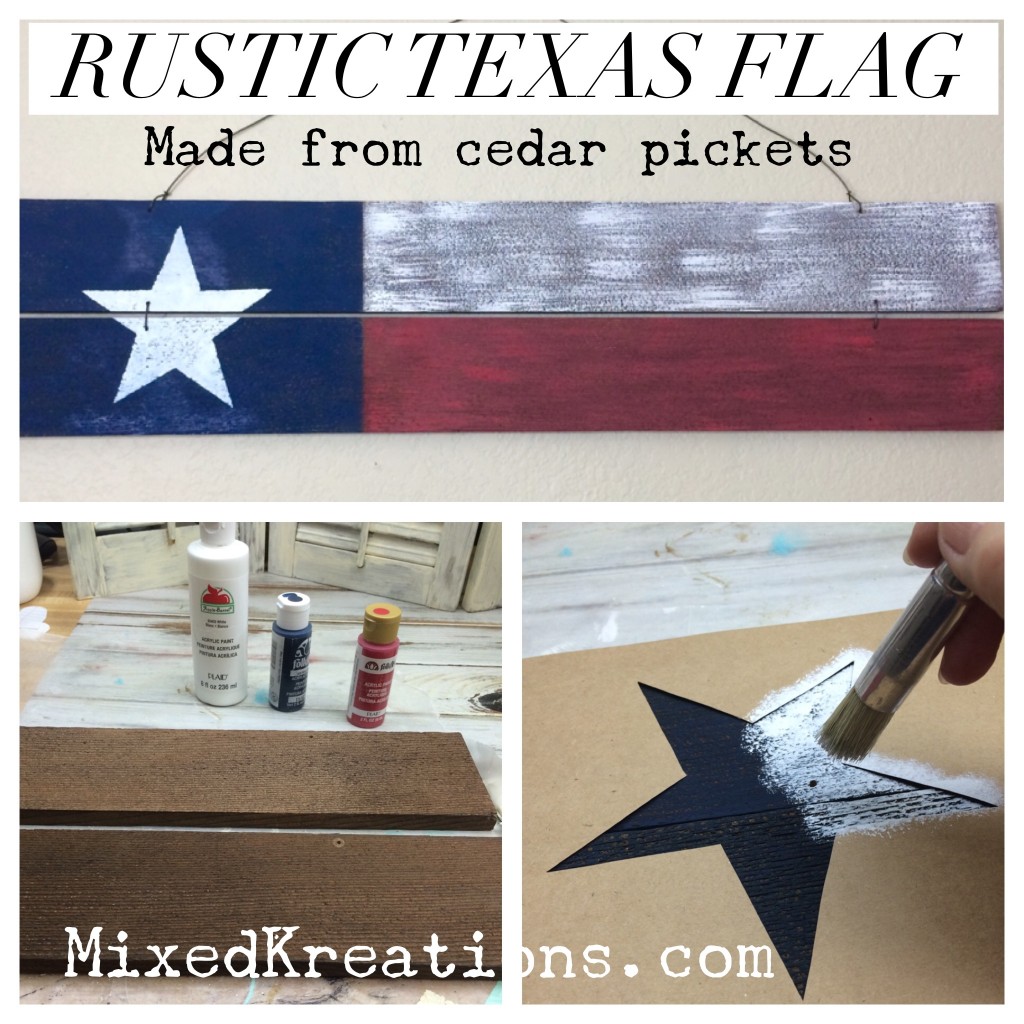 You will find that I love making things out of cedar pickets, and making Texas Flags. You will find that this Rustic Texas Flag is really easy to make.
Start off by cutting your wood to two 24″ pieces, then add the aging solution and let dry.
Put your two pieces together then tape off the area for the blue and start brushing on your navy blue paint. Leaving some of the aged wood showing through.
Once dry you can remove the tape.
Separate the pieces of wood and start adding your red paint to one leaving some of the aged wood showing through.
Now add the white paint, once again letting the aged wood show through.
Make a star stencil out of cardstock.
Position your stencil and start filling in your star onto your board using white paint and a stenciling brush or sponge. (Make sure the pieces of wood with the white is on the top of your sign before you stencil your star on).
Once your star is dry drill your holes to attach your wire to hold the two pieces together to form your flag.
Form your wire like a big staple.
Run it through your pre-drilled holes and
using needle nose pliers just give each side a twist to hold the pieces together.
Add some wire to the top of your Texas flag to hang it by.
That's all there is to making your own Rustic Texas Flag.
*This post contains affiliate links, if you click on an affiliate link & buy something I may receive a small commission at no extra charge to you. The affiliate money I earn helps pay the expenses to keep this site running. Please read my full advertising disclosure for more info. Thanks so much for your support!*
Materials Needed For Rustic Texas Flag
1 cedar picket cut into two 24″ pieces
Piece of cardstock to make a star stencil
Red, white, and navy blue acrylic paint
Paint brush
Stencil brush or sponge
Wire(affiliate)
Wire cutters
Drill(affiliate – I love my cordless)
Aging solution