Hi All! Recently I purchased several new stencils off that app that I am always seeing on Facebook called Wish. I have seen lots of things on the app but have been avoiding it, even though things are really cheaply priced. I figured that they were cheaply made as well. Then one day I saw a stencil that liked and it was less than two dollars so I ordered it just to see if it was worth the price. It took a few weeks for it to get to me but I was happy with the stencil. Over the next few weeks I ordered more, just couldn't beat the price. Some are a little bit smaller than I had thought that they would be, but some do come in different sizes to pick from. Today I am going to share the stenciled self-serve kitchen sign made using the first stencil that I ordered through Wish.
Self-Serve Kitchen Sign
For this self-serve kitchen sign I started out base coating the wood with Waverly Ivory chalk paint.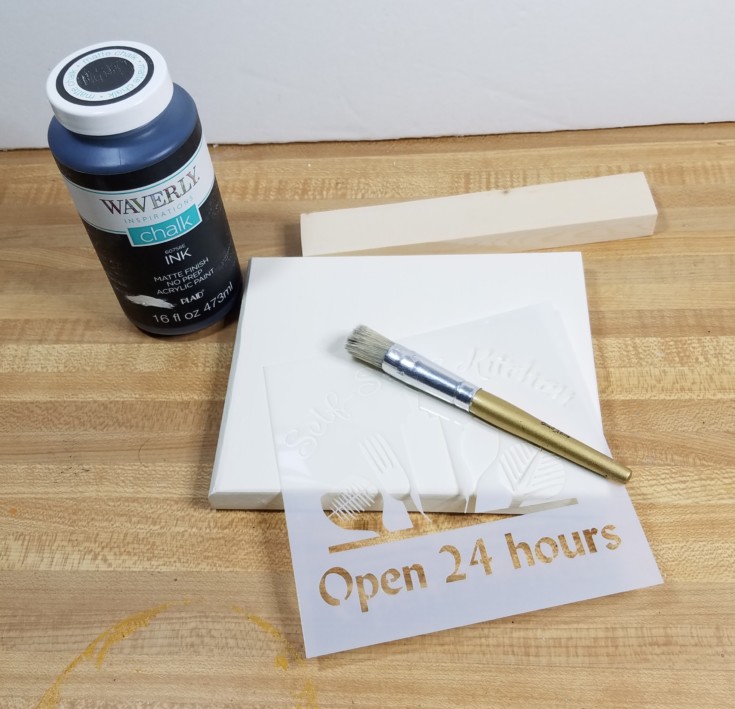 Next, I centered the stencil on the wood and stenciled it in using black chalk paint.
Once dry I took it out to the garage to distress the edges.
The base was stain using Craftsmart premium gel stain that I found at Michaels. It is a water-based stain. It was attached using the hubby's staple gun and gun.
I am happy with the self-serve kitchen Stencil that I purchased from Wish, but I am sure that you need to be careful with what you buy.
***This post contains affiliate links, if you click on an affiliate link & buy something I may receive a small commission at no extra charge to you. The affiliate money I earn helps pay the expenses to keep this site running. Please read my full advertising disclosure for more info. Thanks so much for your support!***
Supplied Needed
Scrap wood
Stencil
Waverly Ivory chalk paint
Black chalk paint
Craftsmart premium gel stain
Paintbrush
Gorilla wood glue
Staple gun
Sandpaper
More Fun Stenciled Projects!
Upcycled Country Kitchen Tray
How to make a Farm Fresh Eggs Sign
Repurposed ironing board wash dry fold repeat