Hi All! Here's some Super Simple Halloween Décor made from leftover wood. Great way to use up some leftover blocks of wood. I had three different lengths of woodblocks for this project. Let's get started.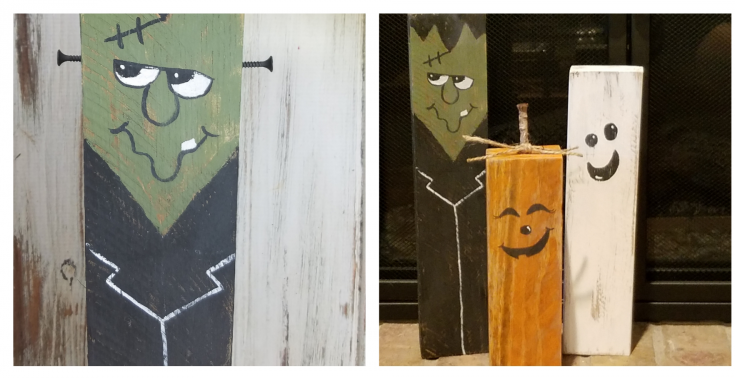 Super Simple Halloween Décor
Start out by sanding the woodblocks.
Next, start painting each block leaving some of the wood showing through.
My jack-o-lantern block was repurposed from another project so was already orange and just needed some sanding.
The middle size block I painted white for the ghost.
And the tall block of wood was painted black, except for the face of Frankenstein which was painted green.
Then I penciled in the faces for my super simple Halloween décor
And painted them in using black and white acrylic paint.
Added in some detail work.
And a small twig for a stem on the jack-o-lantern with some jute tied to the twig.
I notice Frankenstein needed some screws in his head after the grouping and photos were taken.
So a couple of wood screws were added to Frankenstein's head.
Then I forgot to take another photo afterward. (I am good at that). LOL
But isn't he a handsome dude?
That's all there is to this super simple Halloween décor. Which one is your favorite?
***This post contains affiliate links… We are a participant in the Amazon Services LLC Associates Program, an affiliate advertising program designed to provide a means for us to earn fees by linking to Amazon.com and affiliated sites at no extra charge to you. Please read my full advertising disclosure for more info. Thanks so much for your support!***
Supplies for the Super Simple Halloween Décor
3 woodblocks in different lengths
Acrylic paint orange, white, black, and green.
2 wood screws
1 twig
Jute
Paintbrushes
Screwdriver
Pencil
Stylus pen
More Fun Halloween Projects!
metal vintage strainer jack-o-lantern
Jack-o-lantern lamp
Mason jar mummy lantern