Happy November All! Just think it won't be long until we can fill our tummies with all the yummy Thanksgiving foods. But today I want to share my White Pumpkin Jar that's really not a pumpkin at all.
The reason that I say that it's really not a pumpkin is because I was trying to make a white pumpkin out of a jar, instead of the traditional orange pumpkin. But when I showed it to the hubby, and asked if it looked like a pumpkin he said No! He liked it, and said it was cute, and would look pretty mixed in with other Thanksgiving décor. But it didn't look like a pumpkin.
When I look at it I see a upcycled jar with a stem (pull knob) that resembles a non traditional white pumpkin. But maybe it takes a upcycler/repurposer to see it as a white pumpkin jar.
Either way I love how it turned out, and can be used year-round as storage, or just a pretty jar.
But keep reading, I am going to remedy the white pumpkin jar that wasn't a pumpkin near the end of this post. I will give you three choices, and I would love for you to tell me which one you like best. (Supply list at bottom of the post)
How to Make a White Pumpkin Jar
Start off with a clean glass jar, whether it be a mason jar, pickle jar, etc.
Spray paint the lid silver. Then while that is drying give the jar two coats of white chalk paint, letting each coat dry thoroughly.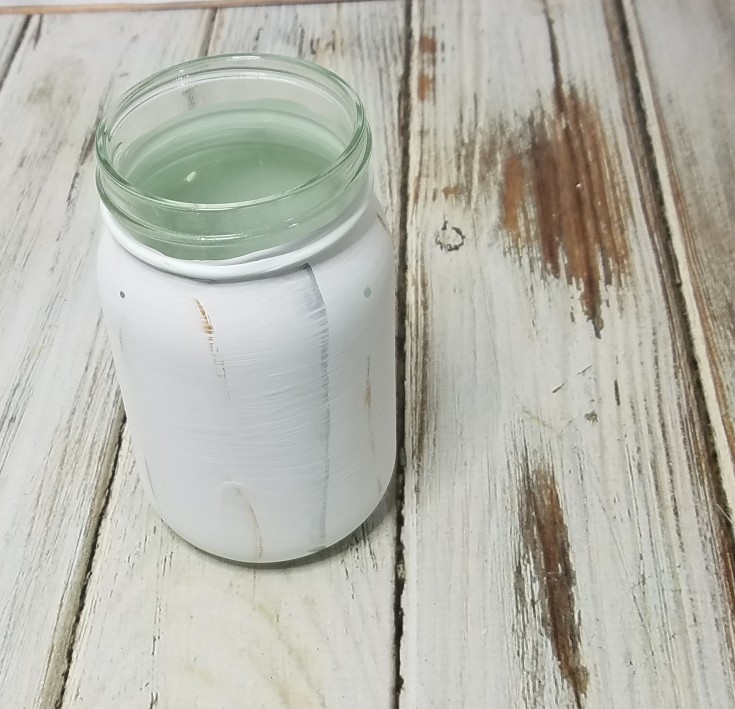 Next, I used some gray and gold metallic to float a few lines around the pumpkin jar. Once that dried I gave the jar a light sanding.
Next came a gold metallic splattering using an old toothbrush.
Now for the top of the pumpkin I dug out an old pull knob leftover from our last house we updated, and painted it with black chalk paint. Sealing it with Mod Podge.
The bolt for the pull knob was a little too long so I used my hack saw to cut some of it off to the length needed.
I wanted to make a shabby pumpkin, so instead of leaves I cut some thin strips of fabric and burlap ribbon approximately 2 ½" long. This is where I went wrong. A little bit farther down the post and I will show you how I fixed the problem.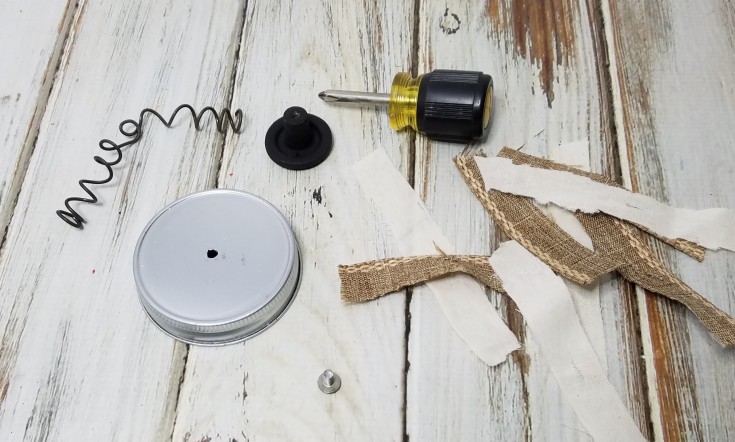 I used annealed wire to make a tendril by wrapping each end of the wire around the end of a paint brush forming a coil. The middle of the tendril I used my chain now pliers to form a loop just large enough for the bolt that goes into the pull knob.
For each fabric strip I made a small cut in the middle large enough for the bolt to go through.
Using a small screwdriver and hammer I made a hole in the center of the jar lid for the bolt to fit through.
Putting It All Together
First, I inserted the bolt through the bottom side of the lid. Then I started threading the fabric and burlap strips onto the bolt.
Adding the coiled wire last.
Once those were all in place screw the pull knob onto the bolt.
Using a screwdriver to tighten it down firmly.
Put the jar lid back onto the jar, and there you have it. A pretty decorative jar that can be used year-round, or a pumpkin.
Making the White Jar Look Like a Pumpkin
Now for an easy fix to make the white pumpkin jar to resemble a pumpkin.
Just remove the fabric strips, then add leaves, the tendrils, and screw the pull knob back down in place.
Does that look more like a white pumpkin jar?
Another Option
Here's another option if you still want the shabby look with the fabric strips, with leaves as well.
Remove the pull knob leaves, and tendrils. Then add the fabric strips back on, then the tendril, and leaves. Screw the pull knob back down firmly.
Which version do you like best, the shabby pumpkin without leaves, the pumpkin with leaves, or the shabby white pumpkin with leaves?
***This post contains affiliate links, if you click on an affiliate link & buy something I may receive a small commission at no extra charge to you. The affiliate money I earn helps pay the expenses to keep this site running. Please read my full advertising disclosure for more info. Thanks so much for your support!***
Supply List
Any type of glass jar
White chalk paint
Black chalk paint
Grey acrylic paint
Gold metallic paint
Pull knob with bolt
Annealed wire
Fabric strips
Burlap strips
Wire cutters
Paint brushes
Round nose pliers
Scissors
Artificial leaves
Old tooth brush
Screwdriver
Hammer
Mod Podge
More Pumpkin Projects You May Enjoy!
How to make a fall pickle jar pumpkin
Easy diy fall tin can pumpkins
Diy wood pumpkins