Hi All! I can't believe how fast the months have been going by. Seems like each month goes by faster than the one before it. But September has been a great month for Thrift Store and Vintage Finds.
This month I not only made my regular stops at Goodwill, but the hubby and I made a trip to Waco, Texas. Where we visited several vintage shops, and went to Market days at a small town called Grandview.
Thrift Store and Vintage Finds
The first is my vintage hen that I couldn't resist, and I'm keeping. I paid $5 for her, and the lady told me she dated back to 1940. I haven't done any research on her yet.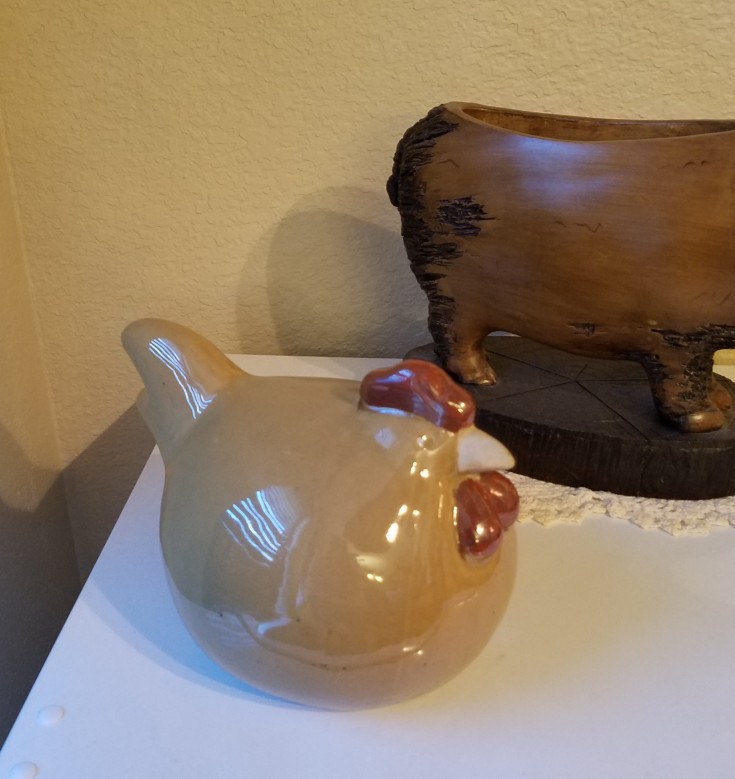 The birdcage we got for $3 at Market Days. Not sure what I'm going to do with it yet. I thought of putting succulents in it, but the hubby wants to use it as a birdfeeder.
Another Market Days find is a $3 ironing board that I'm been hunting for. Really wanted a vintage one to make a Christmas tree. But since then I've found another project for the laundry room that I'm leaning towards making.
Next two items came from Goodwill. The little wood shelf, and the jewelry/ring holder box thingy both were $2 each. I'll give them a makeover, and take to my booth.
I have a thing for little wood box. I paid $3 for this one at Market Days. A makeover and then to my booth. Maybe!
The coat rack came from Goodwill for $2. May give it a makeover and use in the master bath.
The wooden cake stand (guess that's what it is) was $1. I will clean it up then probably add a stencil to the top.
These Thrift Store & Vintage Finds came from a little vintage shop we ran across on the way home from Waco. The grater was $3.95, red tray $2.00, Scoop $4.00, small strainer $2.00, and the larger strainer $4.00.
I have already repurposed the larger strainer. Can't wait to show you! It turned out sooooo cute, tutorial coming soon.
The last of my Thrift Store and Vintage Finds is a tin tray with 3 jars for $5, a candle holder $1, vintage salt and pepper shakers for $2. Lastly a pink golf ball Free.
You ask why a golf ball? The golf ball is for my plantars fasciitis. The doctor told me to get a golf ball and roll the bottom of my foot on it to break up inflammation. Then put my foot on ice.
That's it for September's Thrift Store and Vintage Finds. Do you like to go Junkin? Would love to hear about any great finds you have found while junkin.
More Thrifty Finds
Thrift store finds come with a spring break
Thrift store find – what should I do
Garage sale goddies