I can't believe that May is already here. I've been really busy getting some of my yard work done, a few things planted in my garden, two pecan trees planted, and my new Thrift Store Candle Holder Bundt Pan Makeover finished.
Since my little break it has been really hard getting back into the swing of blogging, knowing all the things that still need to be done in the yard. But creating something new is always gratifying, especially when you can take a thrift store item, and turn it into something fun and useful. That is a great feeling!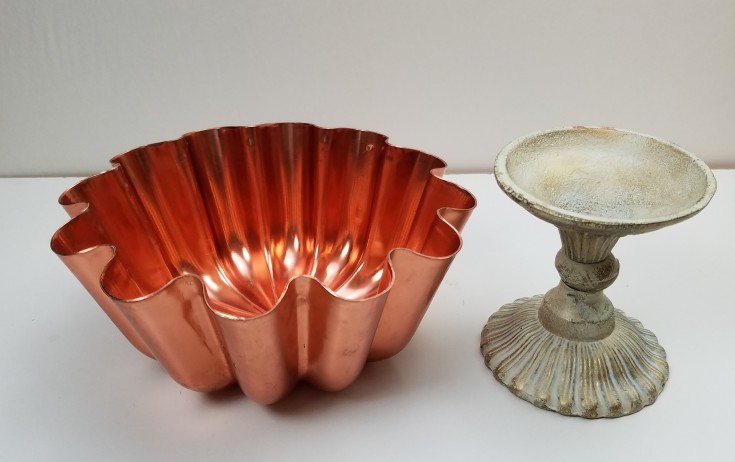 Candle Holder Bundt Pan Makeover
I am combining two of my recently purchased Goodwill Finds into one useful item.
• Metal candle holder was purchased for $1.49
• Bundt pan $.99
I gave both items a good scrubbing, then set them out to dry.
Next I took apart the candle holder, and drilled a hole in the bottom center of the Bundt pan.
Finding the bolt not long enough to go through the bottom of the pan and back into the candle holder, I was off to Home Depot to purchase a longer bolt.
Home Depot not having the correct length needed, I purchased a bolt a quarter of an inch longer, then using my trusty hacksaw I cut the bolt to the length needed.
My next step was to add a metal washer to my bolt, then through the hole on the pan and back into the pieces of the candle stick holder and screwing it down firmly.
Time to break out some Rust-Oleum spray paint. Hammered bronze because that was the only brown colored spray paint that I had on hand.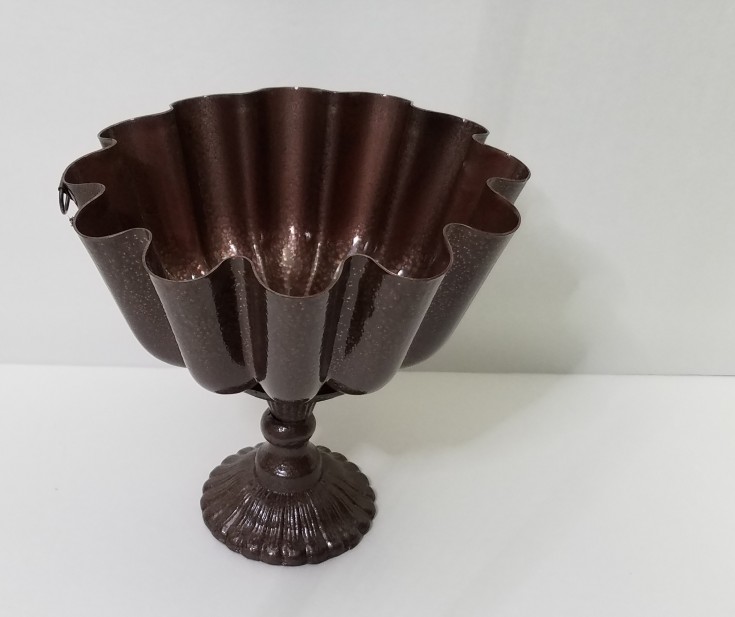 Everything received two coats of spray paint. Once dry I used the dry brushing paint technique with white Waverly Chalk Paint, leaving some of the darker hammered bronze showing through. Sorry I don't have a photo of this step.
Then I broke out my favorite antiquing medium only to find out that it wasn't going to work well on the white chalk paint. At least for the look that I desired. The chalk paint absorbed to much of it making it darker then I intended.
So back to the drawing board. What to do? It wasn't quit the look that I was after, the chalk paint was to white, and the antiquing medium made it way to dark.
Deciding to give it a try using some Burnt Umber Acrylic paint that was watered down heavily, I lightly brushed it on then immediately wiped it off, so as not to darken it up too much.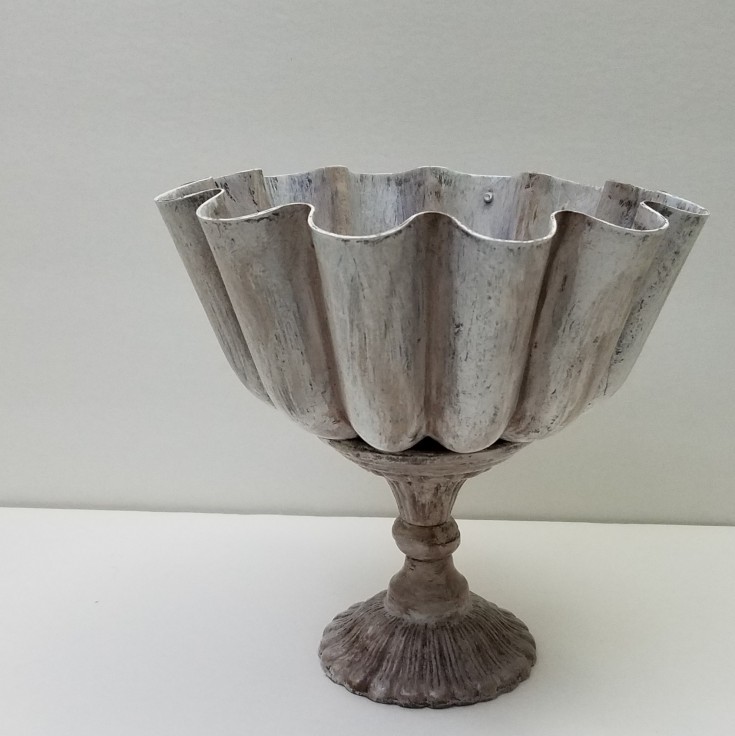 Looking better but still not the color that I was after, but the hubby really loved my Thrift Store Candle Holder Bundt Pan Makeover. He said that it reminded him of stone, not so sure about that but I will just go with that for now. I can always change it later on down the road if I want.
But for now, this will work, it's going in the master bath to hold some of my everyday items. Later on once the remodel is finished I may need to change it, but that's the great thing of repurposing. The item can always be changed.
I think that my thrift store candle holder Bundt pan makeover would make a cute jewelry organizer as well.
*This post contains affiliate links for your convenience. Please read my full disclosure for more info. Thanks so much for your support!*
Supplies Needed
Thrift store bundt pan
Thrift store candle holder that comes apart
White Waverly Chalk paint
Burnt Umber acrylic paint
Rust-Oleum spray paint
Paint brush
Drill (my favorite drill)
Bolt and washer
Hack saw
What kind of thrift store makeovers have you been working on lately?
More Thrift Store Makeovers
Makeup brush holder
Diy jewelry tray
Decorative coffee station tray