Hi All! It is still warm here, but it is finally starting to feel like fall is near. So today I am going to share a thrift store upcycled mini pumpkin. I had picked this small tin bowl up at the thrift store a while back, and thought that it would make a cute mini pumpkin.
Diy Thrift Store Upcycled Mini Pumpkin
I'm sorry I forgot my before photo, but for this project I started out washing the little tin bowl in hot soapy water. Then I gave it three coats of Waverly Pumpkin chalk paint, letting each coat dry thoroughly.
Once dry I splattered my thrift store upcycled mini pumpkin with burnt sienna.
Next, I tried to glue on a pull knob with my jewelry glue 6000 letting that dry overnight.
Then I made my wire tendril by wrapping the wire around the end of a paint brush to form the coil. When I tried to add my wire tendril the knob popped off.
So, I drilled a small hole in the top of my mini pumpkin. Next, I wrapped the coiled tendril around the pull knob.
Using a small screw that I found I added a few washers to take up the loose space then flipped the pumpkin over and screwed the knob down firmly.
Flipping the upcycled mini pumpkin over I then hot glued a leaf on the top.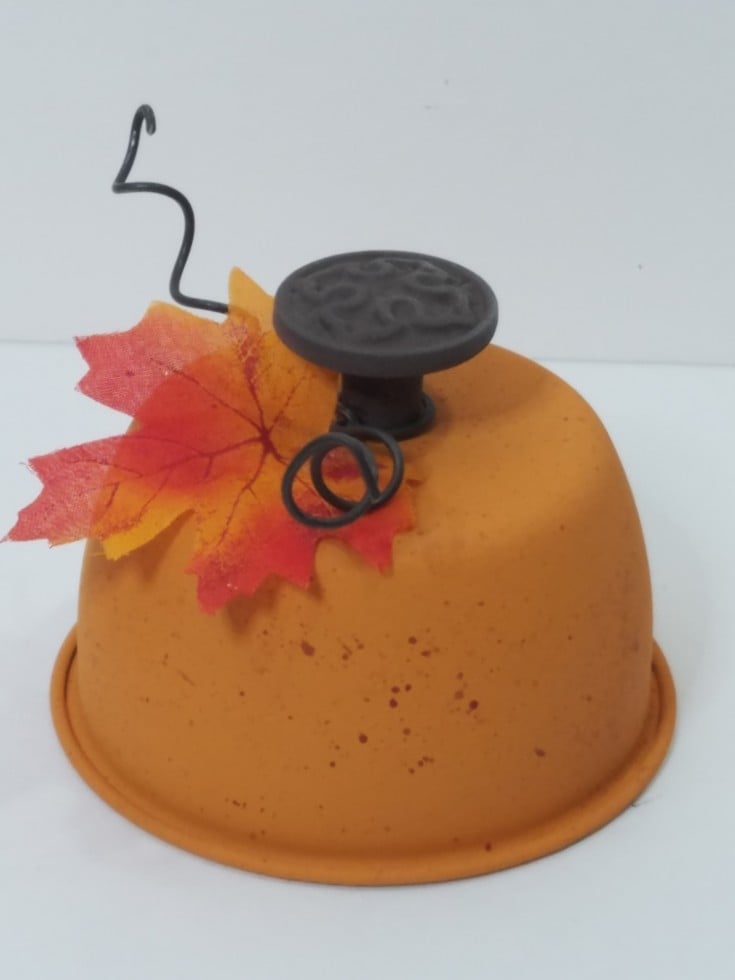 That's it for this Thrift Store Upcycled Mini Pumpkin.
***This post contains affiliate links, if you click on an affiliate link & buy something I may receive a small commission at no extra charge to you. The affiliate money I earn helps pay the expenses to keep this site running. Please read my full advertising disclosure for more info. Thanks so much for your support!***
Supply List
Small tin bowl
Pumpkin chalk paint
Acrylic paint
Drill
Pull knob
Washers if needed
Screw
Paint brush
Toothbrush for splattering
wire for tendril
Wire cutters
Faux leaf
More Fun Fall Projects!
Chalk board pumpkin from a cutting board
Happy fall yall cedar pickets
Easy diy fall tin can pumpkins