Good morning my crafty friends! First off I would like to let you know that I will be taking a couple weeks off from blogging. We are going to go visit my daughter and family for a couple days, then we are going to have a Garage Sale. Fun Fun! I have been putting it off for a long time, but finally talked the hubby into helping me. So I will be pretty busy getting ready for the sale. But today I want to share with you my Toilet Paper Stand sign holder.
First, let me explain. Lately, we have been having a lot of solicitors ringing our doorbell after we have already gone to bed (We work early hours so we go to bed while it's still light). By the time the hubby gets dressed and to the door, they've already left. We've had several come back twice and leave their cards saying sorry they missed us. You would think if we didn't contact you maybe we aren't interested in what you're selling.
Anyway, I have a hard time going to sleep then when I get woke up and even harder time going back to sleep. So I decided to make a NO Soliciting sign from a piece of wood that I already had cut.
Well it turned out a little too big for our door, with the glass windows and glass side panels there wasn't a good place to hang it. Then I thought of the metal toilet paper stand that we didn't use anymore, just maybe that was the solutions for my sign.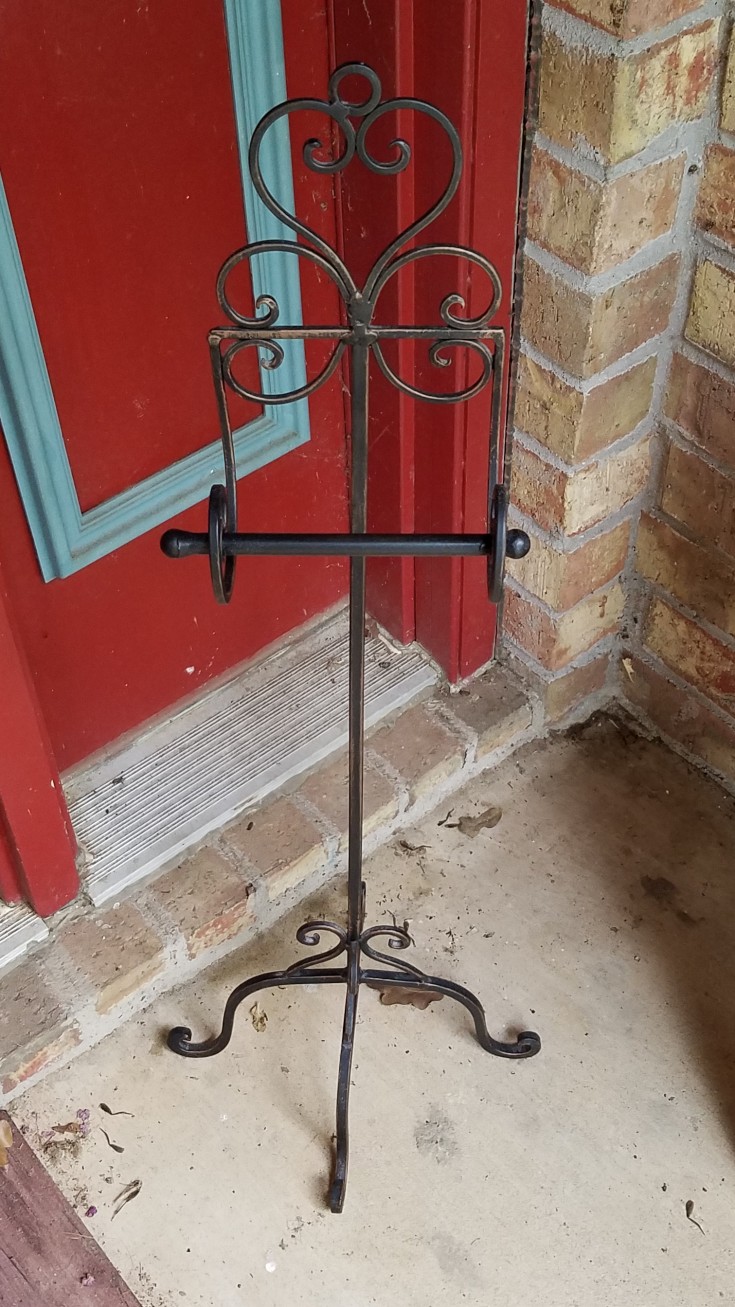 ***This post contains affiliate links, if you click on an affiliate link & buy something I may receive a small commission at no extra charge to you. The affiliate money I earn helps pay the expenses to keep this site running. Please read my full advertising disclosure for more info. Thanks so much for your support!***
Supplies Needed
Wood board
Toilet paper stand
White chalk paint
Black acrylic paint
Helmsman Spar Urethane
Paint brushes
Diy Toilet Paper Stand Sign Holder – No Soliciting
Let's start with the sign. First I gave my wood two coats of white chalk paint.
While that was drying I taped two pieces of paper together the size of my wood. Then I wrote out NO Soliciting on the paper (this made it easier if I needed to erase before adding to the wood).
Next, I used my carbon paper to transfer the words to my sign.
Then I went over the letters with black acrylic paint.
Once dry I used Helmsman Spar Urethane to seal and protect my sign.
Now all I need to do is place the toilet paper stand sign holder on the porch and set the No Soliciting sign in place. Now I have a No Soliciting sign that that can't be missed.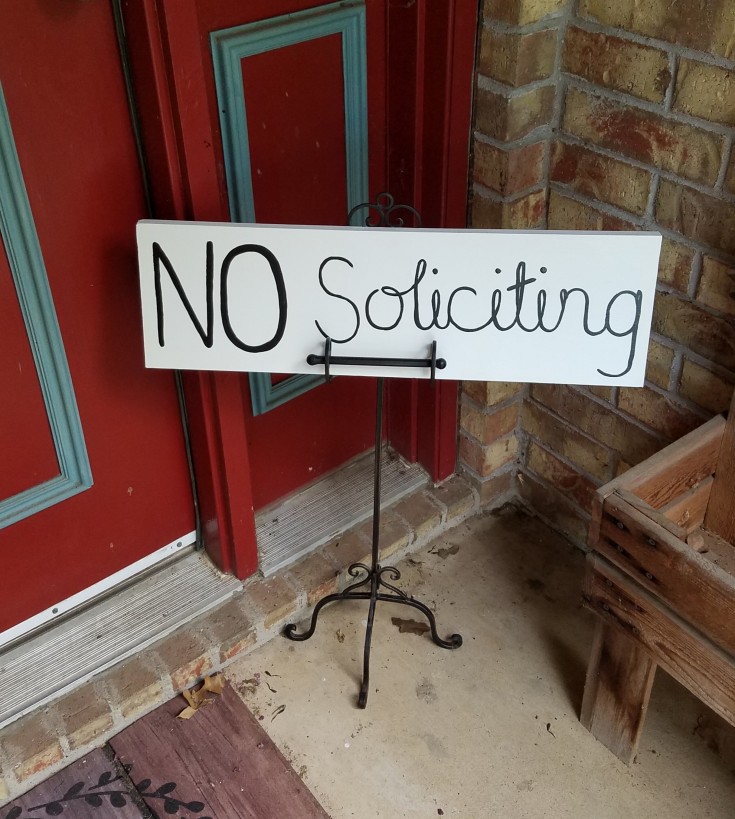 More Signs You May Enjoy!
Family Photo Display Sign
Laundry Room Sign
Farm Fresh Eggs Sign