Hi all! Today I am going to show you how to turn two thrifted items into Halloween décor. I picked up this cute metal Jack-o-lantern cut-out awhile back for $1.19 and have been on the lookout for something to pair it with for Halloween décor. When I ran across this wood cutting board for only a dollar and the size is perfect for what I have planned.
***This post contains affiliate links… We are a participant in the Amazon Services LLC Associates Program, and affiliate advertising program designed to provide a means for us to earn fees by linking to Amazon.com and affiliated sites at no extra charge to you. Please read my full advertising disclosure for more info. Thanks so much for your support!***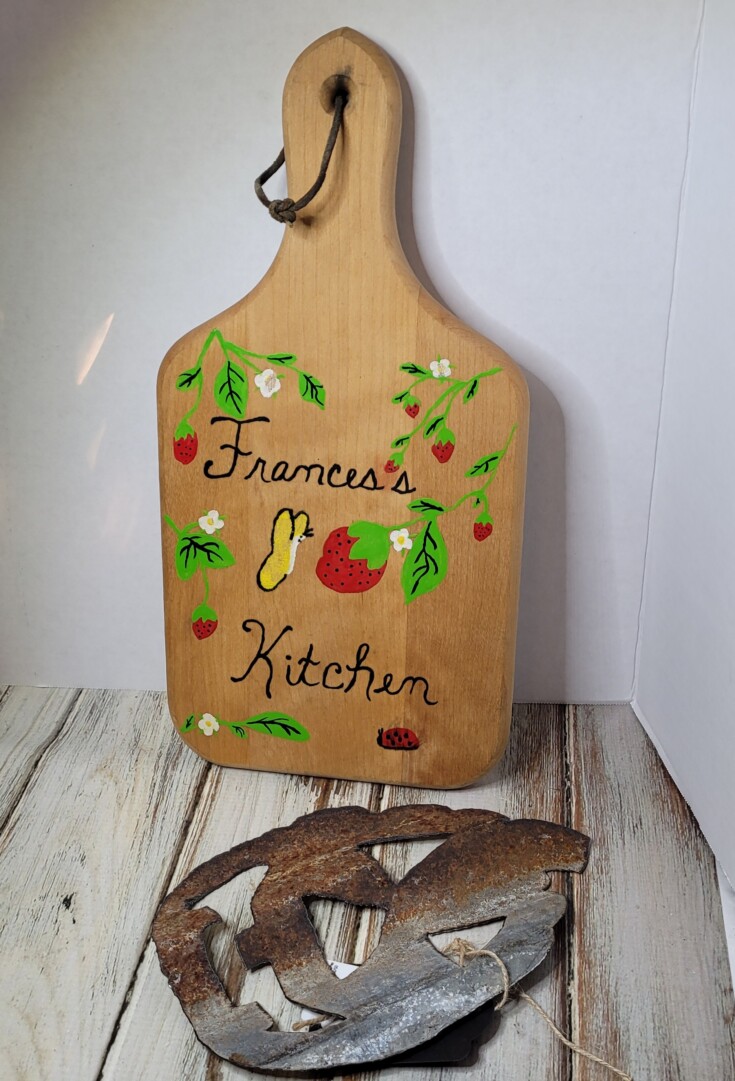 Thrifted Items into Halloween Décor
I started off by giving the wood cutting board a good sanding to remove any rough spots and the painting.
Then two coats of white chalk paint.
Next, I distressed the cutting board with my niffy little craft sander.
To attach the metal cut-out, I drilled two small holes through the metal cut-out and the cutting board.
Squirt a little gorilla wood glue into the holes on the wood. Then position the jack-o-lantern in place and hammer in the small tacks to hold it.
Since the tacks were black, I dabbed a little rust red paint on the heads and sprinkled some cinnamon over the paint. Hoping the tacks will blend in a little better this way.
To finish off these thrifted items into Halloween décor I added a variety of ribbons.
And hot glued some faux fall leaves to the handle.
Now a piece of leather cord and these thrifted items into Halloween décor project is Done!
More Fun Thrifted Halloween Decor
Halloween Garland from repurposed bulbs
Fall pickle jar pumpkin
Metal vintage strainer Jack-o-lantern
Repurposed item into jack-o-lantern lamp