Hi All! Today I am going to show you how to age paper with coffee. I've had several people ask me how I made my paper look aged in my paper wire wrapped bead tutorial. so here it is. You can use tea instead of coffee, I prefer using strong black coffee.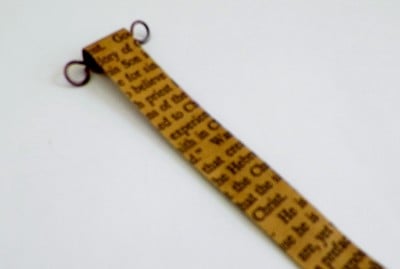 ***This post contains affiliate links, if you click on an affiliate link & buy something I may receive a small commission at no extra charge to you. The affiliate money I earn helps pay the expenses to keep this site running. Please read my full advertising disclosure for more info. Thanks so much for your support!***
How to Age Paper with Coffee
1. First you will need to turn your oven on to about 450 to preheat the oven.
2. Next mix up a 1/2 cup of instant coffee. (the stronger you make it, the more aged
your paper will appear).
3. Than lay your paper that you are going to age in the sink, or in a shallow pan.
4. After that pour the coffee slowly over the paper letting it spread over the paper.
5. Now gently pick up the paper and spread it out flat on a cookie sheet.
6. Turn the oven off, and put the cookie sheet into the oven till paper dries. It doesn't take long.
That's it! That is how to age paper quickly with coffee.
Other Projects With Aged Paper You May Enjoy!
Aged Paper Wire Wrapped Beads
Vintage book page block with cross