Hi All! Today I will be sharing a fun Saint Patrick's Day project. Upcycled Saint Patrick's Day Jars! I love using glass jars in my crafting/upcycling projects. Their virtually free and you can make all kinds of cool things from jars. Holiday décor like these DIY snowman lanterns, mason jar mummy lanterns, stars and stripe jars, or things for every day like a rustic air plant planter, pencil jar, or even cute tissue holders. These are just a few things that can be made from empty glass jars.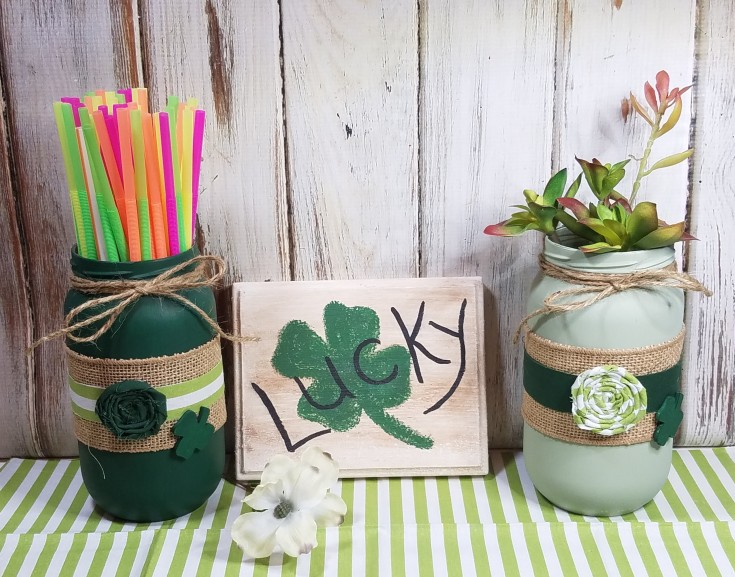 ***This post contains affiliate links, if you click on an affiliate link & buy something I may receive a small commission at no extra charge to you. The affiliate money I earn helps pay the expenses to keep this site running. Please read my full advertising disclosure for more info. Thanks so much for your support!***
Supplies for Saint Patrick's Day Jars

2 empty glass jars
2 different shades of green paint
Fabric with green shades or patterns for St. Paddy's day
Hot glue gun and sticks
2 wood shamrock cutouts
Paintbrush
Twine
Scissors
Burlap ribbon
Upcycled Saint Patrick's Day Jars
Start off by cleaning your jars in hot soapy water and remove any labels and sticky gunk.
Once jars are dry you can start painting them with the greens of choice.
Paint one dark green and the other a lighter shade of green.
Not having both shades of green in chalk paint I painted one with Celery green chalk paint, and the other with green acrylic paint. Apply 2 -3 coats of paint for each jar letting each coat dry thoroughly.
Next cut a piece of burlap ribbon long enough to go around each jar with a little overlap. Hot glue the burlap ribbon around each jar.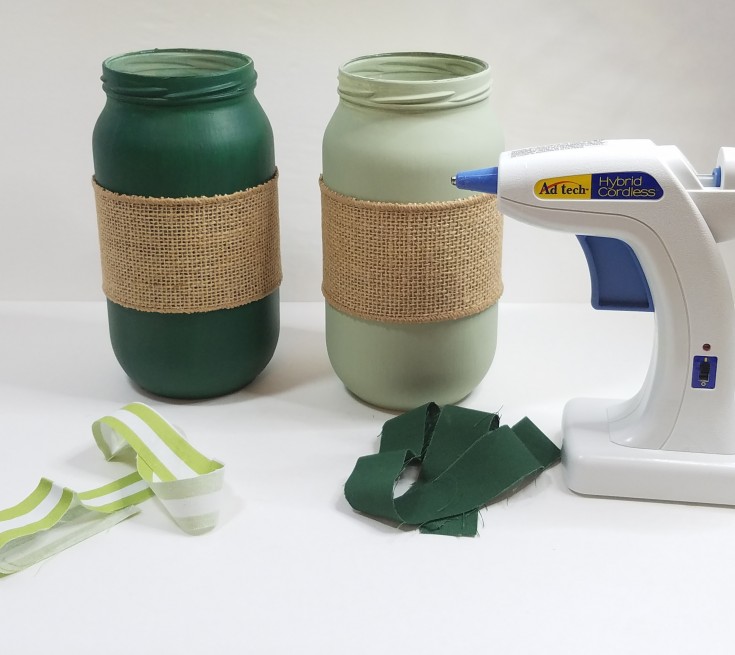 Cut two strips of fabric one of each pattern long enough to go around the jars with an overlap as well, about one inch wide. And hot glue this in the center of the burlap.
Cut two more strips of fabric one of each color/pattern about one inch wide and about eighteen inches long. These will be used to make the rosettes.
With one fabric strip start twisting and coiling while applying a dab of hot glue as you go to form a rosette. (Quick tip – for fabric strip with a pattern fold in half with the right sides up then twist and coil so right side will show instead of underside showing).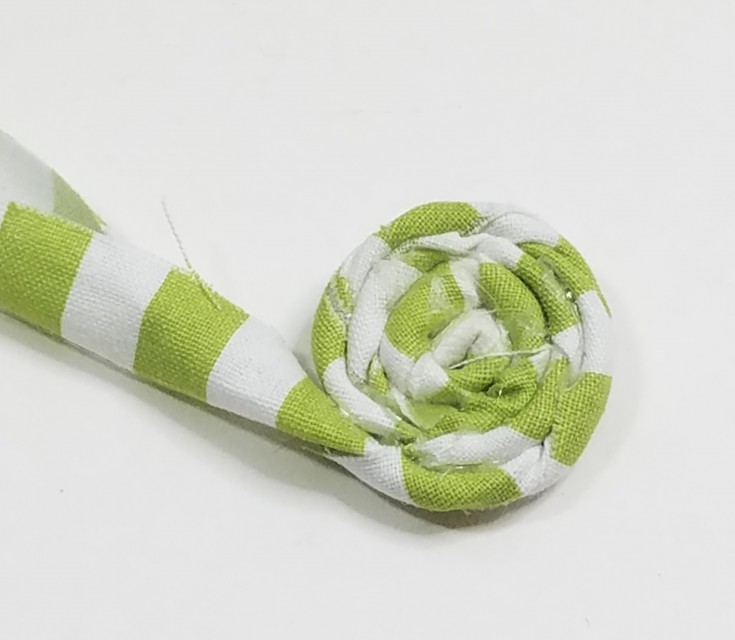 Repeat the twisting and coiling and gluing for the second rosette.
Glue the rosettes on the center of the burlap ribbon for each upcycled Saint Patrick's Day jars.
Painting the wooden shamrocks green, and once dry glue them beside each of the rosettes. I was going to glue them on top of the rosettes, but because the green on green made it hard to see the shamrock I decided to just glue them to the sides.
Lastly, tie a piece of twine around the neck of each jar, and that's it for these upcycled Saint Patrick's Day jars. These can be used as vases, utensils or straw holders. Do you save jars to upcycle? If so, please share in comments below how you upcycle your jars!
More Upcycled Jar Projects!
Pencil jar tissue holder
Fall pickle jar pumpkin
Tea light lanterns for the hunter
Diy loose change jar
If you enjoyed this post, would you mind taking the time to: