Hi All! This is my first post after retirement, and it feels really strange not having to get up and go to work in the middle of the night. Now I can have a normal schedule and can do whatever I want. Like working in my garden, upcycle one of my thrift store items do some much-needed blogging things, etc. Or just do nothing at all! So, for my first retirement post I will be sharing a quick way to makeover some of the jars that I have saved. These upcycled stenciled jars are an easy way to jazz up some empty glass jars to be used as utensil holders, vases, makeup brush holders even in the craft room as storage for paint brushes etc.
***This post contains affiliate links… We are a participant in the Amazon Services LLC Associates Program, and affiliate advertising program designed to provide a means for us to earn fees by linking to Amazon.com and affiliated sites at no extra charge to you. Please read my full advertising disclosure for more info. Thanks so much for your support!***
Upcycled stenciled jars
Start off by gathering all the jars and giving them a good hot soapy water bath and let dry.
Pick your paint colors and give each jar two Coats of paint. I love chalk paint because it adheres to just about anything without any prepping.
Once the jars are painted and dry go back and sand if you desire a distressed look.
Wipe clean and secure the stencil with blue tape, then start stenciling in the wording. I stenciled a different word on each jar.
Let that dry then tie a piece of twine around the neck of each jar.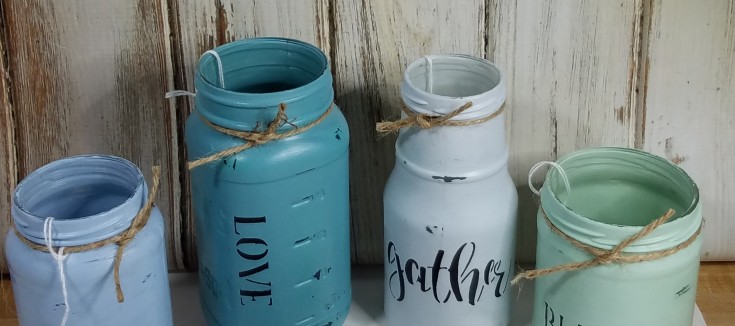 That's all there is to these upcycled stenciled jars, and now you have some pretty vases, or storage containers.
Supplies for Upcycled Stenciled Jars
Glass jars
Paint of choice
Paintbrushes
Stencils
Stencil brush
Sandpaper
Twine
More Fun Upcycled Jars!
Pencil jar tissue holder
Stars and stripes jars
Mason jar mummy
Tea light lantern