Hi All! Here's another fun way to upcycle cans. When I saw the DIY wind chime made out of tin cans over at Picture Box Blue I knew that I had to try my hand at upcycling cans into wind clankers for myself. I also wanted to try a technique that I seen a while back where different colors of spray paint were applied to achieve a rusty look. I wish that I could remember where I saw the technique, so I will be flying by the seat of my pants on this one.
Upcycling Cans into Wind Clankers
First, gather some cans in different sizes, remove the labels, wash and dry. Then drill holes in the top of each can.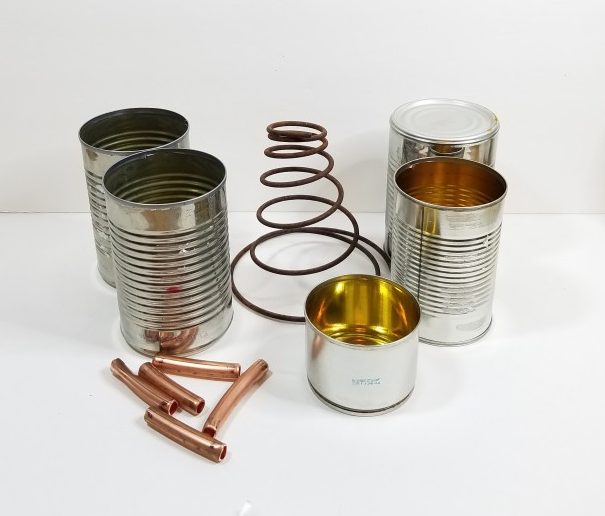 Next, I started spraying light coats of different colors of spray paint trying to create the look of rust.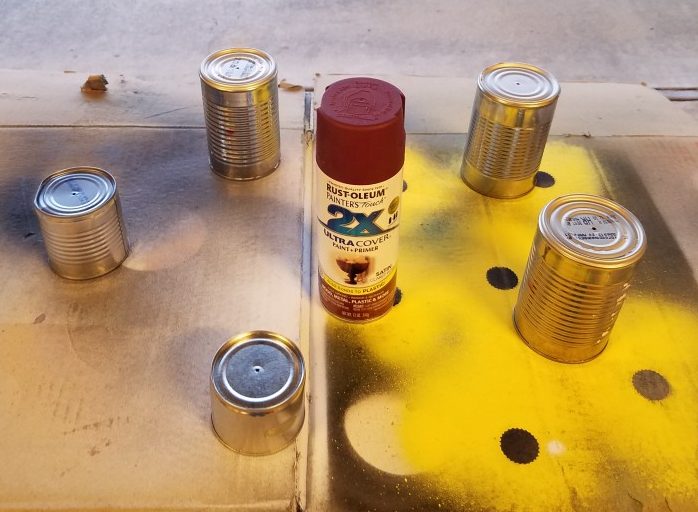 First, I used a dark reddish color, then went to gold, hammered bronze, and lastly an espresso brown. It didn't really turn out looking quite like rust but I'm happy with how it turned out.
I'm sorry but I guess I forgot to take the photo before I gave each can a light spray of seaside. Letting some of the dark under color show through.
While the cans were drying, I cut some copper tubing into 1 ½ – 2" pieces then hammered them flat.
Used my jewelry hole punch to punch holes in both ends of the hammered copper. These will be my clackers.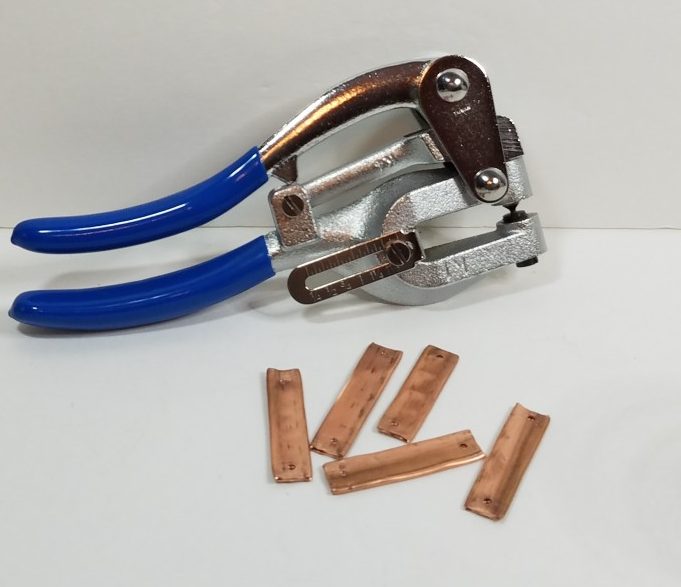 Next, I dug around in my jewelry supplies and came up with the large drop crystals, turquoise colored howlite, glass beads, hammered copper washers, and my handmade copper jumping's. Once my supplies were gathered, I started putting the decorative clackers together.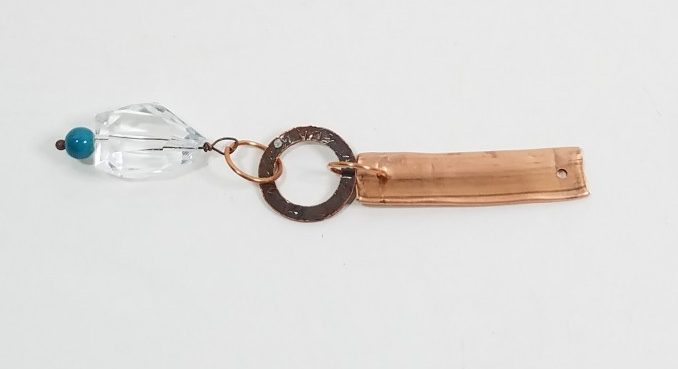 Now it's time to put the upcycled can wind chime together, using some nylon coated stainless steel jewelry wire. Because that is what I had on-hand.
Attaching the wire to the clackers by adding a bead then running the wire through holes of the cans adjusting the wire so that the clackers hung just right in the cans so that they would make noise when the wind blew.
Then adding another bead to the top of each can.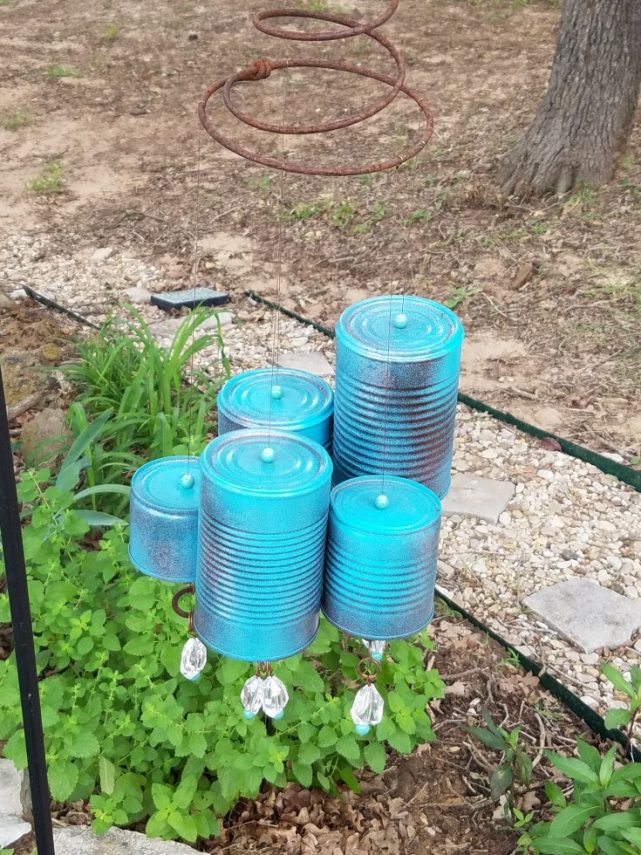 The end of the wires were attached to a rusty bed spring using a crimp bead and a crimping tool. Strong fishing line would work as well when upcycling cans into wind clankers, but I didn't have any and I like to use things that I have at hand when possible.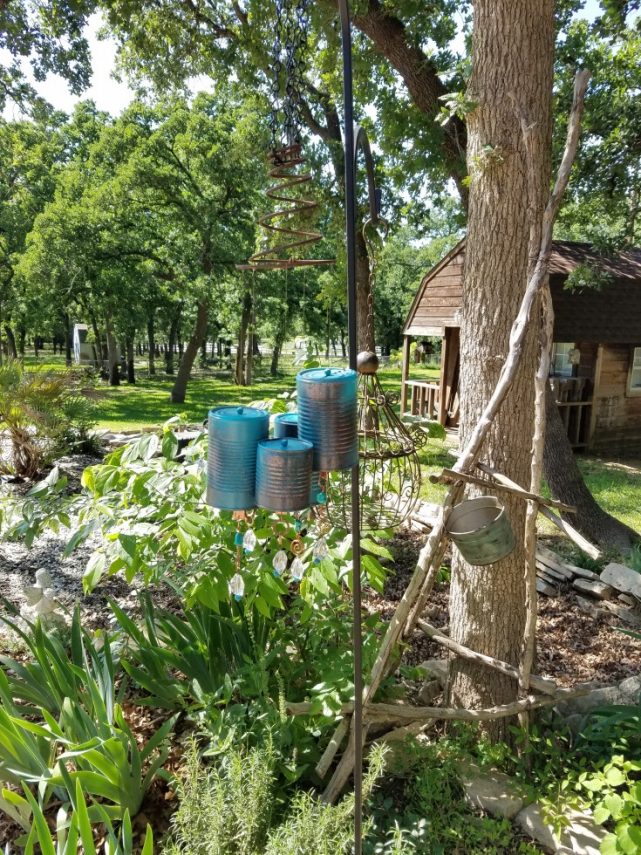 That's it for my way of upcycling cans into wind chimes. Have you ever made wind clankers out of cans or other household items? If so, please share in comments below, I need more ideas for wind clankers.
***This post contains affiliate links… We are a participant in the Amazon Services LLC Associates Program, and affiliate advertising program designed to provide a means for us to earn fees by linking to Amazon.com and affiliated sites at no extra charge to you. Please read my full advertising disclosure for more info. Thanks so much for your support!***
Supplies for Upcycling Cans into Wind Clankers
5 empty tin cans in different sizes
Spray paint of choice
Drill
Copper tubing
Hole punch
10 beads
5 crystal drops
Bedspring
Jewelry wire or fishing line
Crimp beads, and crimper if using jewelry wire
Hammer
Not much into diy wind clankers? Then have a look at these cute ones below!


More Fun Tin Can Upcycles!
Texas flag tin can pencil holder
Diy tin can pumpkins
Quick and easy repurposed tin cans
How to make rusty tin cans
If you enjoyed this post, would you mind taking the time to:
Thanks for sharing your thoughts and comments! I read and appreciate every single one!