Hi All! I cannot believe that August is more than half way over. I am not ready for the holiday's, they are creeping up way to fast. I haven't even started on holiday projects yet, I have gotten stuck on painting everything the farmhouse style, like how to update a hanging box in 4 easy steps.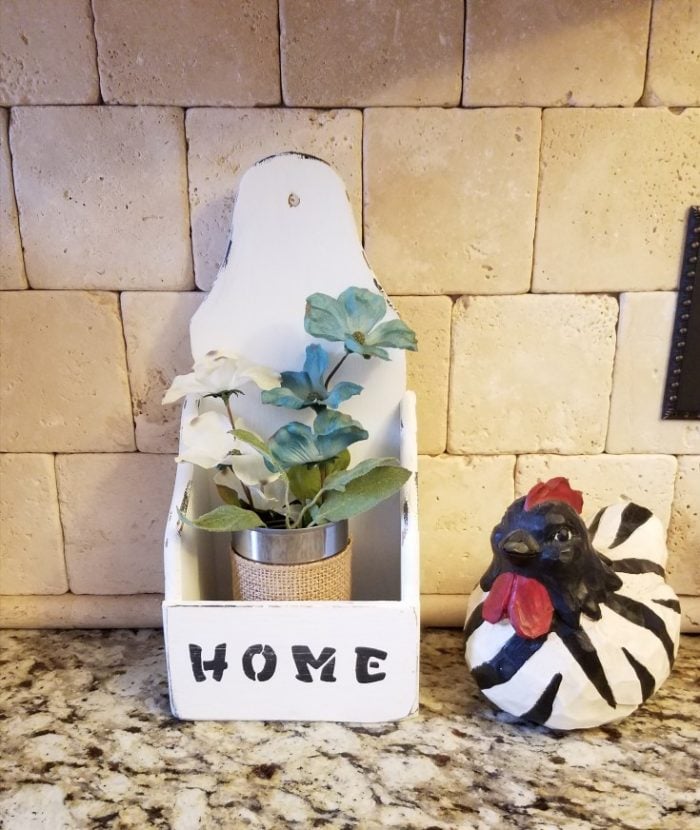 I found this cute little hanging box at the thrift store for $1.99 and just couldn't pass it up. That's my kind of price, I'm cheap. Just ask the hubby! But I think of myself as being frugal not cheap. If it's more than a few dollars or I can make it myself I will not buy it.
***This post contains affiliate links, if you click on an affiliate link & buy something I may receive a small commission at no extra charge to you. The affiliate money I earn helps pay the expenses to keep this site running. Please read my full advertising disclosure for more info. Thanks so much for your support!***
Material List
Thrift store box
White chalk paint
Black chalk paint
Letter stencils
Stencil brush
Sand paper
Burlap ribbon
Update a Hanging Box
To update a hanging box, you will need to start with a clean box. I didn't get photos of each step, but it is very simple so I will just walk you through each step.
1. The first step is to give your box two coats of white chalk paint letting each coat dry thoroughly.
2. Next stencil the word HOME onto the front of your box using black chalk paint.
3. Once dry take the box outside, and sand the edges, and lightly sand the front and sides.
4. Last step take back inside, and smear just a dab of black chalk paint on the edges of the box. This adds to the
distressed look.
That's how to update a hanging box in 4 easy steps!
Since this little box is going to my craft booth I am going to add some pretty flowers. To do this I am going to use an empty can because I didn't have a jar that would fit.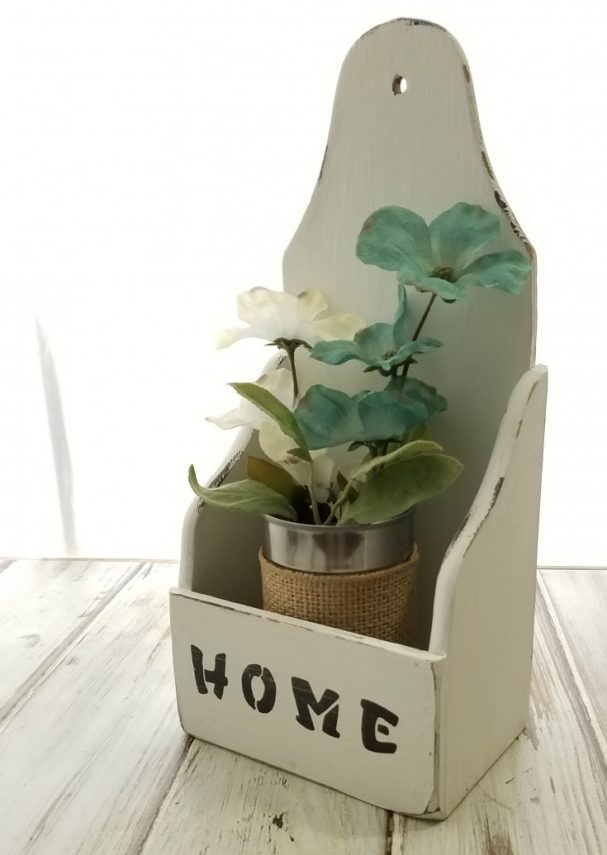 I wrapped some 3" burlap ribbon around the middle of the can, then hot glued it in place.
Next, I added a few pebbles to help hold the flowers in place, then added the flowers.
Now I have some cute farmhouse style décor. What do you think of the little box. How would you have painted it?
More Farmhouse Style Projects You May Enjoy!
Tissue box cover
Wood box farmhouse style
Farmhouse signs and thrift store makeover