My Beach sign was a big hit so I decided to make a Weathered Beach House Sign with a starfish like I added on my Beach sign.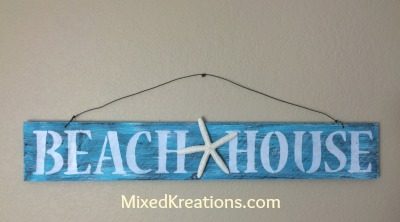 How To Make Weathered Beach House Sign
1. I started out with a piece of wood that had been stained, but you could use an aging solution.
2. Dry brush the wood board using the blue turquoise paint leaving some of the wood showing through.
3. Once dry I started stenciling by working from each end of the wood working towards the center, spacing evenly.
4. Now drill your holes and add some wire for hanging.
5. Glue your starfish in the middle of your weathered beach house sign with a dap of wood glue. Let dry and that's it.
Have you made any beachy crafts lately?
*This post contains affiliate links, if you click on an affiliate link & buy something I may receive a small commission at no extra charge to you. The affiliate money I earn helps pay the expenses to keep this site running. Please read my full advertising disclosure for more info. Thanks so much for your support!*
Weathered Beach House Sign Project List
* approximately 20″ by 4″ piece of wood
* letter stencils
* blue turquoise acrylic paint
* white acrylic paint
* starfish
* paintbrush
* stencil sponge
* annealed wire
* wood stain
* drill
* wire cutters
* pliers
* wood glue