Last week I told you why I started making jewelry, so this week I want to share Why I Became a Blogger, and everything that lead up to becoming serious about blogging. When I first started a website, and the main reason was to promote my handmade jewelry, even though I hadn't a clue about starting website. Over time it became more then that to me.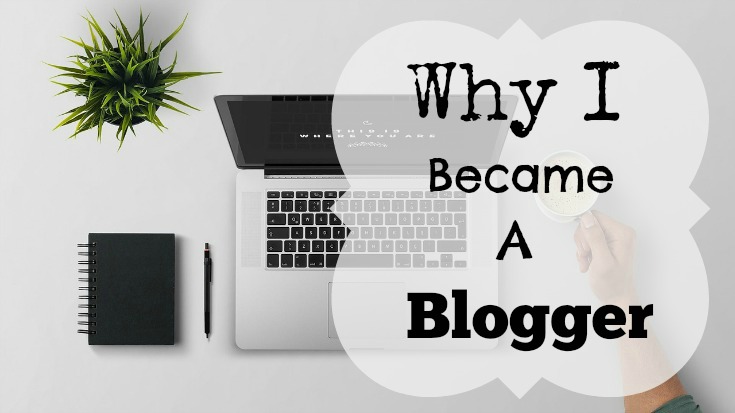 I started off building my website using yahoo site builder. For someone without any real computer experience other then surfing the web I managed to build the website. I still had no idea of what I was doing as far as SEO, and building a following along with a million other things. On top of that I'm shy, and my writing skills are lacking.
Why I Became A Blogger, How I Got There
In the meantime, a lot was going on in my life, and one of those things was getting together with my new husband (a wonderful man that has been very supportive). We bought our first house together, and started some simple makeovers like painting, changing out doors, a master bath makeover, and a few other things to make this house our home.
This is when the man tools came back into play, and I started doing some woodworking, and wood crafts again. Simple things like signs, and wall décor, a small rustic table, etc.
We also did some work outside on our house as well. The hubby made some faux wood shutters around the windows to give the house more curb appeal. I cleaned up the flowerbeds, mulched them with the leaves that I vacuumed up. Planted more bulbs, perennials, rosemary, and got the weeds from the previous owner under control. Took 3 years to accomplish this.
After all this work the hubby suggest that we sell and find our retirement home, so that we are still able to do any updating, and remodeling to make it our home. I wasn't so sure about moving, I loved being 15 minutes away from work. But we both were used to living more out in the country (out skirts of the metroplex).
So we started looking and found one in a culdesac with 1.8 acres, and drove by it, but I didn't care for it because it was like you top a hill then there it was down almost at the bottom of a hill. So we kept looking with no luck. Everything we found was either sold, had a contract on it already, or was in bad shape.
In the mean time we put our house on the market on a Friday. By Monday we had 3 offers and sold it to the first couple that put the offer in the same day it went on the market. So now we had to find a house quickly. We started packing as we were looking, it was all happening so fast.
We decided to go back and look at the first house we saw, and this time went inside. We loved it! It had a neat layout, beautiful yard, except the weeds in the flowerbeds (not again). Only bad thing was it was really dated, back in the 80's. Ugly green carpet throughout the house, mauve and greenish wall, green floral wall paper, pink Formica countertops, and a pink bathtub (what were they thinking). No wonders the house had been on the market for over a year and hasn't sold. A ton of work to make it our home.
We have the woods behind us, over an acre of land, back yard fenced in, deer in the woods, other wildlife, and the house had good bones. And the hill wasnt so bad, it made it more private. So we put an offer in and it was excepted.
All along as this was going on I was working on my website, then yahoo site builder offered me a free blog to go with my website. So now I have a website and a blog and still don't know what I'm doing. But I managed to get my new blog up and running, and blogging pretty much to myself. With everything that's going on plus having an hour drive to work, and an hour back home (depending on traffic) instead of the 15 minutes I just couldn't keep up with a blog and a website.
I had to stop and think about why I became a blogger, and a website owner, and needed to decide between the two. It was a hard decision because I built my website myself and was so proud of myself. Even over that I picked my blog, and I transferred it to BlueHost. That was a frustrating process because the previous hosting server was making things so difficult. Finally, it was transferred, but in the process I lost all but a few comments that I had on my blog. So heartbreaking!
So for the next two years I worked on my blog writing post, sharing my jewelry, and now my woodcrafts as well. I was pretty much writing to myself. Then one-day last year I woke up and decided I either need to give it up all together, or get serious about it, and make this blogging thing work. Believe it or not I decided to get serious (see I'm stubborn like that, not a quitter, and become to love blogging).
Even though I still haven't a clue as how to take my blog to the next level, and gain more followers. Plus, I had the shyness, and lack of writing skills haunting me. But I built it and I loved it, and I loved creating things and I wanted a place to share with whoever would come.
I'm sure my blogging surprised everyone that knows me, but it really was a BIG surprise to myself. This shy tomboy with the bad grammar is a blogger, and loves it.
So my next step was to separate my blog completely from my old website. Which for some reason BlueHost still had the two linked together when they were transferred, and it was causing issues because I was unable to work on the website anymore.
My next step was to change the look of my blog by purchasing a child theme with the Genesis Framework through Studio Press, and I moved my blog to another hosting service called The Sprout Studio that was recommended to me when I was looking for someone to work on some technical issues on my blog. They offer tech services by the hour, something I desperately needed.
Now I have a blog and a tech if needed, now what? Research, I got to make this blog thing work. First I ran across this ebook "Building a Framework, by Abby Lawson". A awesome eBook packed full of information to help the newbie blogger. Then I found this ebook " How to Blog for Profit without Selling your Soul, by Ruth Soukup", another ebook packed full of great information. I started implementing the things that I've learned, and my page views started going up. I was joining link parties, commenting on other blogs, and participating in Facebook sharing groups.
But I had one problem, with the combination of joining link parties, commenting, joining FB groups, working on the house, and my long drive to and from work I didn't have time for anything else. I was falling in a hole, and couldn't get out. Then one day I just happened to run across a link at one of the parties that I had joined. The link lead to a blog called "View From In Here". There was an invitation to join the VIP lounge and a tribe (WooHoo a tribe). I have read over and over that one needs a tribe, but being so shy it was really hard to reach out to people about being in a tribe.
Now here it is someone looking for tribe members. What a Blessing this is! I joined the VIP lounge where I found lots of great information to give me direction in my blogging, and start growing a following. I asked to join the tribe. This was a Great Day!!! I not only found great information to help guide me in the direction that I wanted to go, but I now belong to a tribe with a group of wonderful ladies that are very supportive. We are building friendships, helping each other, sharing each other's content, and more.
I gained all of this because of a link that I accidently stumbled across, which lead me to Nikki at View from In Here, a wonderful lady that is not only there to grow her blog but to help others as well, so that we can all grow together. Even through all the rough times and heartaches in her own personal life (which she shares on her blog). Nikki is not only wonderful but she's Brilliant, she is the brains of the tribe, along with her side kick Mary at The Boondocks Blog, another wonderful lady that has come a long way in one year of blogging. Mary is amazing, she can create beautiful things out of anything, and I mean anything. She also has a never-ending supply of things in her basement. LOL. You won't believe the things she pulls out, then turns it into something beautiful.
If you are a lonely little blogger, or just looking for some information to help you build your blog, hop over and check out the View From In Here. You will find lots of helpful information written in a humorous way that is easy to understand.
More Helpful Resources For Bloggers
Now I have a tribe, and direction, and a way to share what I love to do with others through tutorials, and my blog post. I have come a long way over the last year with a new blog design, and some SEO knowledge, and a following. May be a small following, but I can say I've not just writing to myself anymore.
Recently I purchased a couple more eBooks Skyrocket Your Page views, by Kelli and Crystal of Learn to Blog Hangouts. This eBook has been a tremendous help in learning more about Google Analytic and how to help in growing my page views.
The second eBook is the Affiliate Marketing for Bloggers, by Tasha Agruso. This eBook has given me the knowledge that I need to start monetizing my blog to help cover the expenses of blogging at no extra cost to my readers. Both of these books have been a tremendous help by breaking everything into easy to understand task. I highly recommend these two eBooks and the two above.
GeeWeez that's a lot of writing for me. Now you know a little about me and how I came about being a Blogger. Never in this world would I ever had thought that I would become a blogger. I'm shy, I hated school, which I'm sure is the reason I lack confidence in my writing skills. But here I am today, doing what I love along with my full time job (not loving), but hey it's a job.
The main reason for my blog is no longer a place to promote, but it is a place for me to share what I love.
By blogging I can share my love for creating through my post, and tutorials. My dream is that one day my blog will be my only job (blogging is a job on its own, it takes lots of work). I have an awesome man by my side that supports me all the way, a supportive group of wonderful woman (my tribe), and my blog to share my love of creating. What more can a girl want. This is Why I Became a Blogger.
*This post contains affiliate links, if you click on an affiliate link & buy something I may receive a small commission at no extra charge to you. The affiliate money I earn helps pay the expenses to keep this site running. Please read my full advertising disclosure for more info. Thanks so much for your support!*