The reason why I started making jewelry came about seven years ago when I went through a divorce after 32 years of marriage. Before my divorce I was into woodworking and woodcrafts. Had my own power tools including a shop smith, and I taught myself woodworking. I did a lot of woodcrafts, even had a booth at the craft mall, and did craft shows as well. Since I was moving into an apartment I was forced to sell most of my woodworking equipment.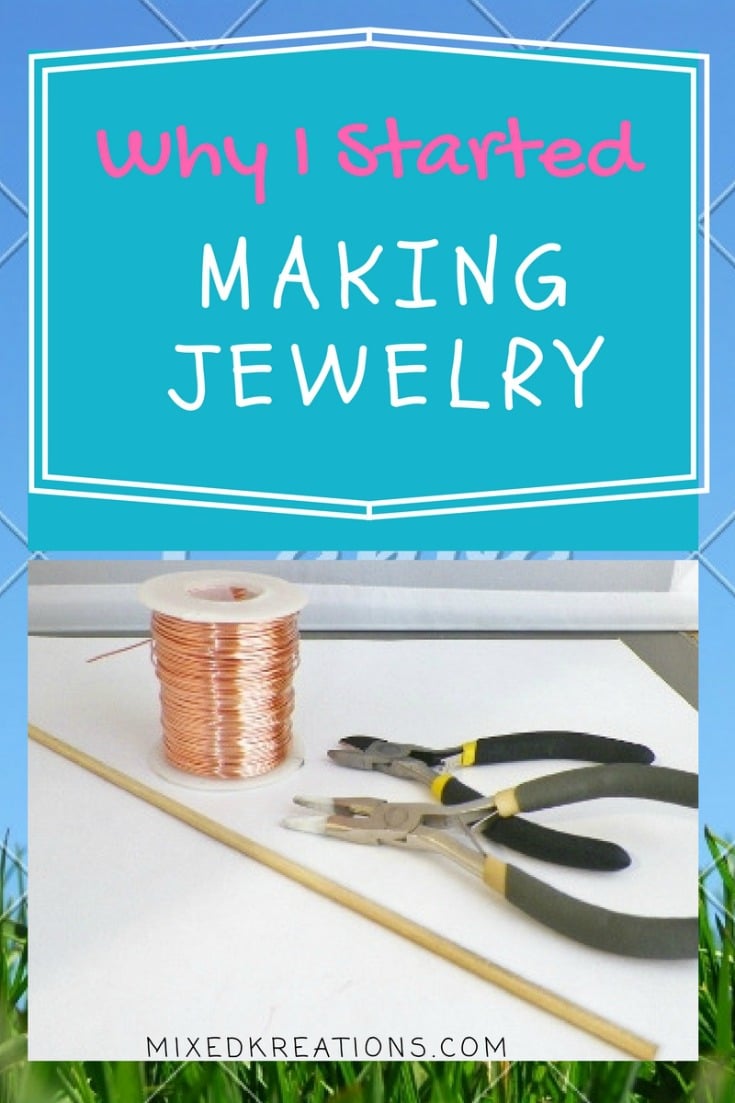 Wanting something to help supplement my income and to keep busy I decided to try jewelry making. It was something that wouldn't take up a lot of space and I could do it in the comfort of my living room.
Now this was something way out of the ordinary for me. Jewelry is for girls and I have always been a bit of a tom boy. Who am I kidding I was a Big tom boy. I not only used man tools, but I use to fish, hunt, and ride motorcycles (had 3 of my own). I loved riding the dirt trails, and though Creek beds.
Now I'm going to be making jewelry, go figure. I guess I'm turning girlie (somewhat anyway) as I've gotten older. Don't fish anymore because I don't like worms, don't hunt but I do still go shoot my guns, and I don't ride anymore. Hurts like hell when I fall and its harder to get up. So now I am going to start making jewelry.
I started off string beads, and it didn't take long before I got bored of that. I have always loved working with my hands and after working with man tools for so long string beads just wasn't challenging enough. So I started exploring different jewelry making technique's, and that's when I ran across copper wire jewelry. That was it, I fell in love with copper wire. It's inexpensive so I can make beautiful pieces to sale without charging an arm and a leg.
Copper has natural earthy tones when oxidized. When left to oxidize overtime it will turn a bluish green, and if you like it shinny like a penny just let it sit in lemon juice, rinse and wipe clean. Also It is believed that wearing copper jewelry helps reduce the pain associated with arthritis.
Copper comes in different gauges, the smaller the number the larger the wire. I usually work with 20 gauge for ear wires, and 18-12 gauge for bracelets, and necklaces. Copper can be hammered to work harden and give a different textured look. That's where the fun part begins, the cutting, forming, hammering, and sanding.
Stringing beads and working with a few hand tools just didn't cut it with me. But with copper I have a pretty large assortment of tools. Different types of pliers, hammers, flush cutters, dremel tool, and more. I can even buy copper tubing which is fun for making unique copper beads.
I enjoy working with copper so much that I now make most of my jewelry components. Jump rings, headpins, clasp, different kinds of links for making my own chains. I can make clasp and links that you cannot buy unless buying from another handmade artist.
Even though I prefer copper for jewelry making I do make mixed media jewelry as well. Which includes aluminum, leather cord, sari silk, and even paper like in my popular copper wire wrapped paper beads post.
This is the reason why I starting making jewelry, and every piece that I make is unique, one of a kind pieces, and made with love.
*This post contains affiliate links, if you click on an affiliate link & buy something I may receive a small commission at no extra charge to you. The affiliate money I earn helps pay the expenses to keep this site running. Please read my full advertising disclosure for more info. Thanks so much for your support!*
Resources
Fire Mountain Gems has a great jewelry making resource center with free jewelry making instructions, video's, ask an expert, a jewelry design gallery for inspiration, and more.
I buy a lot of my gemstones and beads from Fire Mountain Gems, but for my copper wire I buy it at Contenti, they don't have an affiliate program but I've found that they have the best prices on copper wire. So if you are interested in learning to make jewelry you may want to check out Fire Mountains free resource center, and Contenti if interested in working with copper wire.