Hi All! Lately I haven't been getting much accomplished because it's just been so hot when I get off work I don't feel like doing anything at all. But this past week I decided I needed to get my behind in gear and get something done. So, I did some deep cleaning in the sunroom, and turned a jack-o-lantern block into a wood home decor block for a shelf, part 1.
It all started with cleaning, moving everything in the room and cleaning behind. Sweeping, mopping, wiping down things, washing windows, and cleaning off a bookcase that's been used as a catch all. (The cleaning off the shelf was a last-minute thought).
Once I got all that done, and removed some craft items that I had made, and been taking up space on the bookcase. I needed organize and decorate the shelves. I started out with some books. Then gathered a few things that I had elsewhere, and added them in. Added my diy scrap wood block houses. Put a faux air plant in a small jar with pebbles to hold it in place, and sat it on top of some books.
Needing one more thing to o up on top with the birdhouse (that I dug out of my Goodwill stash) got be to thinking of those quick and easy diy jack-o-lanterns that I had to bring back home from the craft mall. They are just sitting there taking up space, so why not turn one into something else.
It was the perfect size. After a quick look on Pinterest I decided to make a wood home décor block.
Wood Home Decor Block
So, I grabbed a jack-o-lantern block pulled the stem out,
and gave it a coat of black chalk paint, front, back, and sides.
Once dry I used some chalk to add the word "Home" onto the front of the wood block in the font I wanted.
Now all I need to do is paint over the chalk to add the word home.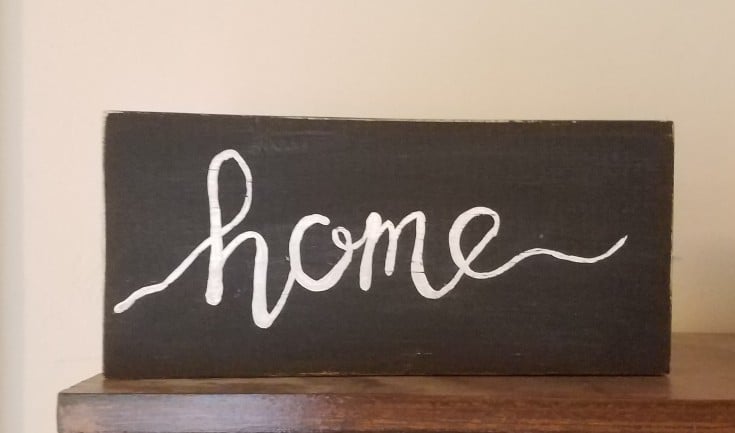 Letting it dry thoroughly before heading out to the garage to distress the wooden home block.
Dusting it off and my new wood home decor block is ready for its new place on the shelf.
***This post contains affiliate links, if you click on an affiliate link & buy something I may receive a small commission at no extra charge to you. The affiliate money I earn helps pay the expenses to keep this site running. Please read my full advertising disclosure for more info. Thanks so much for your support!***
Supplies Needed
Wood Block
Black chalk paint
White chalk paint
Paint brushes
Chalk
Sandpaper
I have one more shelf I need to find something for, the bottom shelf. Got and idea so check back next week for part 2.
Until than I think this block makes a much better wood home decor block than a jack-o-lantern. What do you thing?
More Home Decor Blocks You May Enjoy!
Easy diy scrapbook paper blocks
Chevron photo block display
Country chicken on a vintage wood block