This Shabby Animal Print Valiance has been on my list of things to make for a very long time, but just never got around to making it.
I fell in love with these shabby Valiance's ever since I seen them on Pinterest.
My first thought was to make one for my craft room, then I thought why not make the animal print Valiance for the guest bath. It will match the shower curtain I made and the other animal print decor.
Wasn't sure the hubby would like it though, and to my surprise he did. We even talked about me making a couple shabby Valiance's for the kitchen window (of course no animal print).
I bought fabric remnants at Walmart for $1.00 each.
1. First cut all your animal print fabric into 18″ strips approximately 1″ wide.
2. Cut all your solid fabric into 18″ strips approximately 1/2″ wide.
3. Now tie your fabric strips onto your tension rod, try to center your strips so that they hang evenly.
4. Keep tying the fabric strips in a some what orderly fashion until you have your tension rod full of your animal print fabric strips.
5. Once I had my tension rod full I decided to add five 18″ strips of shimmery gold ribbon just to give it a little more color.
6. Try to space the ribbon out evenly, and just tie on the rod.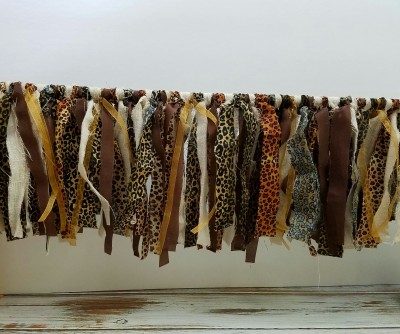 7. Now just go back and trim any extra long strips hanging down, just to even it up some. Doesn't have to be perfect.
8. Hand it in your window and that's it for your shabby animal print valiance. Wasn't that easy? I love how it turned out.
How do you like it?
*This post contains affiliate links, if you click on an affiliate link & buy something I may receive a small commission at no extra charge to you. The affiliate money I earn helps pay the expenses to keep this site running. Please read my full advertising disclosure for more info. Thanks so much for your support!*
Materials Needed For Shabby Animal Print Valiance
2 different Animal print fabrics
2 solid colored fabric
Scissors
Tape measure
Tension rod
Shimmery gold ribbon