Hi all! I'm here again sharing another diy pumpkin project. The 10-minute block pumpkins. If you're looking for some quick pumpkin blocks than look no further. These super easy pumpkins literary take 10 minutes to make, not counting the drying time.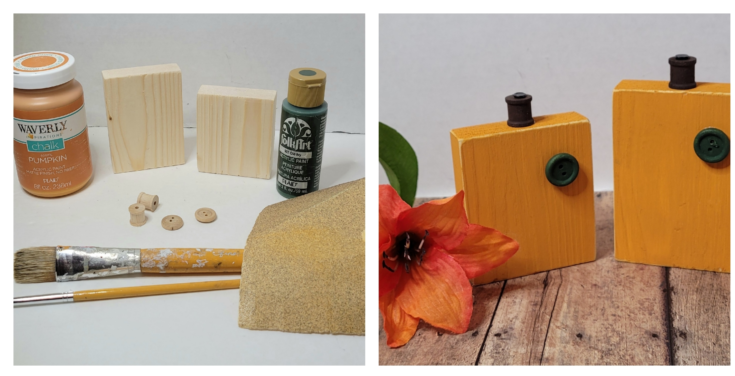 ***This post contains affiliate links… We are a participant in the Amazon Services LLC Associates Program, and affiliate advertising program designed to provide a means for us to earn fees by linking to Amazon.com and affiliated sites at no extra charge to you. Please read my full advertising disclosure for more info. Thanks so much for your support!***
10 Minute Block Pumpkins
Let's get started by adding one coat of orange paint to two scrap wood blocks. All sides except the bottom of each pumpkin.
While that is drying paint the two mini spools brown. If you put them on a toothpick, you can paint all sides.
Go back to the pumpkins blocks and paint the bottoms while the buttons are drying.
Now paint the two wooden buttons green. I placed the buttons on a toothpick as well for easier painting.
Distress the block pumpkins by giving the edges a quick sanding while the buttons are drying.
Add some wood glue to the end of the spools and place them top center of the wooden 10-minute block pumpkins. Since I bought some upholstery tacks that I wasn't able to use in my diy wood block pumpkins project in my last post. I decided to use two and tack down the spools with them. Just a little added measure of keeping the pumpkin stems in place.
Lay the pumpkins down flat and glue the buttons down in place, and let thoroughly dry.
That's all there is in making these cute 10-minute block pumpkins. What's your favorite diy holiday project?
Supplies for 10 Minute Block Pumpkins
2 wooden blocks
2 mini wood spools
2 wood buttons
Orange and green paint
Paintbrushes
Sandpaper
Wood glue
More Fun Pumpkins!
Jack-o-lantern lamps
Fall diy tin can pumpkins
White pumpkin jar
Fall pickle jar pumpkin