Hi all! Today I am sharing some cute diy pastel pumpkins that can be made in 60 minutes or less. Most of the pumpkins that I make are the traditional orange like these 10-minute pumpkins, or these easy Diy wood block pumpkins. But this time I decided to make some out of fun soft colors.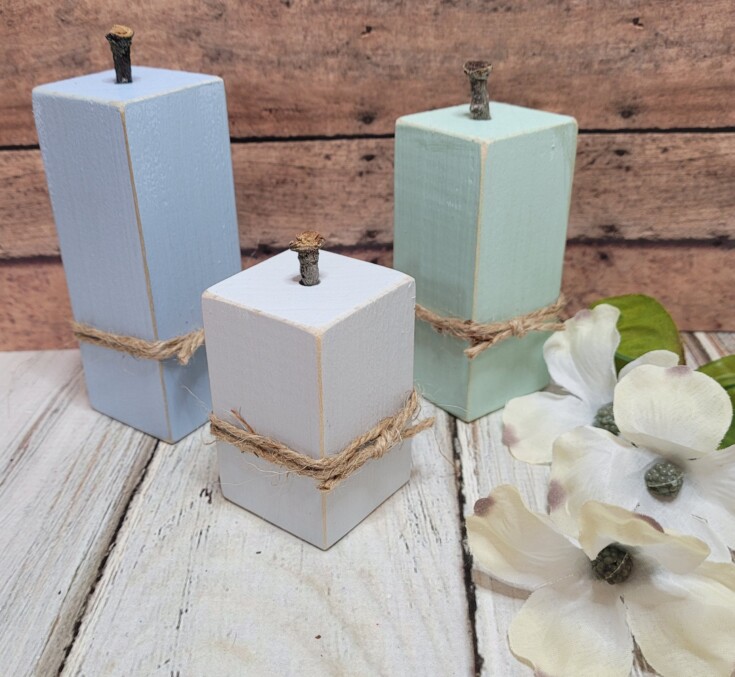 ***This post contains affiliate links… We are a participant in the Amazon Services LLC Associates Program, and affiliate advertising program designed to provide a means for us to earn fees by linking to Amazon.com and affiliated sites at no extra charge to you. Please read my full advertising disclosure for more info. Thanks so much for your support!***
Supplies for Diy Pastel Pumpkins
1 1/2″ x 1 1/2″ wood (bought at Home Depot).
3 pastel shades of milk paint, or acrylic
Drill
Miter saw
3 tree twigs
Sandpaper
Paintbrush
Twine
Wood glue
Diy Pastel Pumpkins
Start off by cutting the lengths of the pumpkins out of a 1 ½" x 1 ½" piece of wood. I cut mine at approximately 4 ½", 4 ¼" and 3 ½" tall.
Next drill a hole into the top of each pumpkin large enough for a wood twig to fit in for the stems.
Sand any rough edges, then go find three twigs out in the yard for pumpkin stems.
Now it's time to pick the colors to paint each pumpkin block and start painting.
Paint one then move to the next until all three are painted then go back to the first and add a second coat to each pumpkin until all three pastel pumpkins are painted. I used two light coats of milk paint so a little of the wood grain still shown through.
Use sandpaper to distress the edges.
Add a coat of Mod Podge to seal and protect the wooden pumpkins.
Add the twig stems by squirting some glue down into each hole and pushing the stems down into the holes.
I then added some twine to the lower part of the pumpkins and that's it for these easy diy pastel pumpkins. Do you like them best with or without the twine?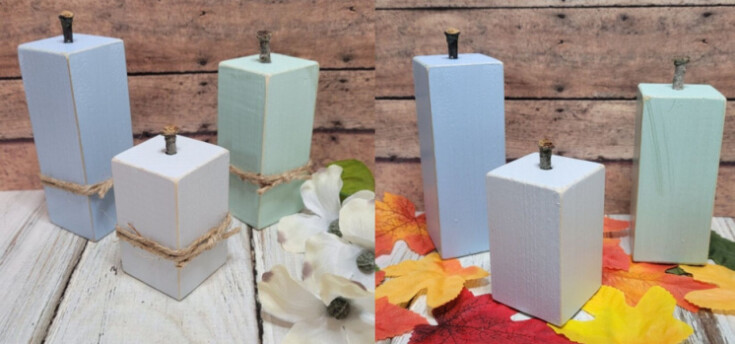 More Fun Pumpkin Projects!
Metal tart mold pumpkin
Chalk board pumpkin from a cutting board
Pickle jar pumpkin
Tin can pumpkins
10 minute block pumpkins