Hi All! Today I am going to share a project that I have been wanting to try. But kept putting it off because I thought it would be somewhat difficult to do. To my surprise, it really wasn't hard at all, as long as I went slowly and worked in small sections at a time. The project I am referring to is how to decoupage a napkin to a tin can. I will be decoupaging two tin cans. (For another fun decoupage project check out this Diy tile coaster). So without further ado let's get started on the decoupaged tin cans.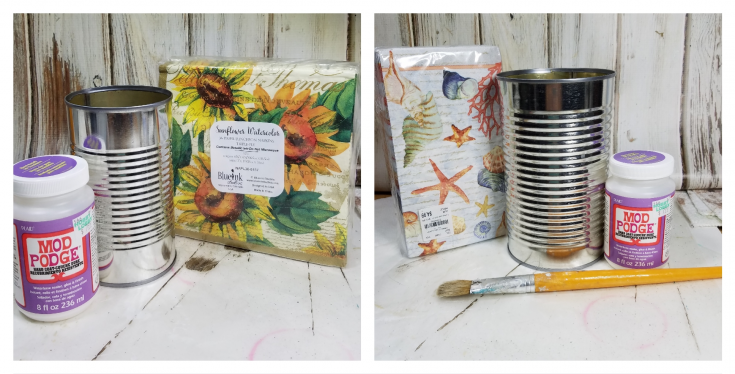 ***This post contains affiliate links… We are a participant in the Amazon Services LLC Associates Program, and affiliate advertising program designed to provide a means for us to earn fees by linking to Amazon.com and affiliated sites at no extra charge to you. Please read my full advertising disclosure for more info. Thanks so much for your support!***
Decoupaged Tin Cans
You will need to start off with clean cans, labels removed, and any stickiness from labels.
Then choose a two-ply napkin and remove the back layer of the napkin. You will be using the front layer with the design. Cut it down to only the design needed for the project. Two napkins may be needed to cover the can completely.
Start off by running about an inch-wide coat of Mod Podge down the side of the can.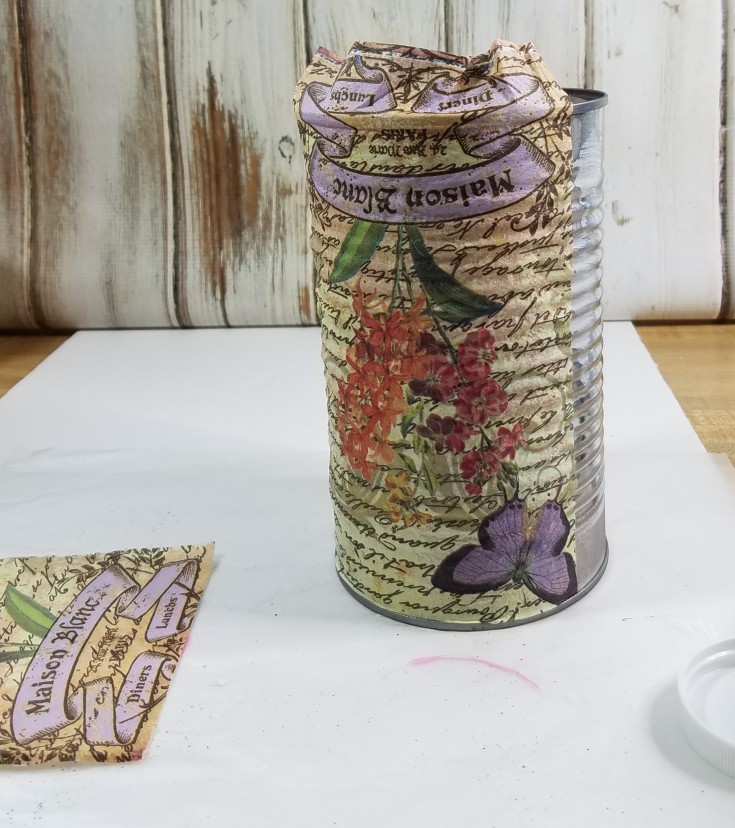 Then line up the napkin with the top edge of the can and work your way down the side gently pressing the napkin down. Leaving any overlaps at the bottom of the can. This will be tucked under and glued down later.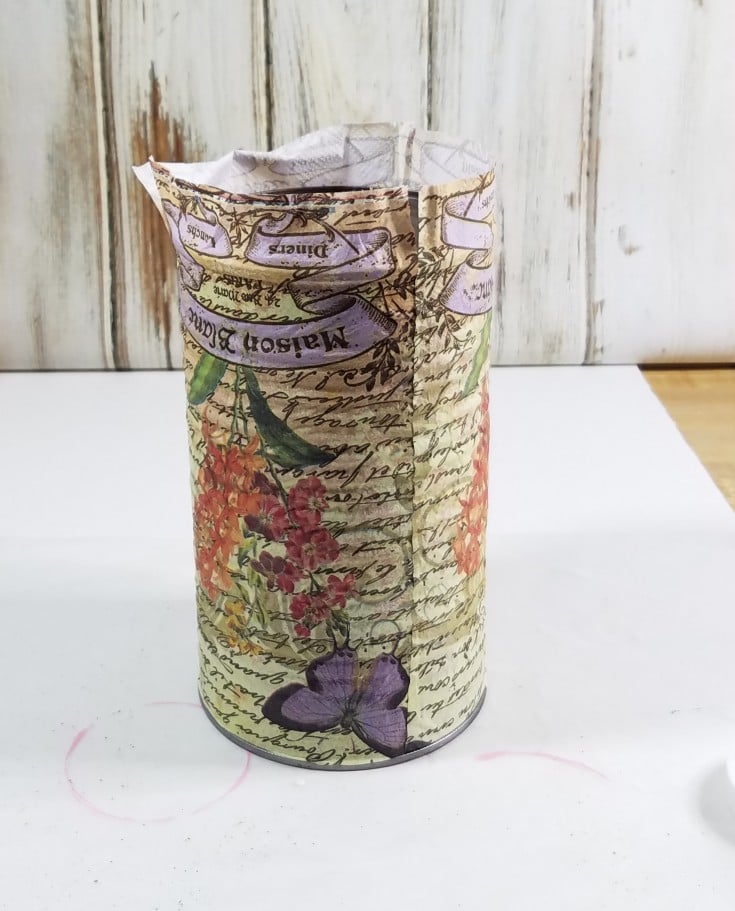 Keep adding a light coat of Mod Podge down the side working the napkin down and around the can, until the can is covered. If two napkins are needed just line the edge up with the other and glue down with Mod Podge working around in small sections until the decoupaged tin can is completely wrapped.
If you go slowly and work in small sections, it really isn't difficult to get the napkin in place.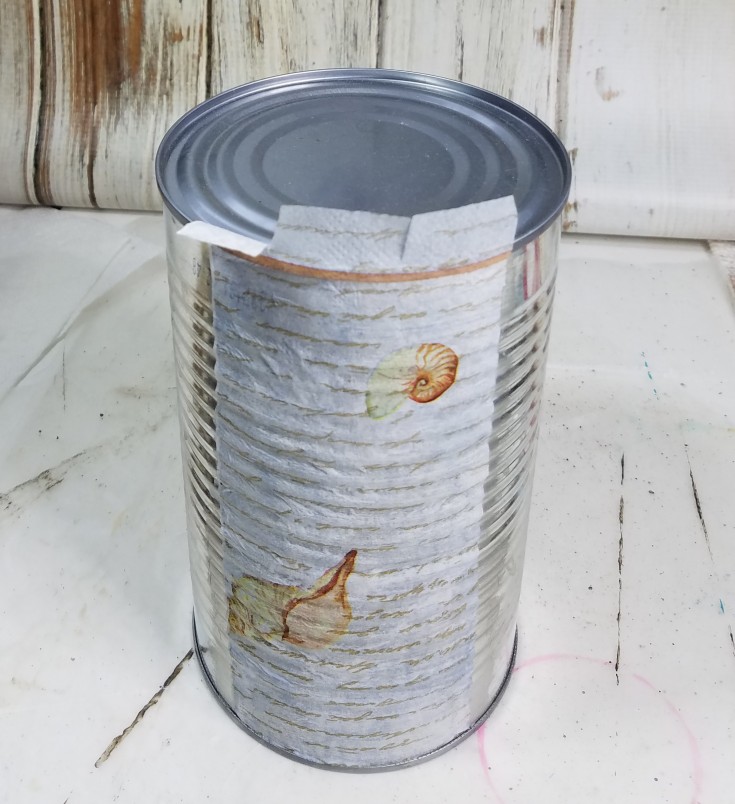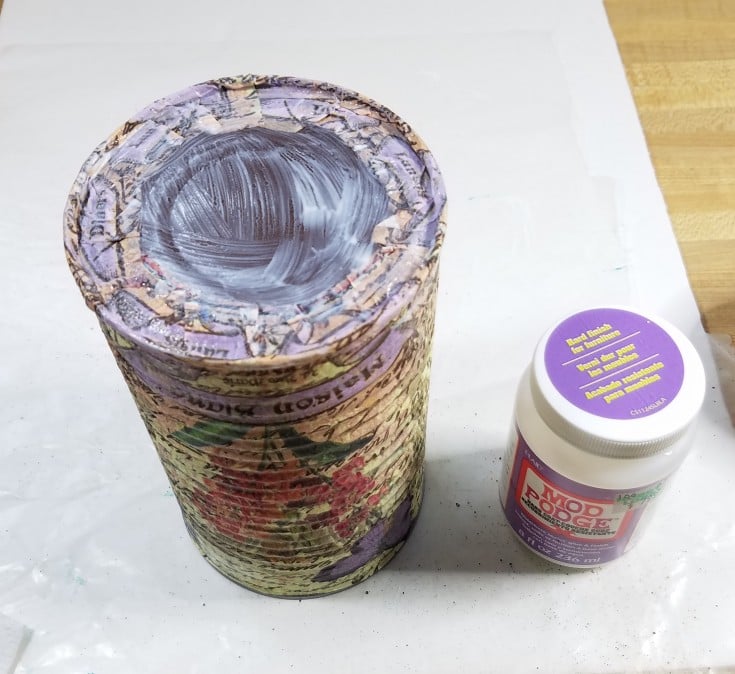 Make one-inch cuts to the overlaps on the bottom then flip over and glue down with Mod Podge.
Leave sitting upside down until completely dry.
Next, apply a coat of Mod Podge over the can to seal and protect the decoupaged tin cans.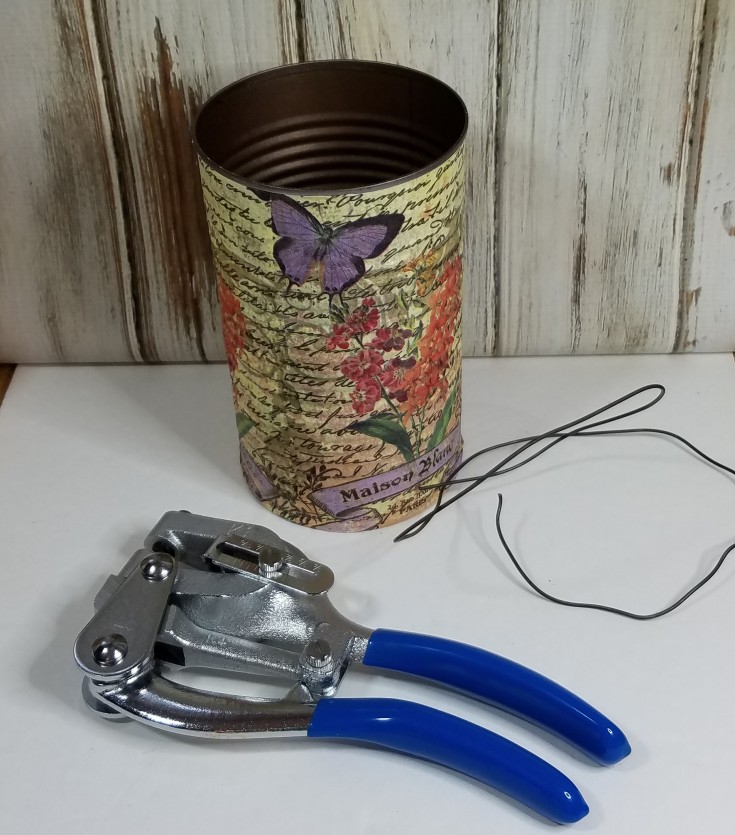 Once the tin cans were dry I used my nifty metal hole punch to punch a couple of holes to add wire handles to the decoupaged tin cans. (If you don't have one of these metal punches you may want to check it out. I bought it for my jewelry making but it has come in handy for other projects as well).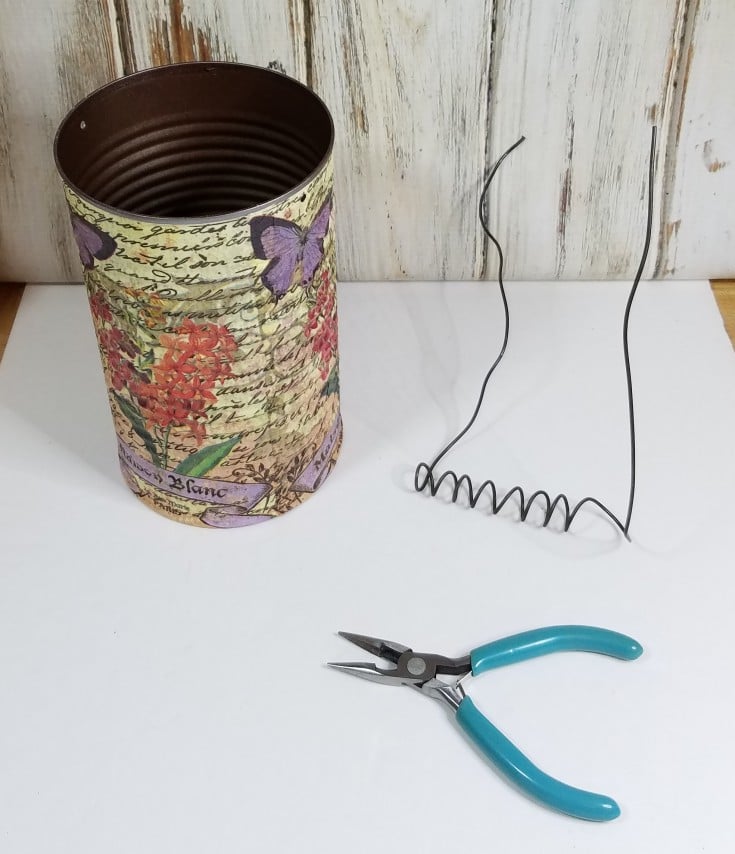 Using annealed wire for the handles, cut two pieces about 12-14" long then wrapped the middle section around the handle of a paintbrush.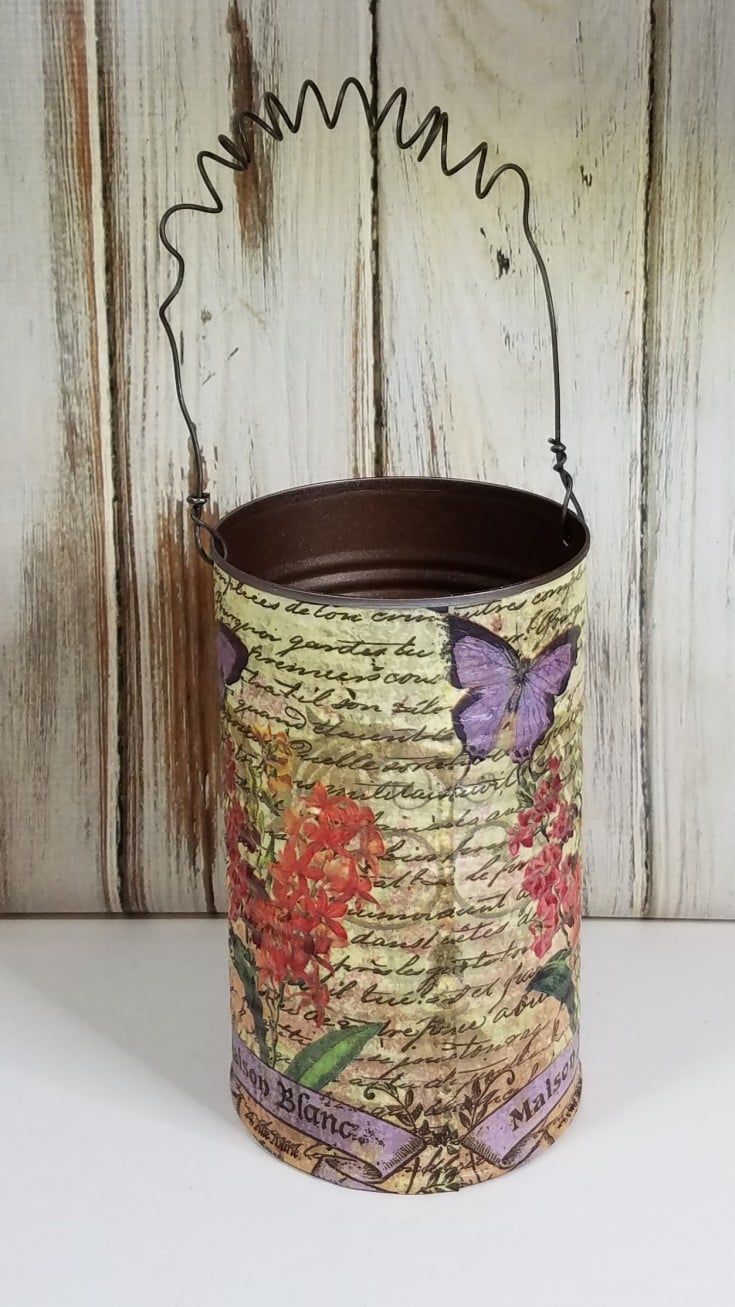 Each end of the wire was attached to the cans by running the wire through the holes then wrapped around the wire using needle-nose pliers.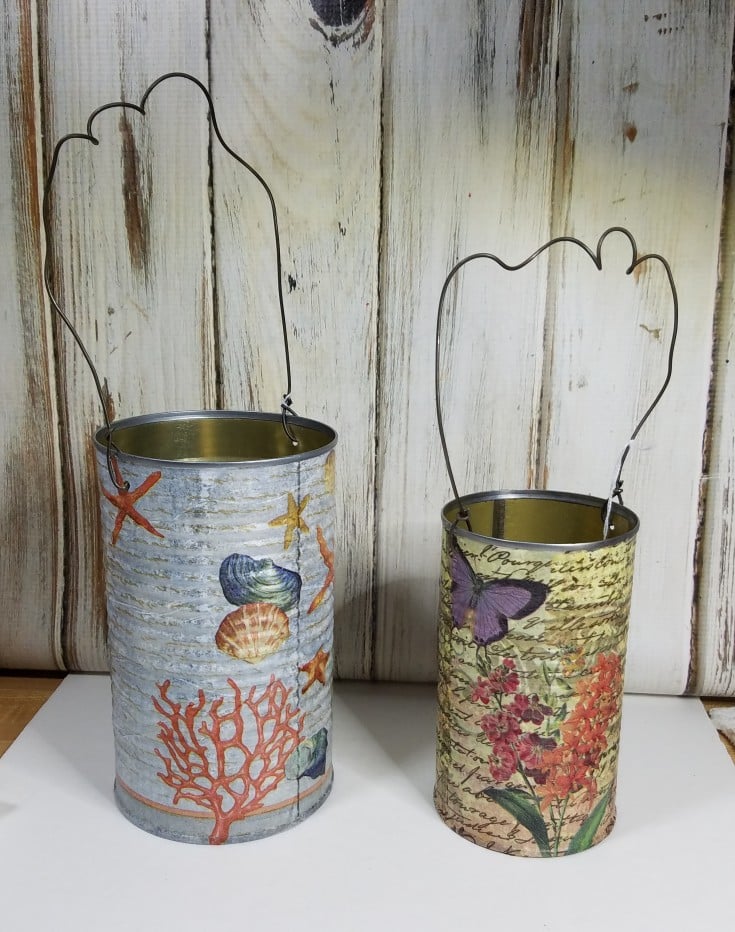 And that's it for these decoupaged tin cans. They can be used as pretty planters for faux succulents, utensil holders, or storage.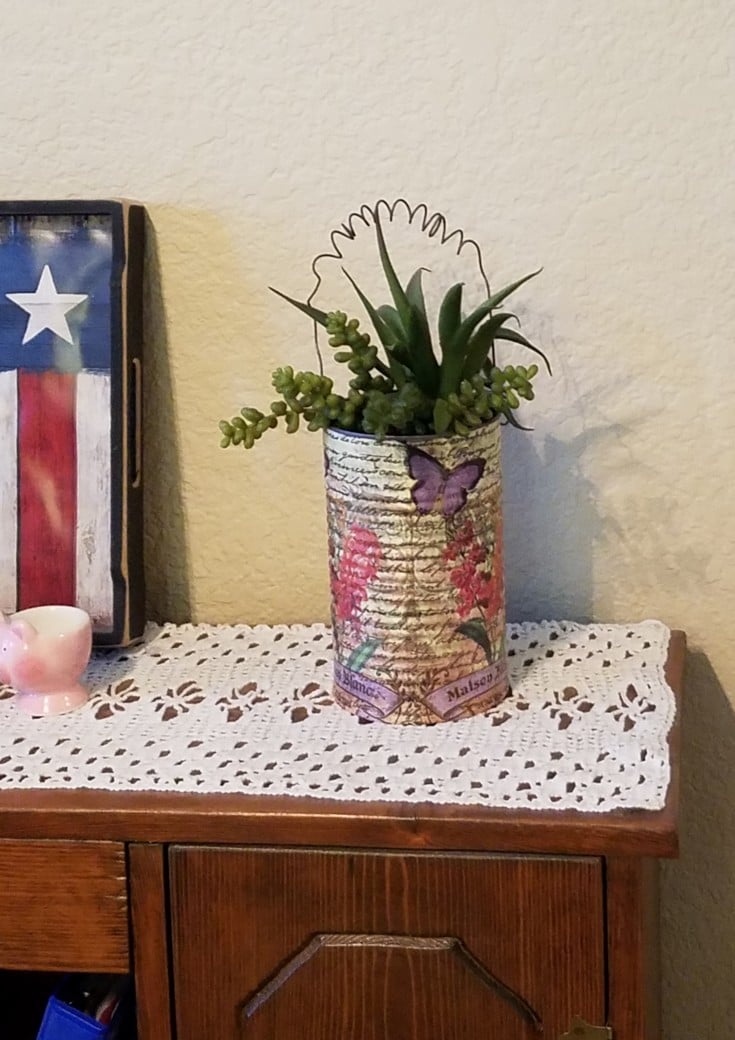 Have you ever tried decoupaging a napkin in a project?
Decoupaged Tin Can Supplies
Tin Cans
Two-ply paper napkins with a design
Mod Podge
Anneal wire
Metal hole punch
Paintbrush
Scissors
Round nose pliers
More Fun Tin Can Projects!
How to make rusty tin cans
Diy Grungy can
Easy diy tin can pumpkins
Texas tin can pencil holder