Hi All! Today I am going to share with you some more diy tile coasters. These Dallas Cowboys Tile Coasters are a little different from my other easy diy tile coasters, and hand painted Texas tile coasters. Instead of stenciling on the coasters I am going to decoupage a napkin to the top of the tile. Coasters make great gifts, everyone can always use a set of coasters.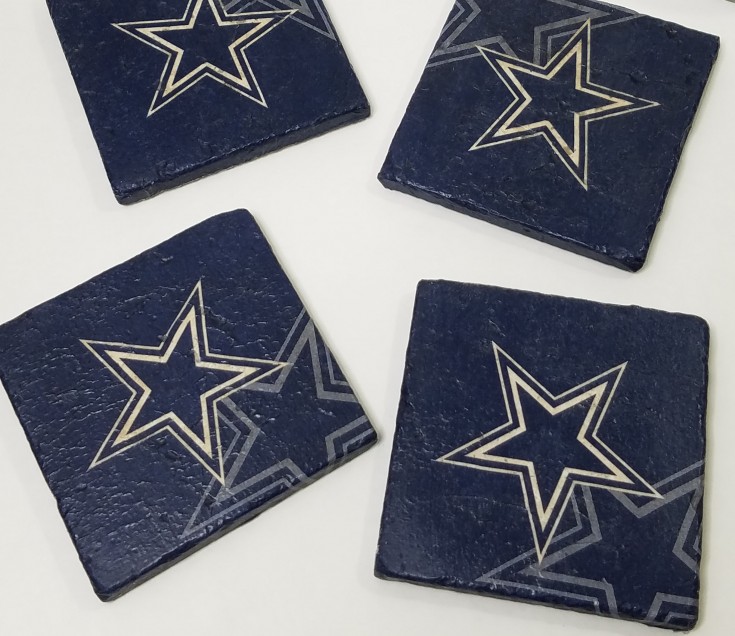 You can use any 2-ply paper napkins for these coasters. I just chose the cowboy's because they were another Christmas gift for a big cowboy fan.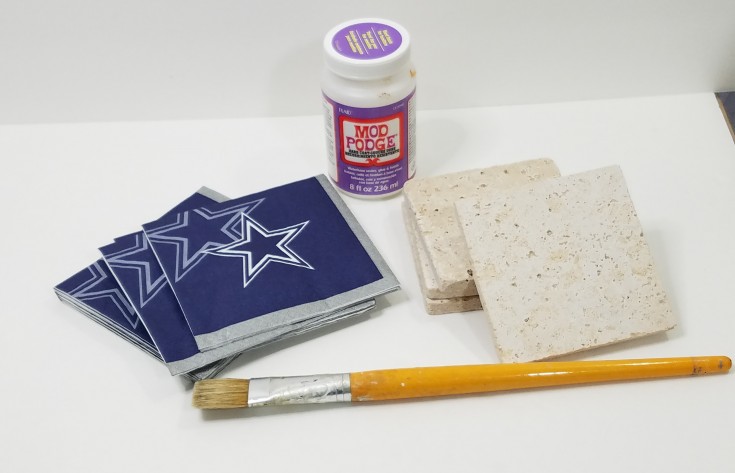 ***This post contains affiliate links, if you click on an affiliate link & buy something I may receive a small commission at no extra charge to you. The affiliate money I earn helps pay the expenses to keep this site running. Please read my full advertising disclosure for more info. Thanks so much for your support!***
Supply List for Dallas Cowboys Tile Coasters
2-ply paper napkins
4 Travertine tiles
Mod Podge
Paint brush
Felt pads Super Sliders
Gorilla glue clear
How to Make Dallas Cowboys Tile Coasters
Start off by separating the 2-ply napkin gently. You will be using the piece that had the pattern on it.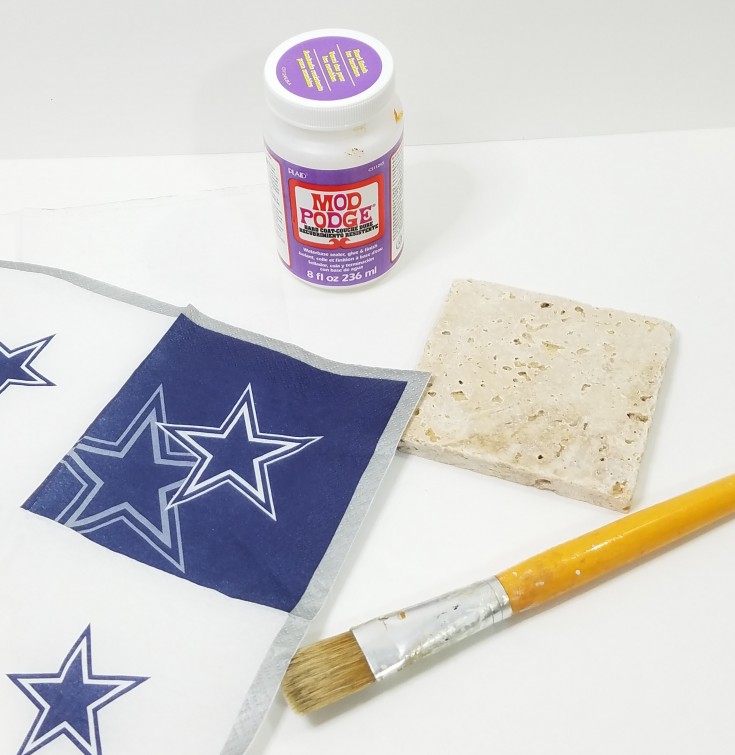 Then cut the part of the napkin with the pattern down to size to fit your tile with a little bit of an overlap on all sides.
Next add some Mod Podge to the top of your tile.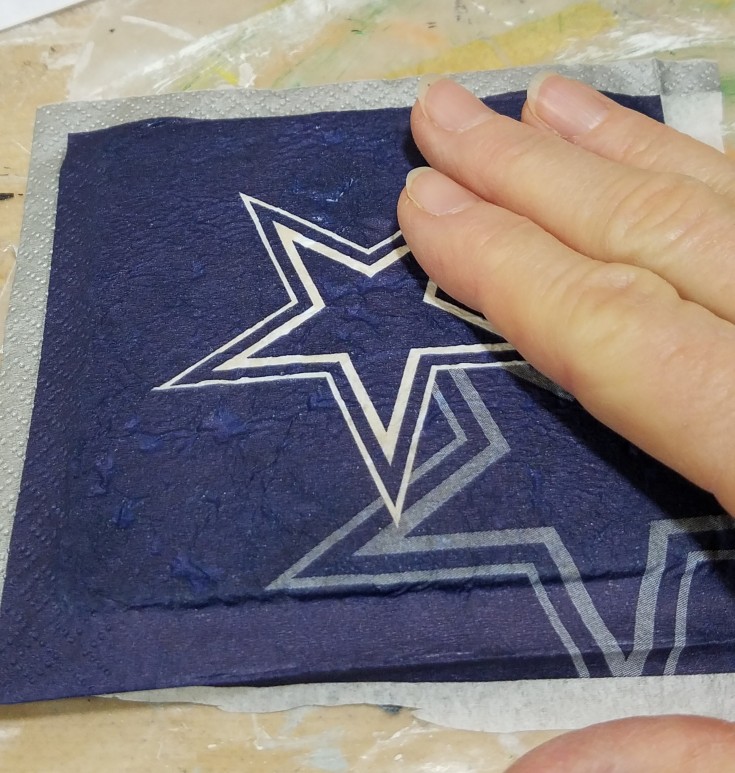 Place the printed napkin on top smoothing out the wrinkles as you go. Let day.
Now go back and add some Mod Podge to the sides of the travertine tile and smooth the over lapping pieces of the napkin over the edges.
The corners can be folded over and tacked down with a little more Mod Podge. Let dry!
Once dry add another coat of Mod Podge over the tops, and sides of each tile coaster. Letting dry completely.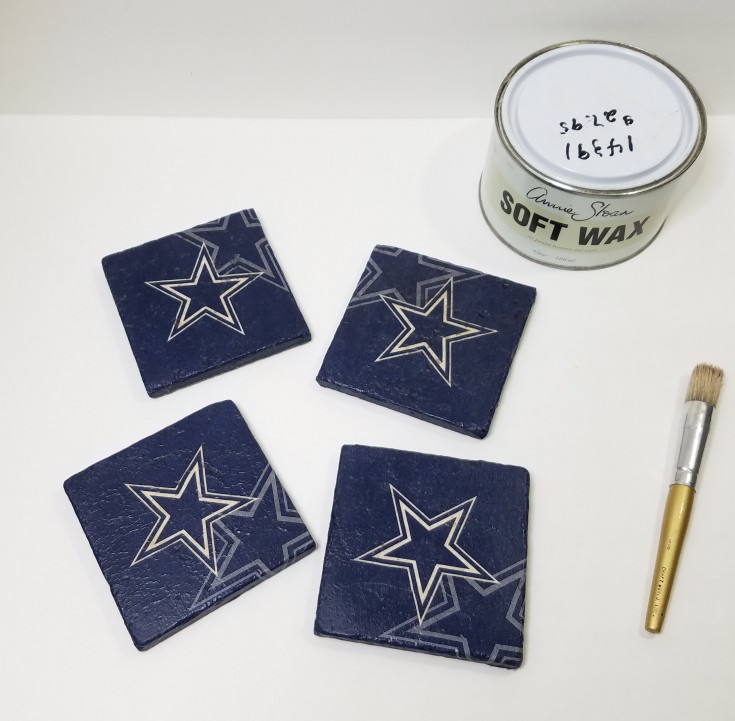 For a little more extra water resistant protection add a coat of clear wax over the tops of each coaster.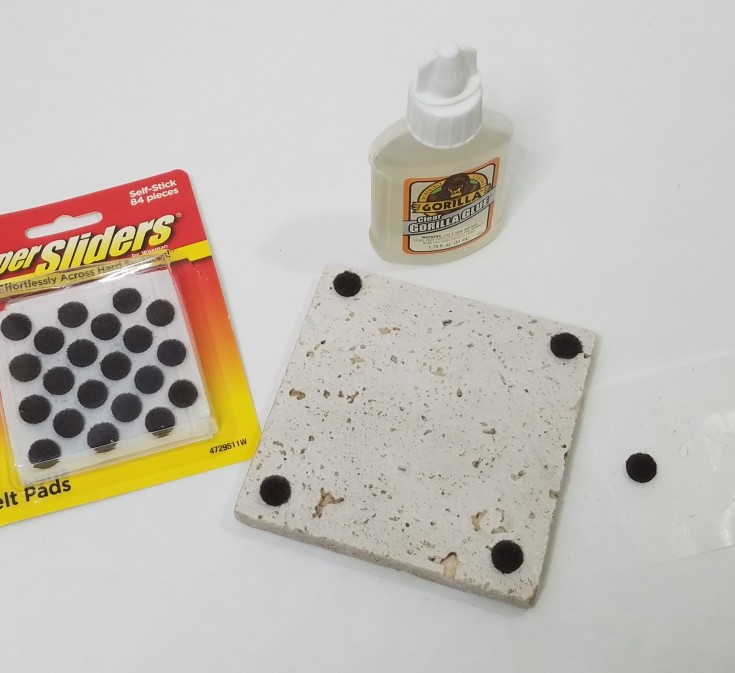 To keep the bottoms of the coasters from scratching the furniture add small round felt pads to the bottom four corners of the diy tile coasters using gorilla glue.
Then flip them back over right sides up on top of some wax paper till the glue dries.
That's it for these easy Diy Dallas Cowboys tile coasters. Have you made any coasters? If so what did you use tile, wood, or something else? Please share in the comments below, I would love to hear about them.