Hi all! Today I will be sharing a Dollar Tree Jack-o-lantern that I created from one of Dollar Tree's slated wooden signs. I've really kicked up my crafting lately. I've got a lot of projects started trying to make up for all the lost time over the last seven months. I have even learned something new that I will be sharing at a later time. But I will give you a hint: It's better than stenciling! Are you confused now? While you think on that let's get started on this Dollar Tree Jack-o-lantern.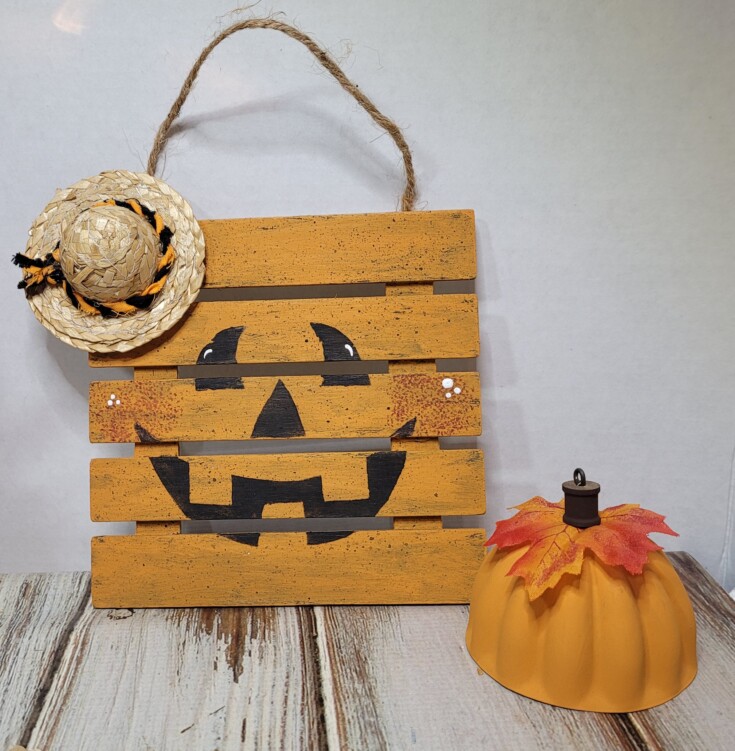 ***This post contains affiliate links… We are a participant in the Amazon Services LLC Associates Program, and affiliate advertising program designed to provide a means for us to earn fees by linking to Amazon.com and affiliated sites at no extra charge to you. Please read my full advertising disclosure for more info. Thanks so much for your support!***
Dollar Tree Jack-o-lantern
I started off by giving my slated wood sign a coat of black chalk paint.
Next, I gave it a coat of orange chalk paint letting some of the black show through. Then using a homemade stencil I added the face of the Dollar Tree Jack-o-lantern. Use some Rust Red paint and an old toothbrush to stipple on the rosy cheeks. A stylus tool was used to add the dots on the cheeks, and the commas in the eyes.
An old toothbrush and black paint were used to splatter the jack-o-lanterns face.
He looks a little bare so I dug through my craft stash and came up with this little straw hat that will work but needs some color. So, I used some of the fabric remnants left from the Halloween Garland from repurposed light bulbs to make some Halloween colored twine.
Then I hot glued the twine on the hat,
and hot glued the hat onto the Shop Halloween Craft Supplies at Dollar Tree Starting at $1.25!" rel="noopener" target="_blank">Dollar Tree Jack-o-lantern. Isn't he adorable?
Supplies for Jack-o-lantern
Hanging slated wooden sign from Dollar Tree
Chalk paint black, and orange
Rust Red, Black, and white acrylic paint
Paintbrushes
Old toothbrush
Stylus tool
Small straw hat
Halloween colored twine or fabric
Hot glue
More Fun Halloween Projects!
Spooky Halloween blocks
Vintage strainer Jack-o-lantern
Jack-o-lantern lamps
Mason jar mummy lantern