Hi All! Today's project is going to be a two-part project where I take an old ceiling fan blade and upcycle it into a reversible holiday décor sign. That can be reversed for two different holidays'.
The first part I'm going to show you how to paint an easy St. Patrick's day sign on one side of the wood fan blade. Then I will flip the fan blade over and made an Easter sign and share that tutorial in a couple of weeks.
I bought this fan blade at ReStore for only $1 and I'm going to get two-holiday decorations out of one. Woo Hoo can't beat that.
DIY Reversible Holiday Décor
Start by giving the blade two coats of chalk paint. I went ahead and painted both sides.
For the shamrocks, I used two different sizes of heart sponges.
Using leaf green acrylic paint, I squirted out some in a paper plate then dipped my heart sponge in the paint till the whole bottom was covered with the paint.
Starting with the larger heart I then formed my shamrock by turning the sponge three different directions and pressing down evenly to form the three parts of the leaf.
I made to of the larger shamrocks one at the top and the other at the bottom of the blade. The smaller heart sponge was used for the middle shamrock.
A detail brush was used to form the stems.
I went back over the shamrocks with a paintbrush to darken them up.
Once dry I used carbon paper to add my Happy St. Patrick's day lettering. Then I went over that with a paint marker.
Deciding that my reversible holiday décor needed a little more I decided to splatter on some green and gold using an old toothbrush.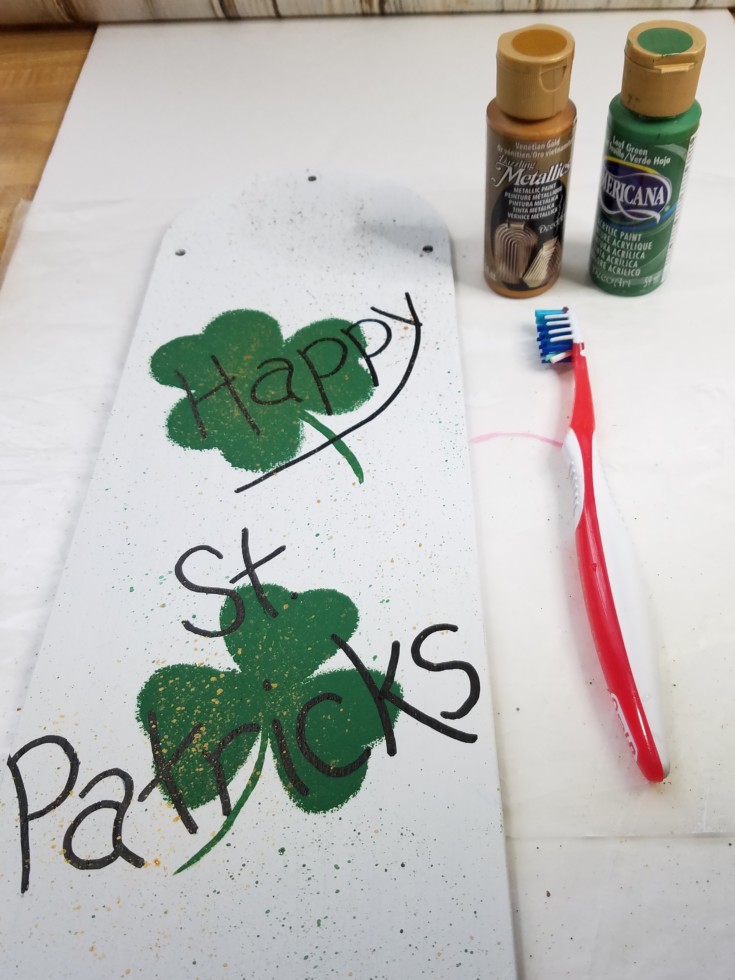 After that dried, I went back with my stylus pen and added a few dots of gold grouped in three's.
And that's it for the first part of my reversible holiday décor made from a ceiling fan blade. Have you upcycled any ceiling fan blades lately?
***This post contains affiliate links… We are a participant in the Amazon Services LLC Associates Program, and affiliate advertising program designed to provide a means for us to earn fees by linking to Amazon.com and affiliated sites at no extra charge to you. Please read my full advertising disclosure for more info. Thanks so much for your support!***
Supplies Needed – DIY Reversible Holiday Décor
Wooden fan blade
heart sponges or shamrock stencil
Green acrylic paint
White chalk paint
Gold metallic paint
Paintbrush
Black paint marker
Old toothbrush
Twine
More Fun Upcycle Projects!
Patriotic sign made out of a fan blade
Two-tier faux galvanized tray
Diy wood crate side table