Hi All! Today I am going to share a DIY wood crate side table that was made out of an old wooden crate that I had picked up a while back on one of our junkin trips. The hubby has been complaining that he doesn't have a place to set his drinks anymore since we bought our new furniture. I had repurposed a cabinet door into a tray to set them on. But they're out of reach there. He has to lean forward to reach his coffee. So, to make it easier he has been using a TV tray and that doesn't work for me. With my mind spinning to come up with something that wouldn't take up much space but would fit the purpose. Therefore, the DIY wood crate side table was born.
Diy Wood Crate Side Table
Started out by washing the wood crate with soap and water then letting it dry overnight.
Next, I used my wood aging solution to darken the wood to a more aged grey color.
Once I let the aging solution dry a couple of hours, then dry brushed some white chalk paint over the wooden crate leaving quite a bit of the aged wood showing.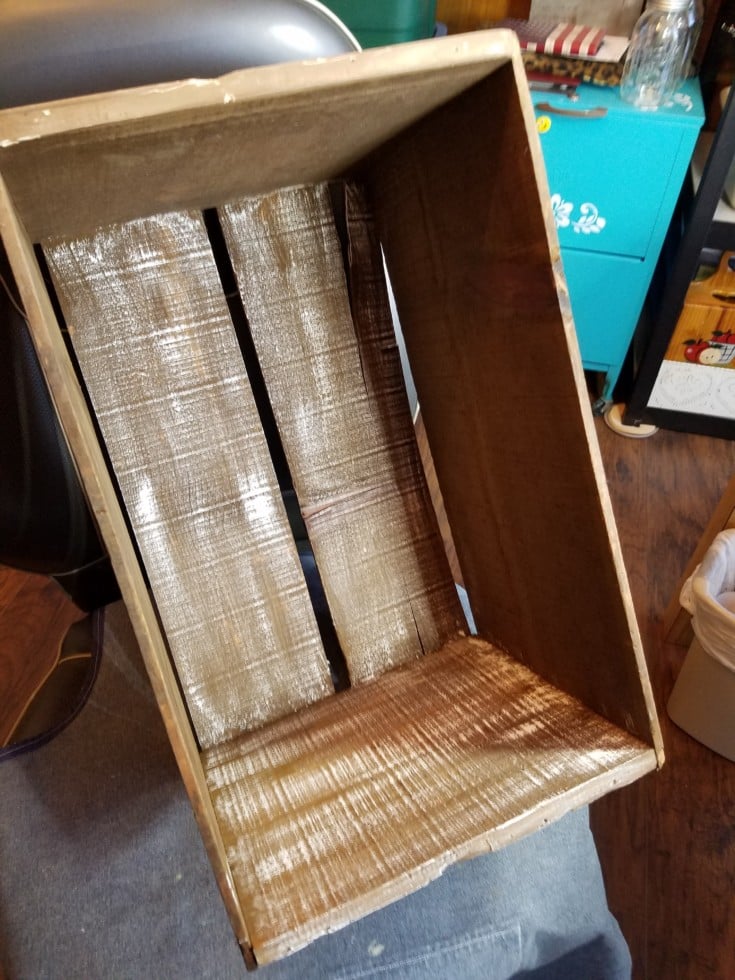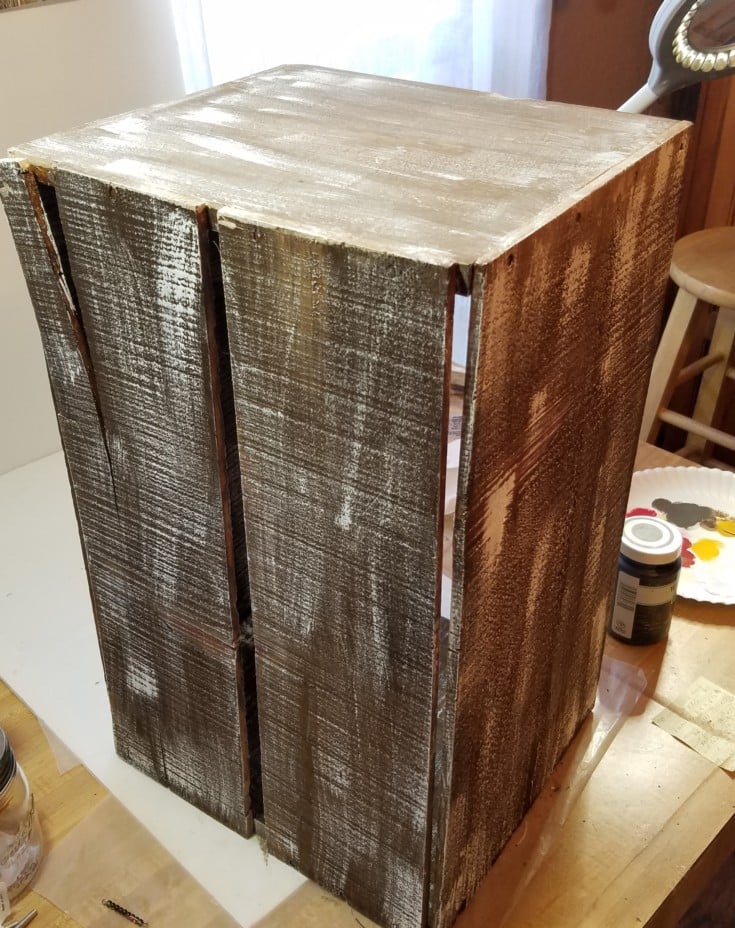 While that was drying, I cut two pieces of wood to help reinforce the side of the crate where the hair in legs will be attached. Using the aging solution on the pieces then dry brushing white paint on them as well.
I used a couple of different stencils on the old crate with black chalk paint.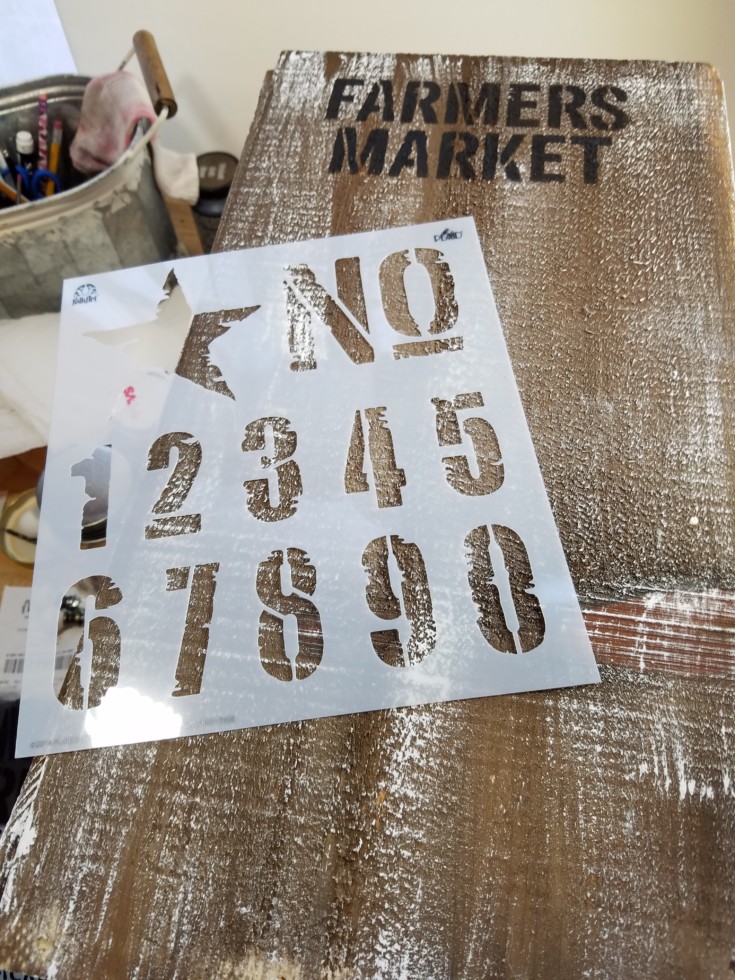 Since the crate is going to be a side table, I added a coat of Mod Podge to help protect it.
Now to add the legs for my Diy wood crate side table. Placing the pieces of wood in place on the bottom of my crate table I then marked off where the hairpin legs would go and pre-drilled the holes so as not to split the wood on the crate.
Adding some wood glue to the wooden pieces than screwing them down in place then flip over and that's it for the rustic DIY wood crate side table. Hubby loves his new side table! Have you repurposed any wood crates? If so, please share in comments below. Would love to hear what you have done.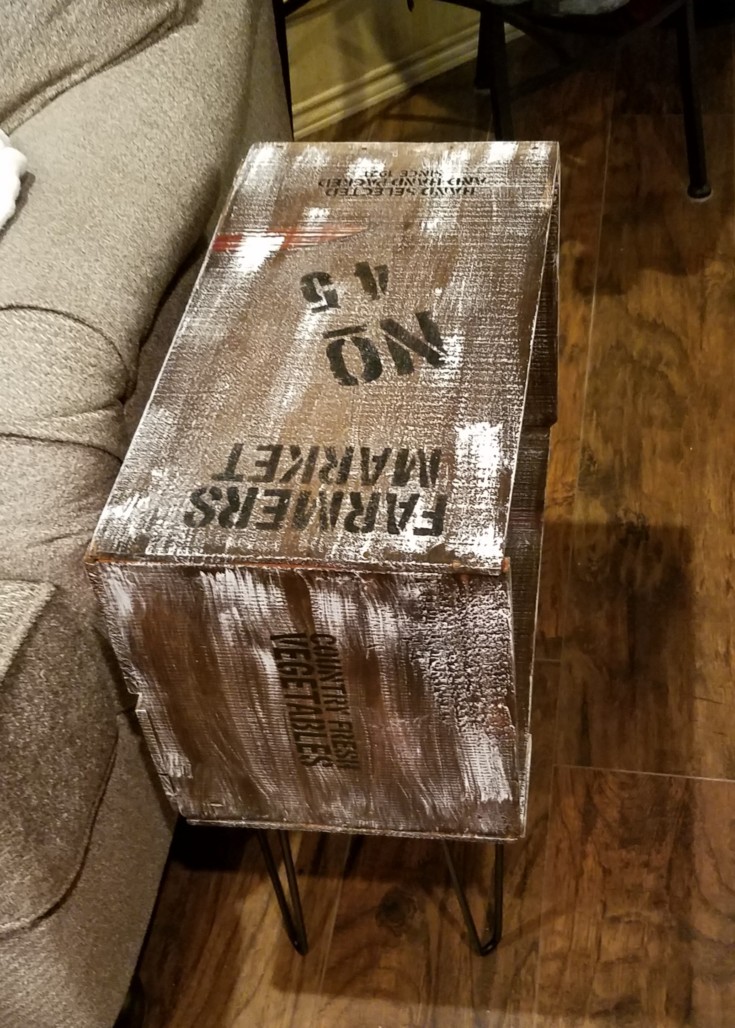 ***This post contains affiliate links… We are a participant in the Amazon Services LLC Associates Program, an affiliate advertising program designed to provide a means for us to earn fees by linking to Amazon.com and affiliated sites at no extra charge to you. Please read my full advertising disclosure for more info. Thanks so much for your support!***
Supplies for Diy Wood Crate Side Table
Wood crate
Aging solution
White chalk paint
Black chalk paint
Shipping stencils
Paintbrush
Small wood pieces for support
Hairpin legs
Screws
Mod Podge
Drill
More Fun Upcycles You May Enjoy!
Repurposed cutting board and rusty grater photo/recipe display
Repurposed birdfeeder from two thrift store items
Diy rustic farmhouse style utensil holder
If you enjoyed this post, would you mind taking the time to:
Thanks for sharing your thoughts and comments! I read and appreciate every single one!