While surfing the web and visiting other blogs I see so many cute yard art decorations made out of spindles, from diy spindle angel yard art, to dragonflies, butterfly yard art, and more. With my collection of spindles that I picked up at a garage sale I decided to make a spindle angel for my flowerbed.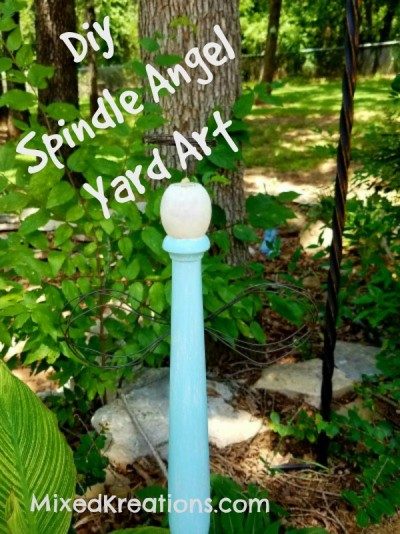 *This post contains affiliate links, if you click on an affiliate link & buy something I may receive a small commission at no extra charge to you. The affiliate money I earn helps pay the expenses to keep this site running. Please read my full advertising disclosure for more info. Thanks so much for your support!*
Diy Spindle Angel Yard Art Supply List
(includes affiliate links for your convenience)
* Wood Spindle
* Pool Acrylic Paint
* Off White Acrylic Paint
* Annealed Wire
* Drill and Bits
* Metal Rod
* Wood Glue
* Wire Cutters
* Pliers
How To Make A Diy Spindle Angel
First start off by painting the whole spindle with off white acrylic paint.
Then giving it a coat of acrylic paint that I purchased at Walmart, the color is called "Pool".
Painting the whole spindle with a coat of blue pool paint, except for the ball at the very top of the wood spindle, leaving the ball off white.
Adding Wings And Halo
Next cut off several feet of annealed wire and made the halo for my spindle angel leaving about 2 1/2″ to 3″ of wire to attach the halo.
Cutting off several more feet of annealed wire and formed the wings for my angel leaving two short pieces about 1″ in length to attach the angel wings.
Attach the halo, wings, and the rod for sticking it in the ground drill one small hole at the top and back of the round knob. Drill two more small holes just a little larger then the wire on the back of your spindle where you would like the wings to be.
Flip the spindle over and using a large drill bit just a little larger then the rod that you are going to use. Drill the hole about 5″-6″ deep.
Add some wood glue to the large hole for the rod, then place the rod in the hole. Add a dab of glue, add your wings, and the halo. Sit somewhere undisturbed and let dry overnight.
Now it's time to find a place in your garden to place your diy spindle angel yard art.
One thing I will do for the next spindle angel is to add more wire for the wings and halo so that they will standout better among the greenery of my flowerbeds. Other then that I think my angel yard art turned out pretty cute.
Have you made anything out of wood spindles? If so I would love to hear about it in the comments below.