I have been wanting a new afghan rack for years now, but being cheap I didn't want to pay the price. The one that I have been wanting was a sturdy black wrought iron afghan rack, which are a little pricey. Over the last several months I have been seeing ladder afghan racks, and even ladders used as towel racks. I have come to like those over the wrought iron afghan racks, they take up less room. So, I have decided to make my own spindle ladder afghan rack, using some of the spindles that I have been hoarding.
Before I get to showing you how to make your own spindle ladder afghan rack I would like to take you down memory lane and share a funny story that happened years ago, to my ex-husband, a ladder, and myself.
We were both in our early twenties when one day the ex went onto the roof of the house for some kind of repairs. Now remember we are young, and don't really have a lot of experience with home maintenance, and me with extension ladders.
The ex moved to the other side of the roof and asked me to bring the ladder around to the other side of the house. The ladder that I was moving was and extension ladder. So, I picked up the ladder and carried it around to the front of the house, and set it up leaning against the house.
When the ex was through with whatever he was doing, he came on over to the ladder, and while I was holding the extension ladder in place he stepped on to the ladder. Now remember I said I was young, and apparently, I didn't know anything about extension ladders because when the ex stepped onto the ladder down went the extended part of the ladder, and down went the ex.
Next thing I remember was we were all laying on the ground, the ladder, the ex-husband, and myself. We laid there a minute, then asked each other if we were ok, then looked around to see if anyone saw what happened. Then we broke out into laughing fits while lying there on the ground.
Luckily no one was hurt, and I still have my fingers. This could have turned out really bad, so we were really lucky. I have come a long way since then, but to this day I am still leery of extension ladders.
Now let's move on to how to make a Spindle Ladder Afghan Rack.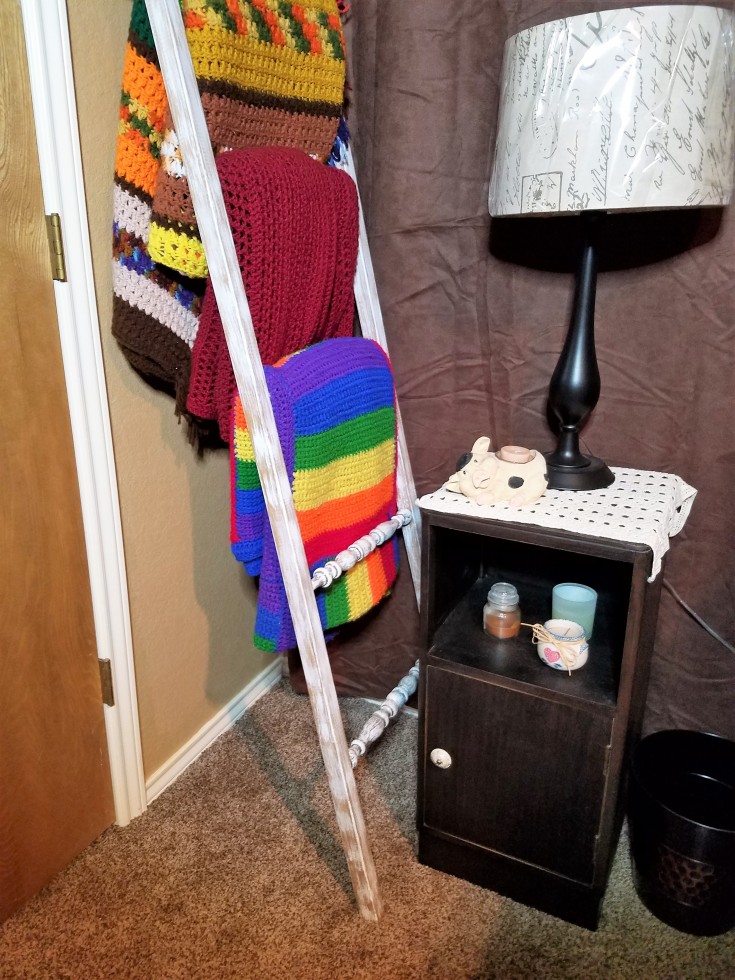 Material List For Spindle Ladder Afghan Rack
***This post contains affiliate links for your convenience. Please read my full disclosure for more info.***
* 2 – 7′ – 2″ x 2″ pieces of pine for rails
* 6 wooden spindles
* Wood Glue
* Palm Sander
* Drill press and bit
* Bungee cord
* Wood Stain
* Chalk paint of your choice
* Rubber mallet
* Tape measure
* Pencil
* Square
How To Make A Spindle Ladder Afghan Rack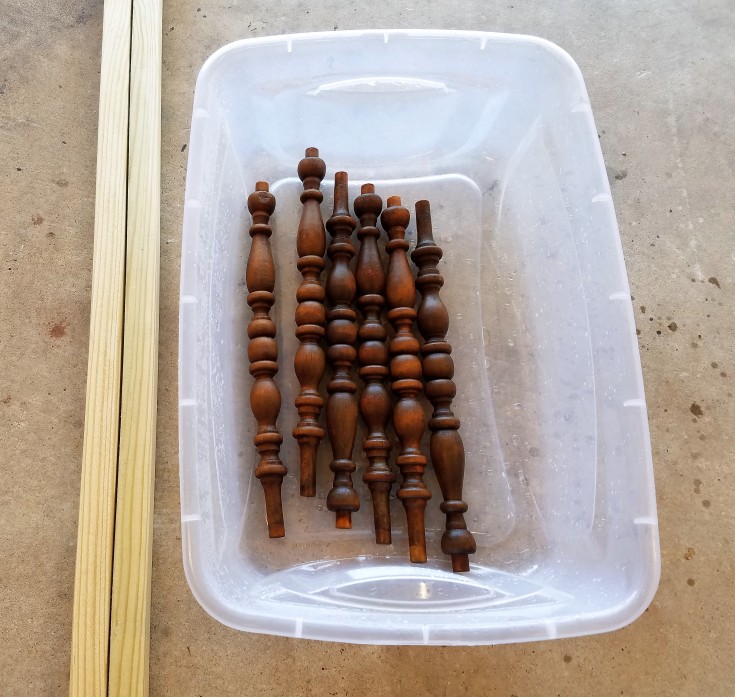 I washed my wooden spindles.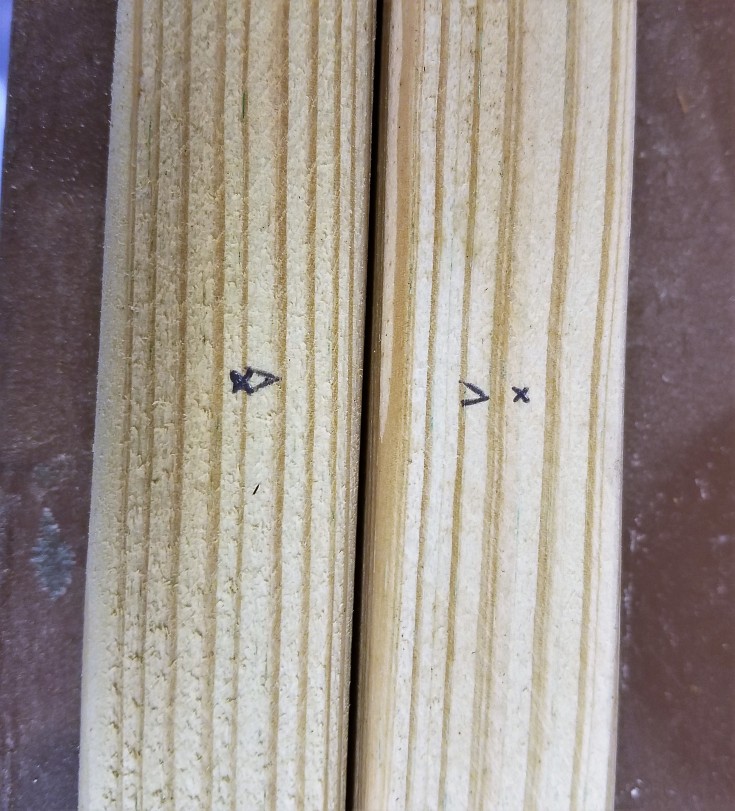 Then I marked off the 7′ pieces of wood where I wanted to place my spindles. I spaced them at 12″ intervals using a square to make sure both pieces are marked the same, and in the center of the wood.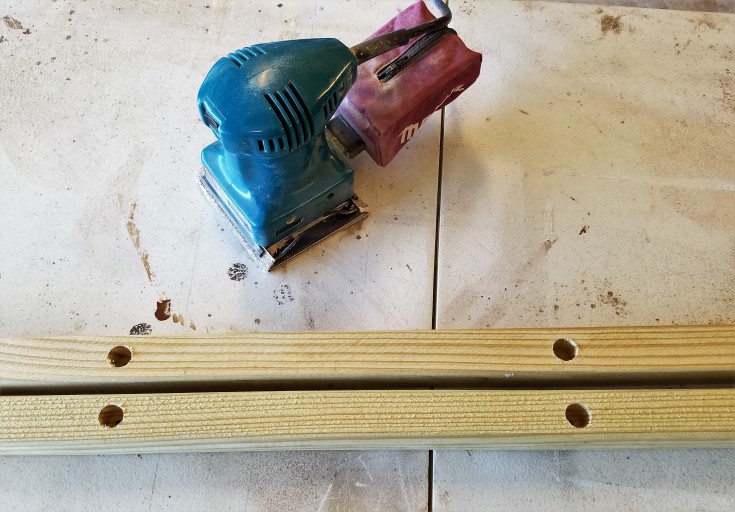 Next I used a drill bit just a little bit larger then the ends of my spindles, and drilled the 12 holes, 6 in each piece of wood. I used a drill press to keep all my holes the same depth, but if you don't have a drill press you can add a piece of masking tape to your bit at the depth that you want. Then just drill as deep as the bottom edge of the masking tape.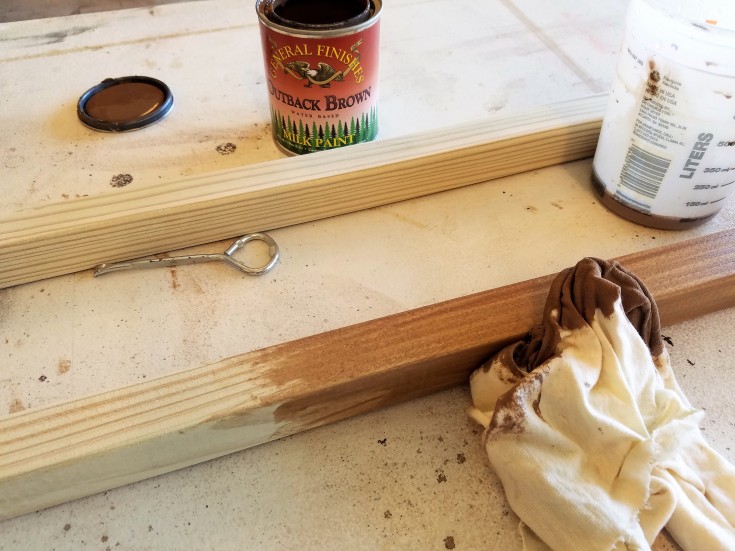 Now stain your ladder rails with the stain of your choice. Some of the stain will show through your finished ladder, unless you just want to paint it a soil color.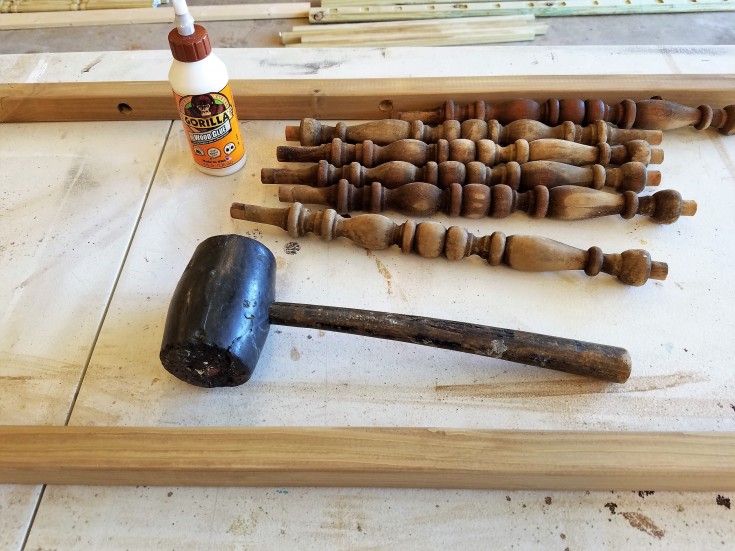 Using wood glue and my rubber mallet I started adding my wooden spindles. Squirt some glue in each hole, then gentle hammer your spindles into the holes of one 7′ rail. Next place the other rail flat with holes facing up, add your glue and while holding rail with spindles already attached place loose ends into holes, then gently hammer them into place.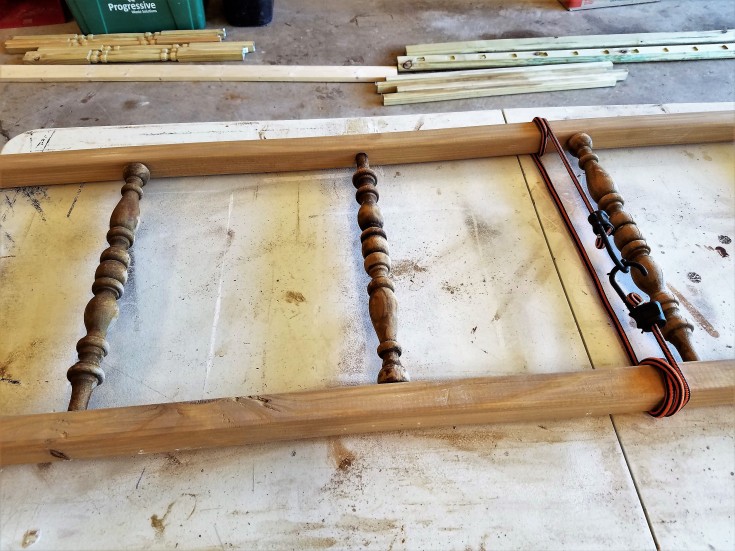 Add a bungee cord on one end to hold spindles in place until the glue dries.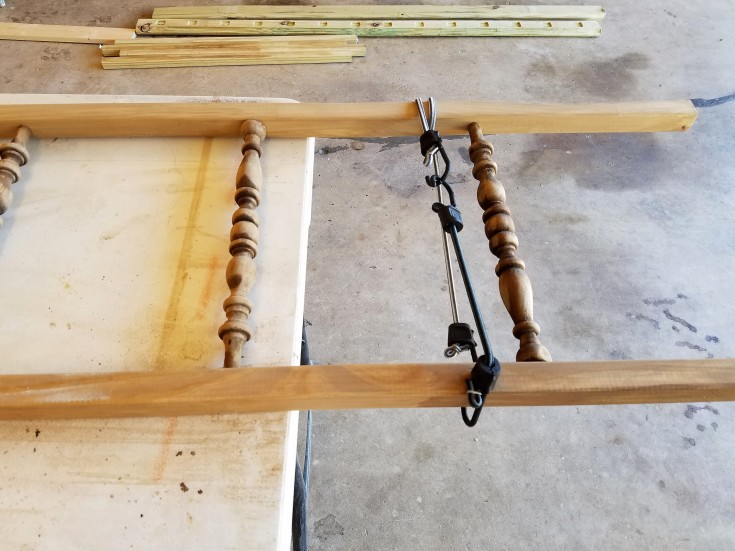 Add another bungee cord to the other end to hold in place while drying. Let set overnight.
Once dried I removed the bungee cords from my spindle ladder afghan rack, then gave it a coat of chalk paint. Leaving some of the stain showing through.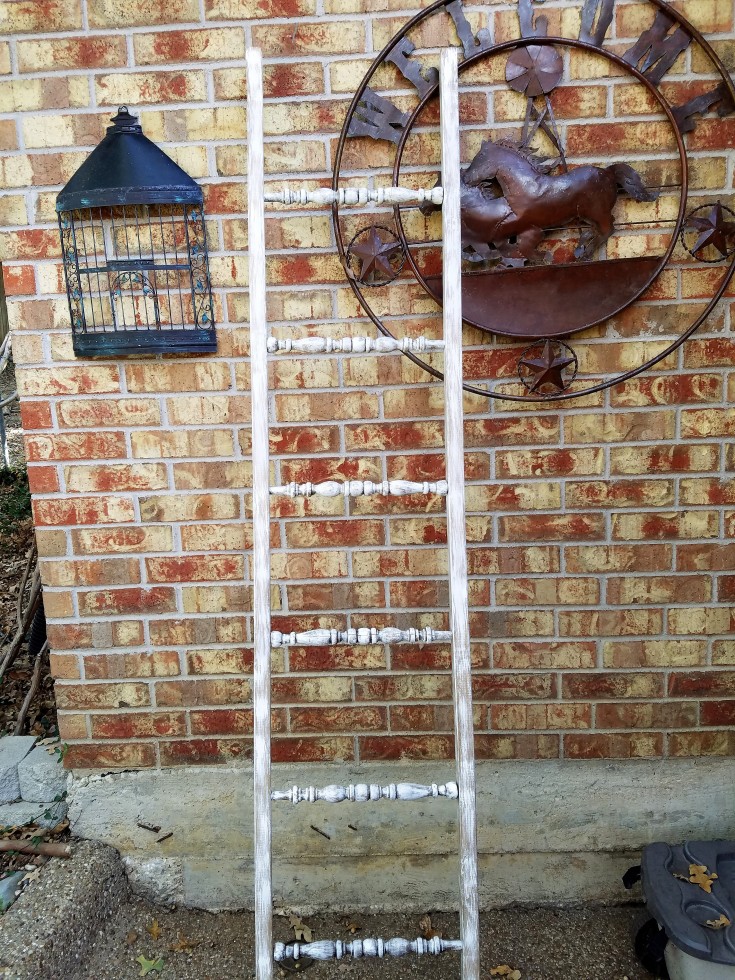 Here is the finished spindle ladder, I'm sorry about my photo. I took the ladder outside hoping to get a clearer photo. Notice how when I connected the spindles I turned each one so that every other one was opposite from the one it's next too, because the two ends are different.
Here is my finished spindle ladder afghan rack with just some of my afghans. It sure takes up a lot less room then the large wooden one that I had made years ago. I am loving how it turned out.
Have you made any ladder racks to use for afghans, or in the bathroom for towels?
More Wood Projects You May Enjoy!
Wood chair turned shelf
Wood sign and farmhouse style tray
Rustic wood shelf