Found this recipe at Lucy Designs and it works great. Depending on how rusty you want your can, how many times you have to repeat the process.
*This post contains affiliate links for your convenience. Please read my disclosure for more info. Thanks so much for your support!*
Supply List For Rusty Cans
Tin cans
Washer
Jute
Key Charm
Hydrogen Peroxide
Salt
Patina
Coarse sandpaper
How To Make Rusty Cans
You will need a tin can, salt, and Hydrogen Peroxide to make your own rusty can.
First scratch up the surface of your can with coarse sandpaper, then spray the can with Hydrogen Peroxide and sprinkle salt over the can.
The cans above are going through the second process. Lucy said that it works better if you let it sit outside in direct sunlight, but I haven't tried it that way yet.
Having to go through the process about 5-6 times to get my cans this rusty.
The rusty wire is for another project so don't forget to come back later to see  what it's for.
I added a patina to two keys and one washer to give my cans some color and used some twine to attach them onto the cans.
I've been wanting a small succulent for a while now but everywhere I went they were out of the small succulents. When I finally found them I couldn't make up my mine which one to buy so I bought all three.
Don't you think they look great in my new rusty cans?
More Fun Repurposed Tin Can Projects
Quick and easy repurposed tin cans
Texas Flag tin can
Santa Suit tin can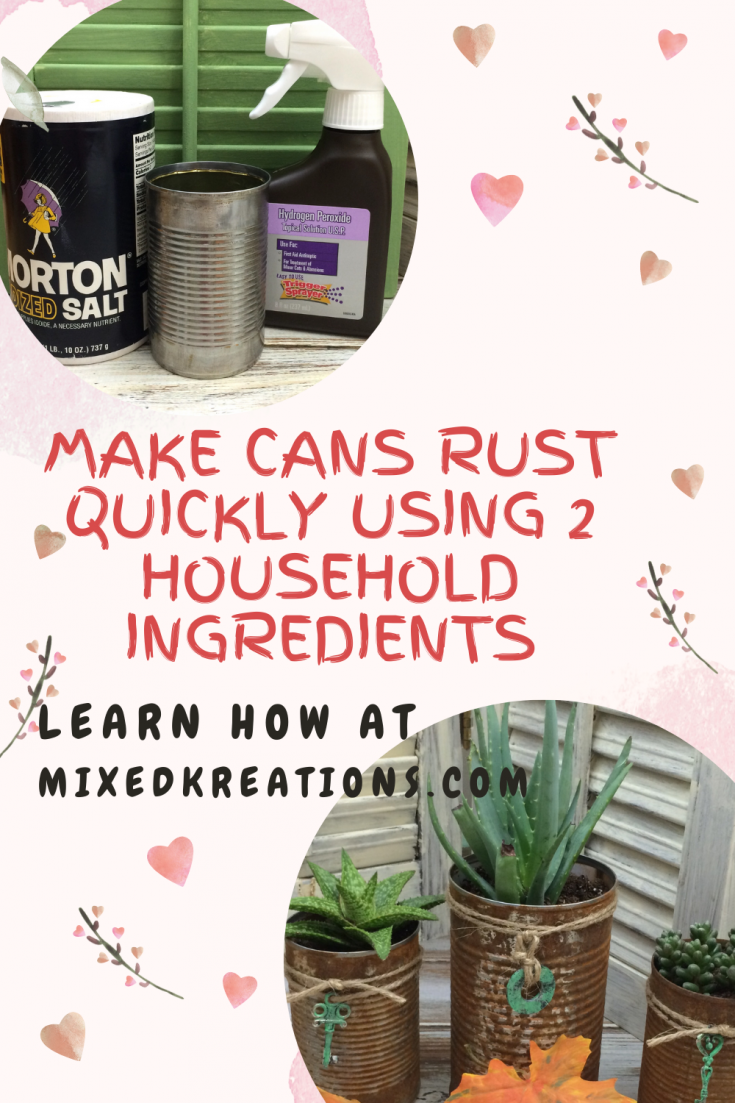 How to make rusty tin cans.