Hi All! Today I am excited to be sharing my repurposed cutting board and rusty grater. This project is right up there with my repurposed wood chair turned shelf and my lady Baltimore vintage train case makeover as one of my all-time favorite upcycles. This cutting board and rusty grater have been sitting in my thrifting stash from a few junkin trips a while back.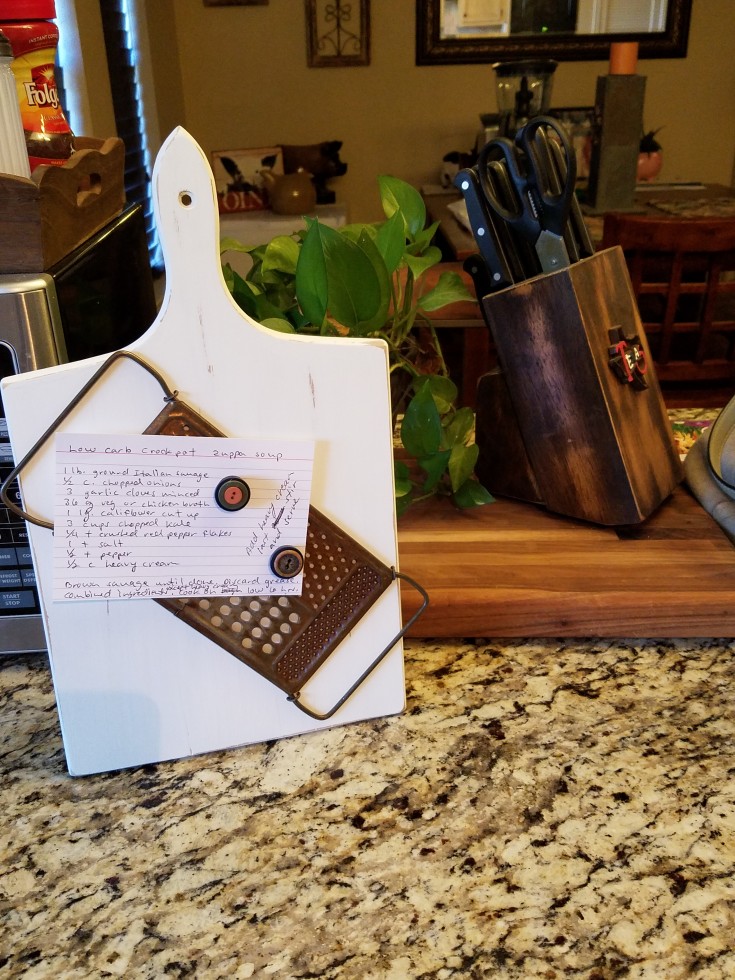 I have been wanting to make a repurposed photo holder and pulled these two items out of my stash to see what I could come up with. I wanted it to sit instead of hang. So off to my junk stash to see what I could find for a stand. Thought of just cutting a piece of wood at an angle and attaching that to the back but was hoping to come up with something better.
While digging through my stash I ran across a wrought iron coat hook. If I attached it about an inch up from the bottom of my cutting board then it would lean back just a little. Perfect!
***This post contains affiliate links, if you click on an affiliate link & buy something I may receive a small commission at no extra charge to you. The affiliate money I earn helps pay the expenses to keep this site running. Please read my full advertising disclosure for more info. Thanks so much for your support!***
Repurposed Cutting Board and Rusty Grater Supplies
wood cutting board
rusty grater
wrought iron coat hook with screws
white chalk paint
annealed wire
wire cutters
pliers
drill/screwdriver (I love my cordless)
5 – 6 buttons different sizes
round magnets
E-6000 adhesive
pencil
Repurposed Cutting Board and Rusty Grater
For this project, I started out giving the cutting board a sanding to remove the shine so that the paint will adhere to the wood better.
Next, I gave the wooden cutting board two coats of chalk paint (both sides and edges).
Once that dried I placed the rusty metal grater on the cutting board how I would like it to stay. Then I marked off where to add my wire to hold it in place.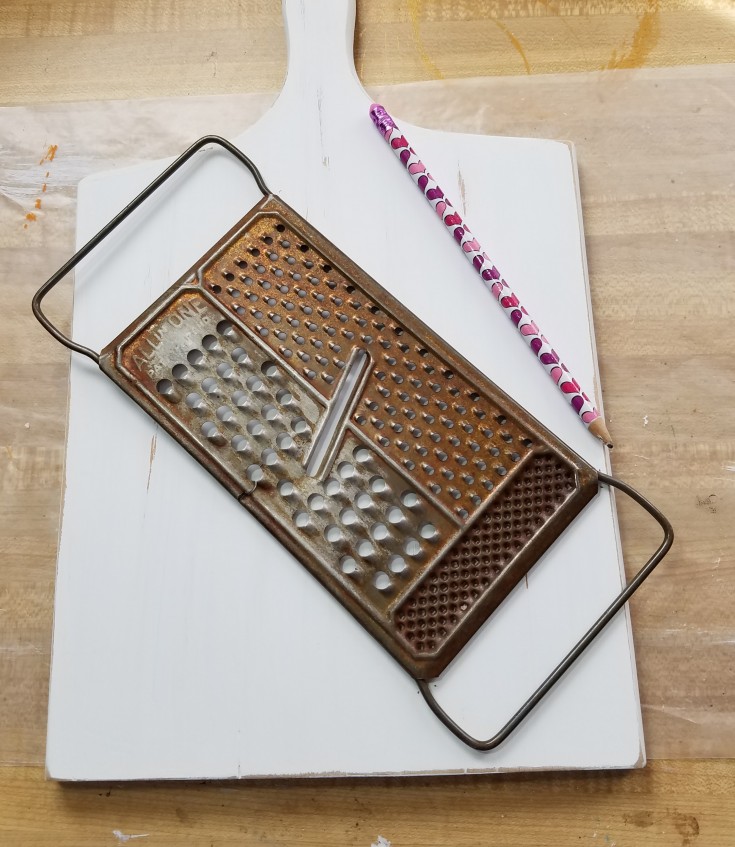 Then I drilled eight small holes for my wire.
Before taking it back inside I sanded the edges and top of the cutting board to give it a rustic/worn look.
Now back inside I positioned my grater and cut four pieces of wire about 2 1/2″ in length. Then I formed these into a staple and placed each end into the holes one on each side of the grater handle. Pushing them all the way down where the loose ends are sticking out of the back.
Once all the wire staples are in place I flipped the cutting board over.
Grabbing my pliers I give each loose wire a twist to curl the end, then press it down flat to the back. This will hold the metal grater in position.
Now I took the coat hook and held it to the back of my repurposed cutting board and rusty grater getting it into position so that the cutting board will lean back slightly.
Once in position, I mark off where to place the screws, then screw the coat hook down.
Time to Make the Magnets
For the magnets, I used two round magnets and 5 buttons in different sizes. I may replace these with vintage buttons next time I run across some that I like. But for now, these will work to hold my recipes or photos in place.
All I did was glue the buttons on the magnets using E-6000 adhesive stacking the smaller buttons on top. Let that dry overnight, and that's it.
This was going to be a photo display but after I got it made I decided to keep it in my kitchen to hold my recipes.
What do you think of my repurposed cutting board and rusty grater recipe display? Would you use it to display photos or recipes?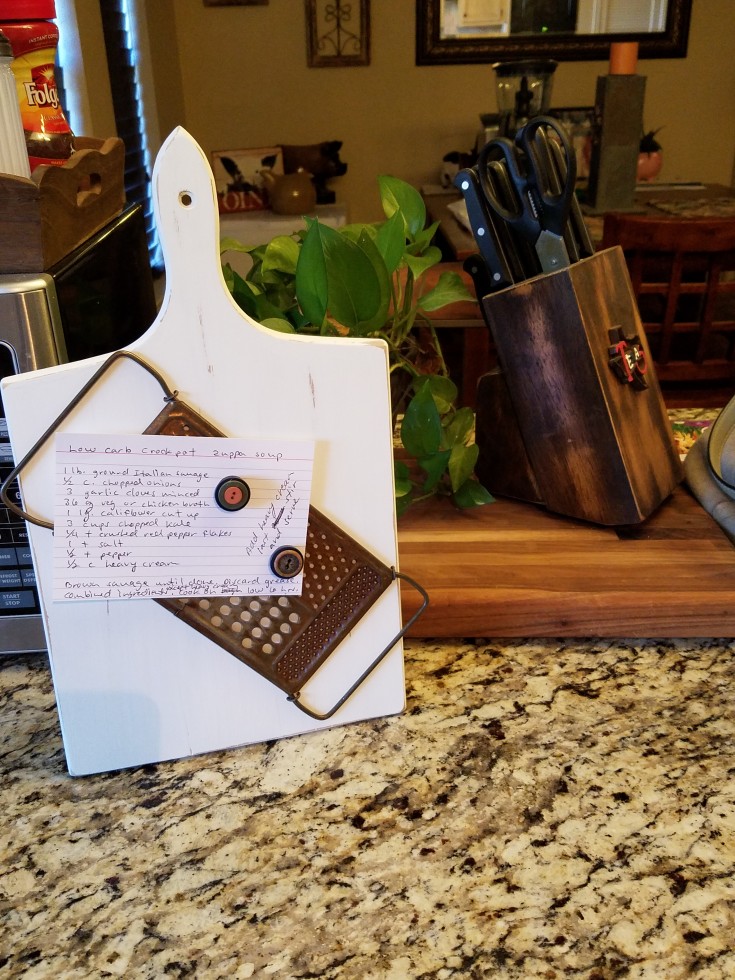 More Fun Upcycles You May Enjoy!
Diy yard art pitcher with bling
Farm fresh eggs sign
Diy garden cart