Hello my friends! Today I am excited to share with you my Repurposed ironing board, ad happy to be back on my normal routine, now that the holidays are over. I get so much more accomplished when I have a routine than not. Otherwise I am just spinning my wheels. Are you like that?
I think that I needed this little break, even if it was just from some of my blogging task. I still had to work my day job though, and boy was it busy. I am hoping that it will slow down some, and get back to normal somewhat.
I would come home some days so tired that I just didn't feel like doing anything NOT even crafting! And I even have a few Christmas gifts that I need to get started and finished. Luckily, I have till the end of January, Whew!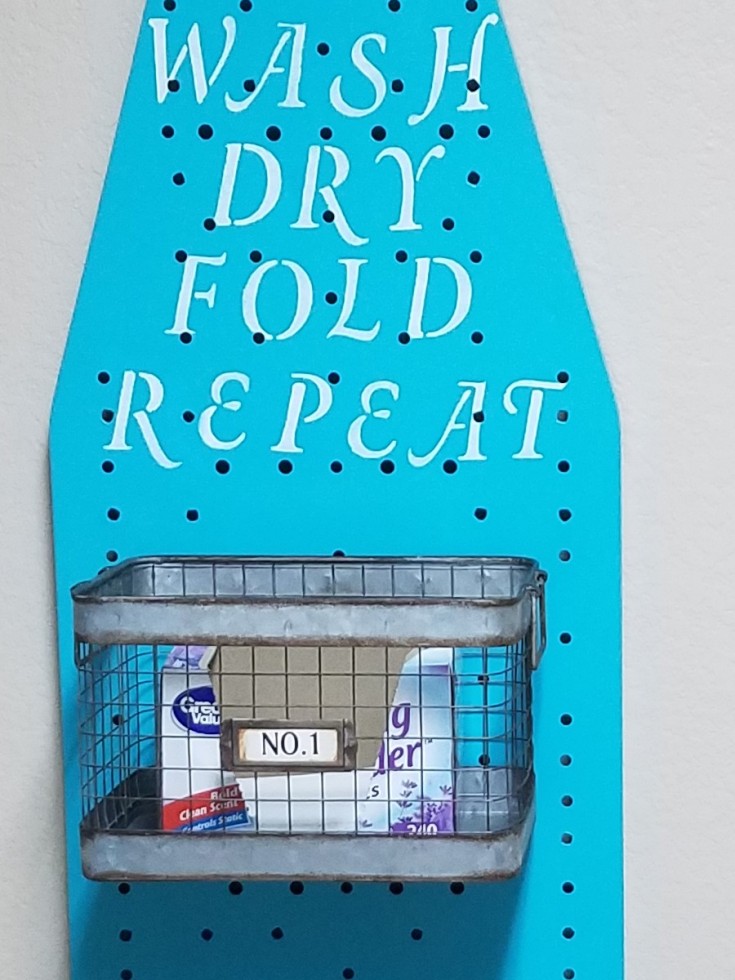 Today's project is my $3.00 ironing board that I picked up while we were out thrifting/antiquing. This is a joint effort project.
***This post contains affiliate links, if you click on an affiliate link & buy something I may receive a small commission at no extra charge to you. The affiliate money I earn helps pay the expenses to keep this site running. Please read my full advertising disclosure for more info. Thanks so much for your support!***
Repurposed Ironing Board Supply List
Metal ironing board
Seaside Satin Rust-oluem spray paint
White chalk paint
Letter stencils or Walmart Stencil Set
Flower design stencil
Two wire baskets
Wire
Wire cutters
Pliers
Diy Repurposed Ironing Board
First off, the stand had to be removed from the ironing board, and the hubby was sweet enough to volunteer to remove it for me.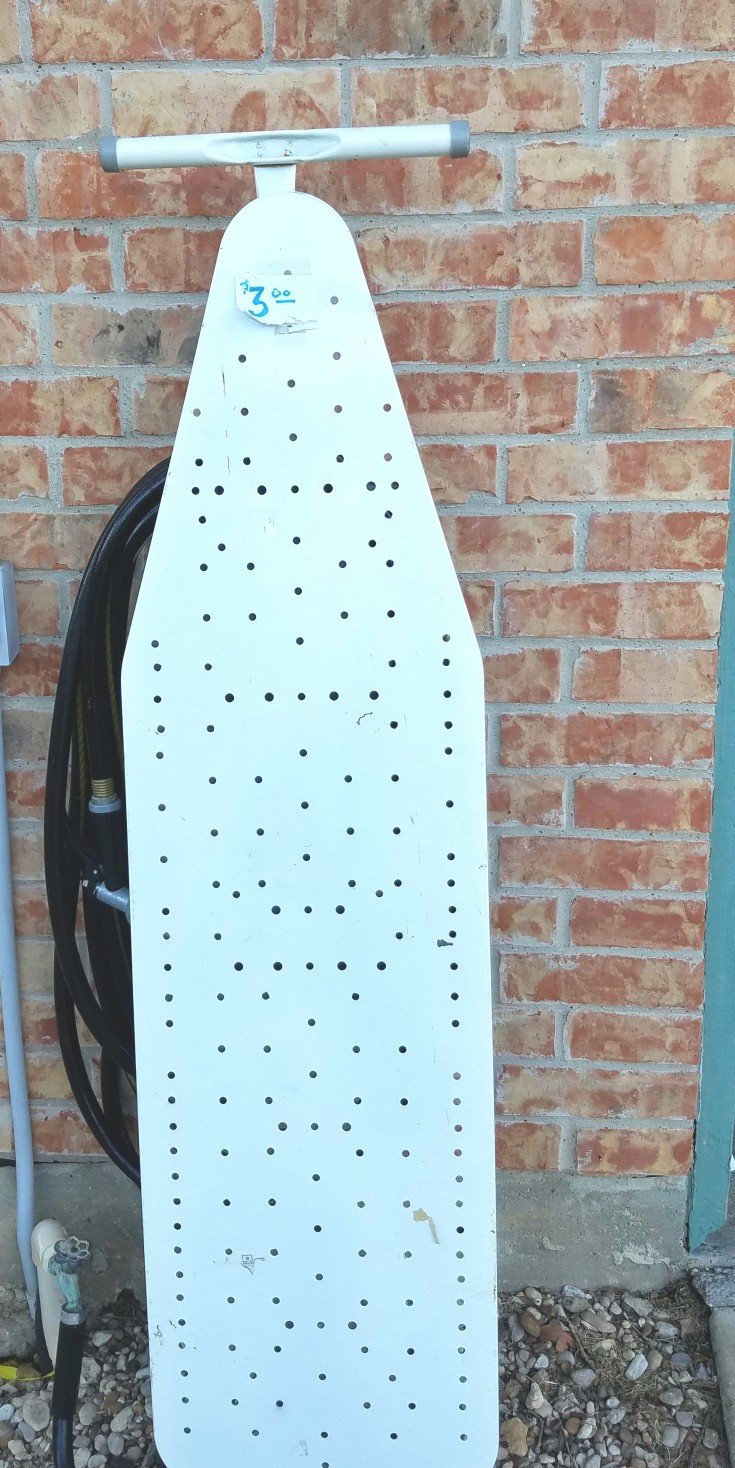 Then it was time to paint the ironing board, and again the hubby volunteered to spray paint it for me. He knows that I'm not very good at spray painting things. I get in a hurry, spray to heavy, to close or something. But I always wind up with at least one run if not more.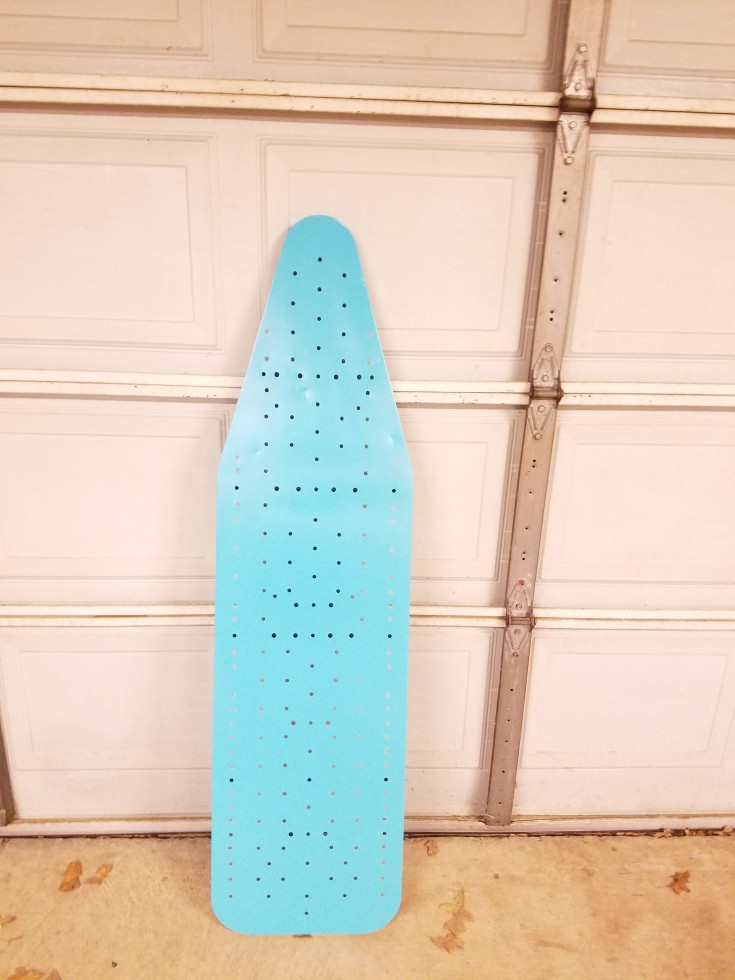 Once it's dry I started stenciling Wash Dry Fold Repeat, and adding the flower using white chalk paint. If I had of been thinking I have a stencil from my $10.00 set of cardboard stencils that I purchased at Walmart a while back with the saying all together. That would have been so much easier then adding the letters one at a time. They would have been straight, unlike now a little crooked. But that's ok, I'm keeping this repurposed ironing board for myself.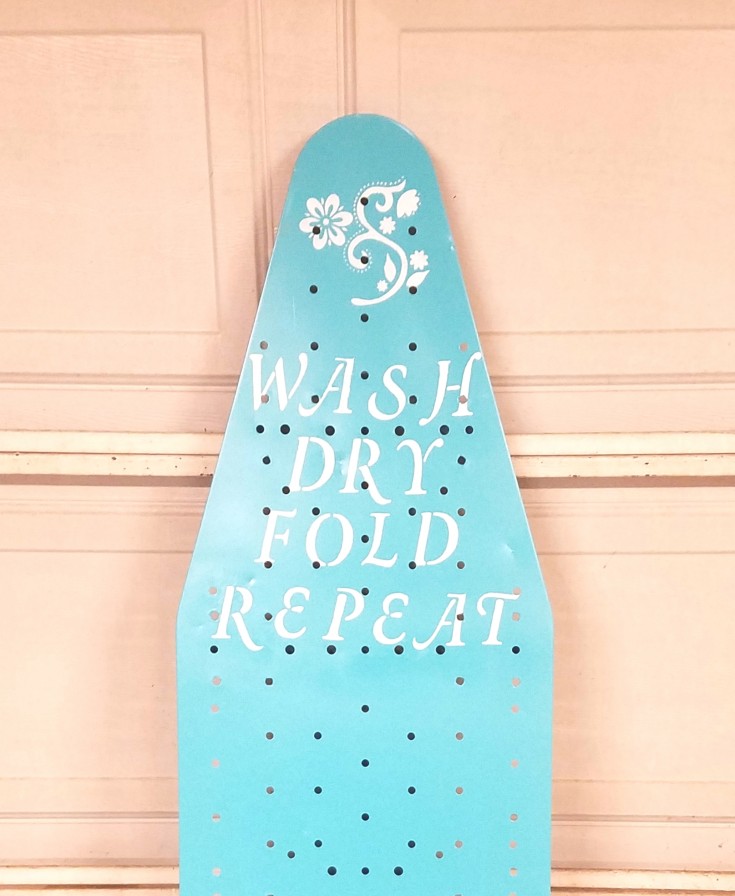 Next came attaching the wire baskets that I found at Hobby Lobby. I used wire to hold them in place.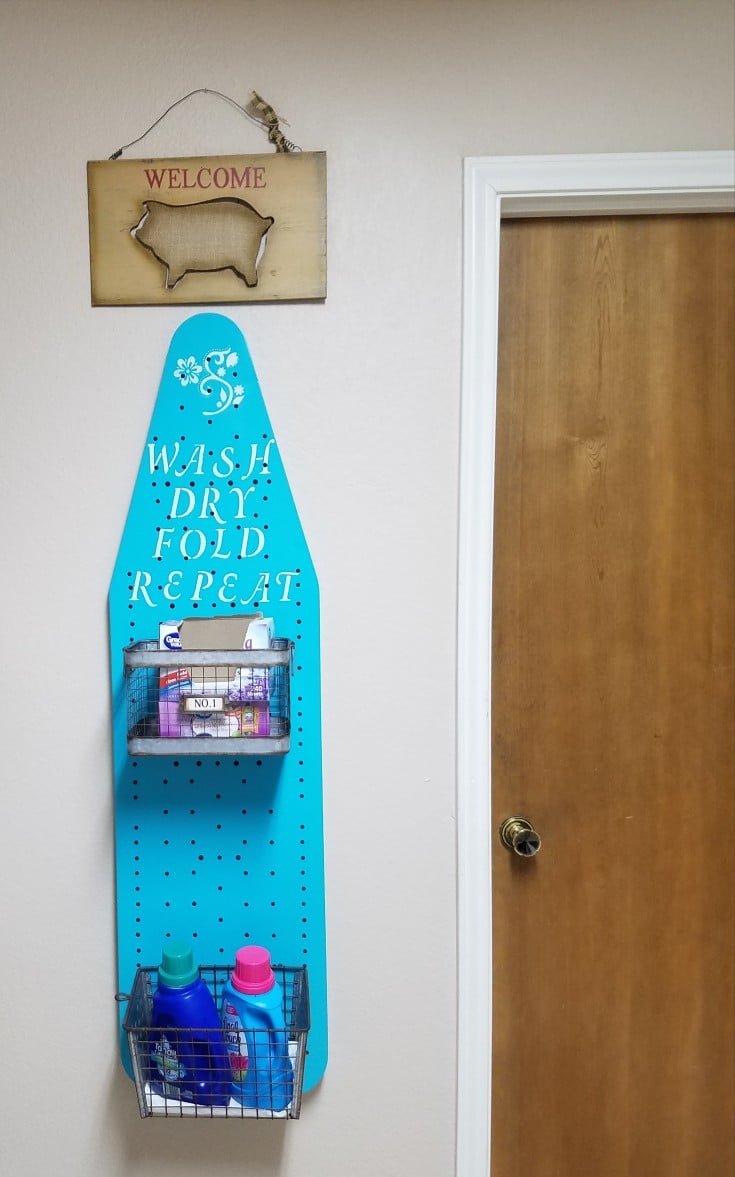 I think that I need to add another stenciled flower in between the baskets, but just haven't gotten around to that yet.
Last thing to do was to add some wire to the back for hanging. I needed it to be strong since it will be holding my detergent, softener, and dry sheets.
That's it for this easy repurposed ironing board. Fun repurpose, and it keeps my detergent and softener there at easy reach n the laundry room.
How would you have repurposed this ironing board?
More Fun Repurposed Projects!
How to upcycle a table with paint and a napkin
Repurposed wood chair turned shelf
Mason jar tissue holder