Hi all! Today I am sharing a finished project instead of a craft tutorial, some rustic farmhouse décor made from thrifted items. This past week I have been getting ready for a plant and craft sale. And was in so much of a rush the last two days before the sale getting my crafts ready that I completely forgot to take photo's until most of it was already painted. This was a last-minute project that I had pulled out.
***This post contains affiliate links… We are a participant in the Amazon Services LLC Associates Program, and affiliate advertising program designed to provide a means for us to earn fees by linking to Amazon.com and affiliated sites at no extra charge to you. Please read my full advertising disclosure for more info. Thanks so much for your support!***
This rustic farmhouse décor was created from a green metal tray and three glass jars. The tray I painted black, and the glass jars were painted white. Everything was distressed and sealed with Mod Podge.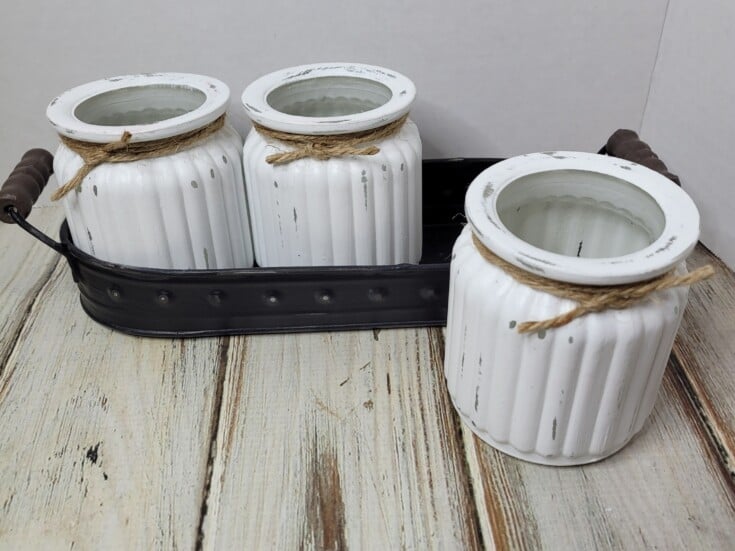 Twine was tied around the neck of each jar, and that's it for this rustic farmhouse décor. Perfect centerpiece full of flowers, or use in the bathroom for Q-tips, cotton balls, etc.
More Fun Farmhouse Decor
Rustic farmhouse style Utensil Holder
Thrifty Finds Farmhouse Makeovers
Farmhouse Signs and Thrift Store Makeovers
How to Update a Hanging Box