Hi All! Today I am going to share two cute yet simple DIY Valentine's Day Jars. These are two super easy ways to decorate different jars for Valentine's Day. They can be used as vases for flowers, utensil holders for a Valentine's Day party, or even as treat jars. The perfect way to upcycle some of those empty glass jars. (Check out more of my Valentine's Day projects here).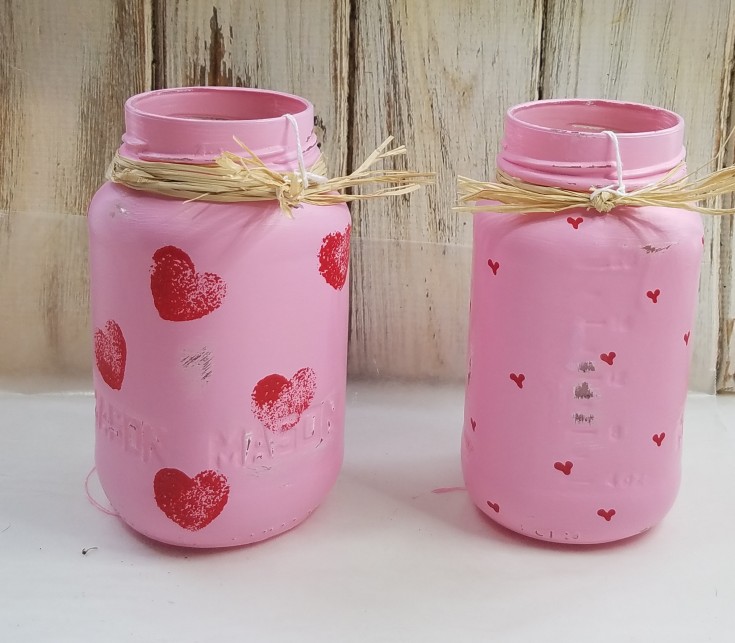 ***This post contains affiliate links… We are a participant in the Amazon Services LLC Associates Program, and affiliate advertising program designed to provide a means for us to earn fees by linking to Amazon.com and affiliated sites at no extra charge to you. Please read my full advertising disclosure for more info. Thanks so much for your support!***
Diy Valentine's Day Jars
Start off by washing and removing the labels from the jars.
I use chalk paint for painting jars most of the time because it adheres to the jars better than regular acrylic paints. Since I don't have any pink for this project I will be using white chalk paint to base coat each jar.
Then I will add a couple of coats of pink acrylic paint to the two Valentine's day jars.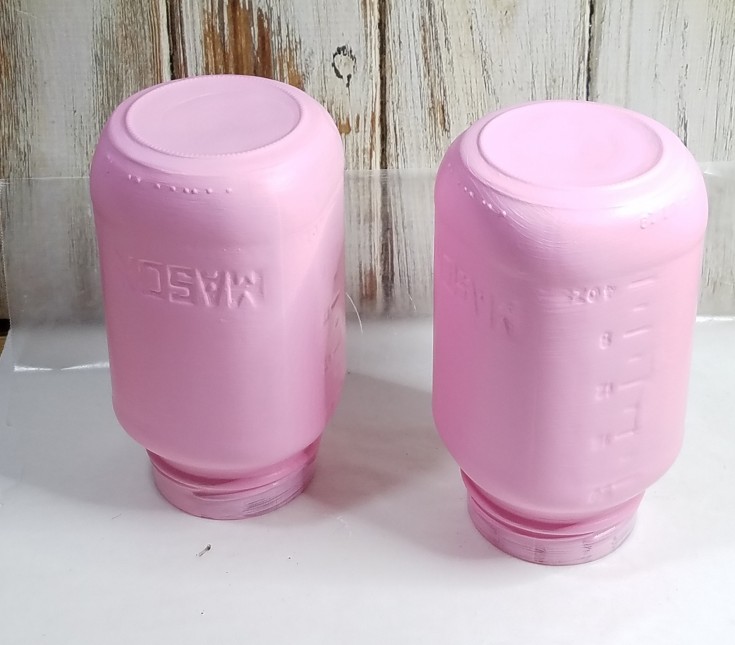 For the first jar grab a paper plate and some red acrylic paint. Squirt some paint onto the paper plate and then grab a heart-shaped sponge. Dip and cover the bottom of the sponge with the paint then gently press the sponge to the sides of the valentine's day jar. Gently rolling from side to side. (don't press down too hard or you will get a messy blob).
Repeat until you get all the hearts you want onto your jar.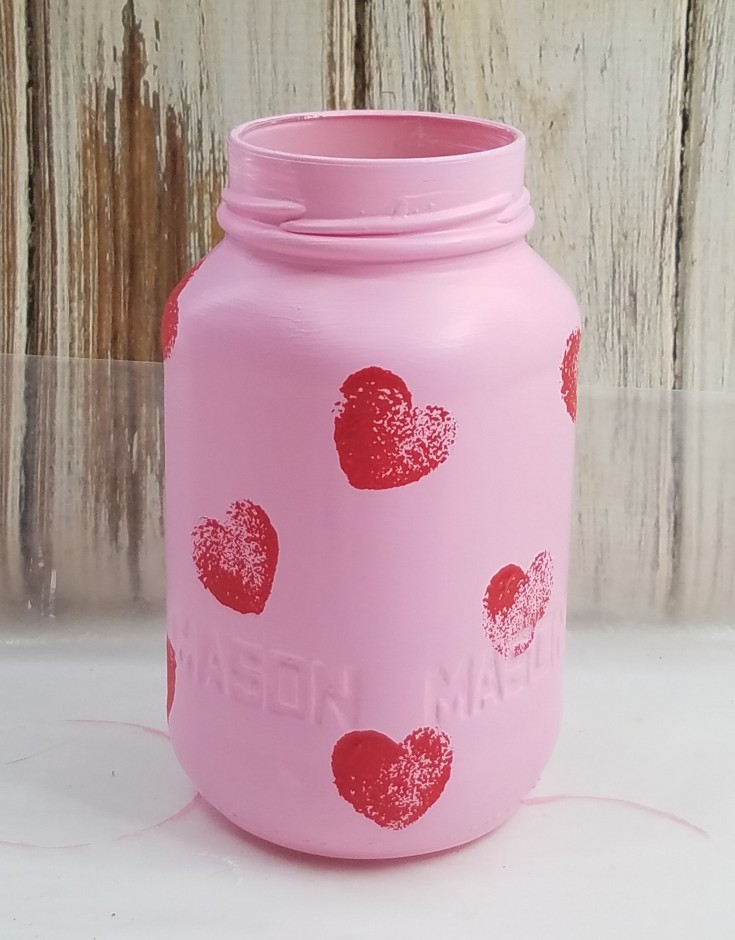 For the next jar, we will be using a craft stylus pen.
Now add a couple of dots of red paint to your paper plate. We will be making small hearts.
Start by dipping one end of the stylus into the paint then make two dots side by side on the jar.
Clean the end of the stylus off then drag one end of the dot downward for a point, then drag the other side down forming a small heart.
Repeat until you get the whole Valentine Day jar covered with small hearts to your liking.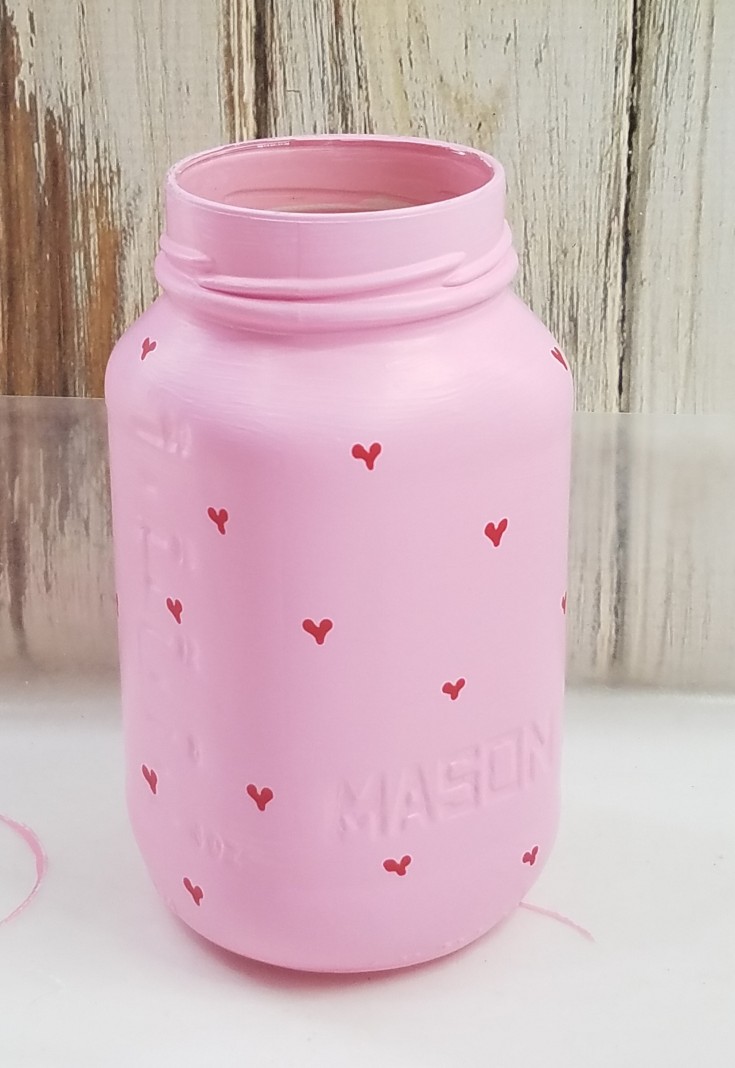 Let both jars completely dry then give both a light sanding if you like.
To finish off the two DIY Valentine's day jars tie some raffia or jute around the necks of the jars. And that's it for some easy valentine décor.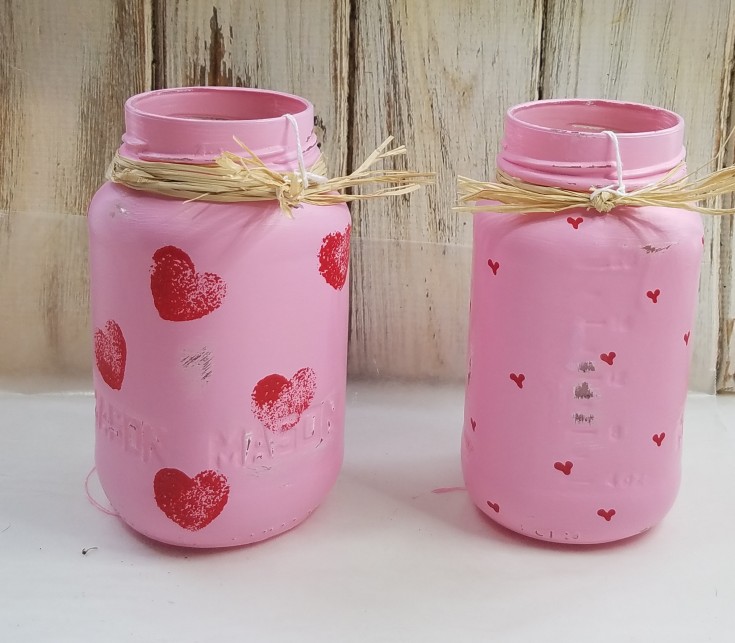 Supplies for Valentine Jars
Two glass jars
Chalk paint pink
Acrylic paint red
Paintbrush
Craft stylus pen
Heart sponge
Sandpaper
Raffia or jute
More Diy Jar Ideas!
Hand-painted Easter bunny jar
Diy Mercury glass jar
Pencil jar tissue holder