Hi all! I'm sorry that I haven't been around for a while. My heart just hasn't been in it. This is the 3rd time that I have wrote this post. But before I share with you the six-sided decor block project I will give your the short version of what has happened over the last seven months. It all started in March when my once active and healthy mother's health started declining rapidly after a fall. Then in May I lost my 18-year-old grandson in an automobile accident, on Mother's Day. Here is a beautiful slideshow that my grand-daughter's boyfriend put together with photos of my grandson Cameron and some of his favorite songs.
Two months after losing Cameron on July 12 my mother passed away. These last 7 months have been heartbreaking. It's been tough dealing with their deaths and on top of that I'm worried about my daughter, son-in-law, and grand-daughter, which are not coping well at all. All on medication themselves. The parent is supposed to go before their child!
Now it is time for me to pull it together myself and get back to some what normal days which includes back to my creating and blogging. It's not healthy for me to keep going like I've been with all the stress and eating out a lot because I just didn't feel like doing anything, even cooking. All of this has affected my health and I am now on blood pressure medication. Which I am hoping once things get back to normal, I can get back off of them.
M first step to getting back to normal I will be sharing this super easy six-sided décor block.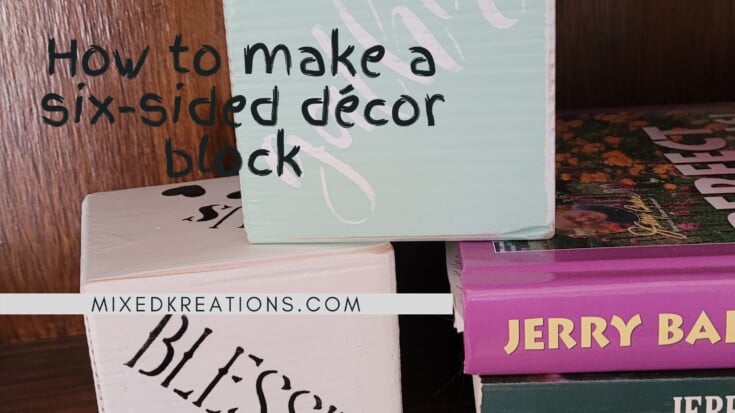 ***This post contains affiliate links… We are a participant in the Amazon Services LLC Associates Program, and affiliate advertising program designed to provide a means for us to earn fees by linking to Amazon.com and affiliated sites at no extra charge to you. Please read my full advertising disclosure for more info. Thanks so much for your support!***
Diy Six-Sided Decor Block
Using my miter saw I cut two wooden cubes that measure 3 ½" square from a wood post. These cubes can be purchased from Hobby Lobby or Amazon.
Using my belt sander to sand the wooden cubes smooth and to round down the edges and corners.
Next, I painted one block white and the other cottage green.
I used stencils with words and added a word to each side of the wood blocks.
Once dry I distressed the edges with sandpaper.
Then added a coat of Mod Podge for protection.
That's it for this easy diy six-sided décor block.
Supplies for Six-Sided Decor Block
Wooden blocks
Stencils with words
Mod Podge
Paint brushes
White paint
Cottage green paint
Sandpaper
More Fun Wood Projects to Enjoy!
Diy screwball flowers
Diy zebra print block
Diy recipe card holder
Mini photo display magnets