Hi all! Today I am going to share a fun yard art project that I am calling screwball flowers. I had seen these floating around FB and no tutorial, but had to have some of my own. Really wasn't sure what to call them, but these are made from a wood ball and screws. Hence the name screwball flowers. The ones that I had seen on FB may have been made using golf balls. Not having any golf balls but knowing that I could find some large wood balls at Hobby Lobby I decided to go with that.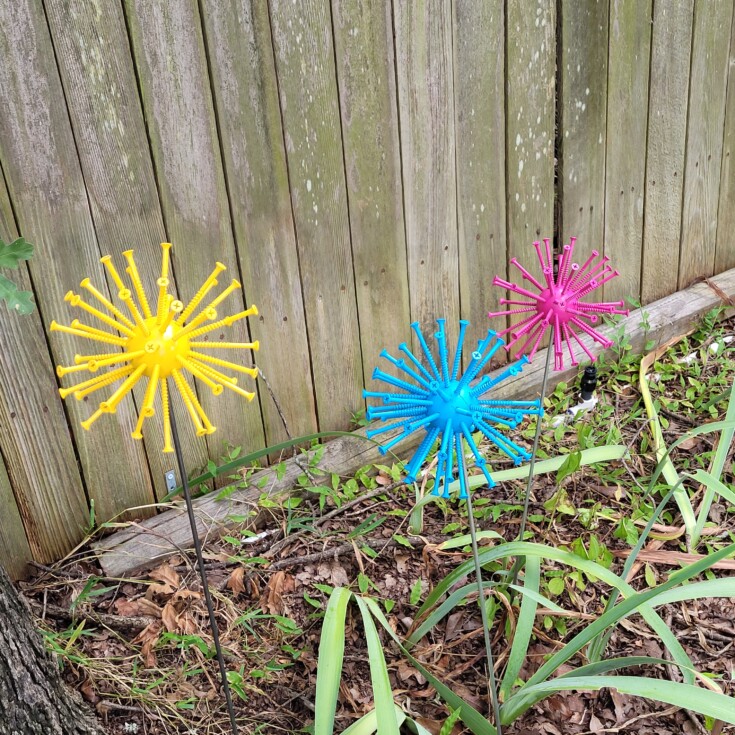 ***This post contains affiliate links… We are a participant in the Amazon Services LLC Associates Program, and affiliate advertising program designed to provide a means for us to earn fees by linking to Amazon.com and affiliated sites at no extra charge to you. Please read my full advertising disclosure for more info. Thanks so much for your support!***
Diy Screwball Flowers
Start by drawing a line around the wood ball. Then turn and draw another line, repeating this will divide the ball into sections for drilling the holes.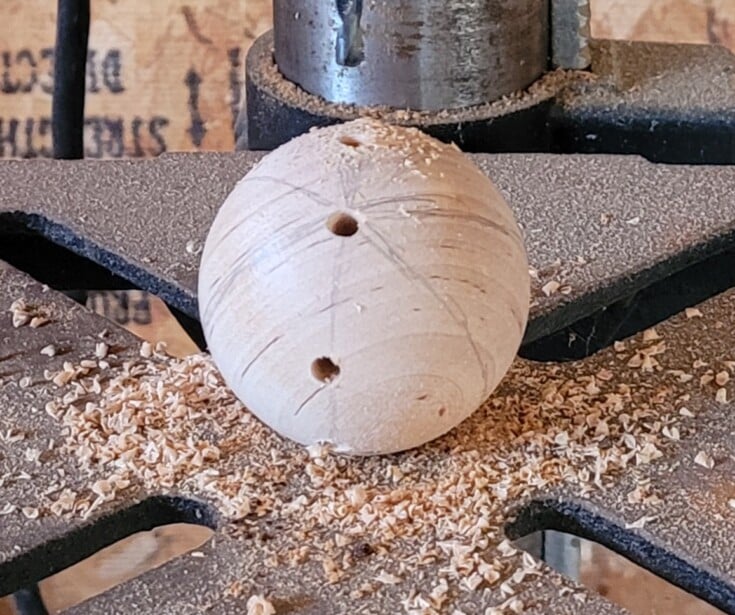 Pick a drill bit that is slightly smaller than the wood screws and place the bit in the drill press. Now for the hardest part, drilling the holes. Hold the ball in place while drilling the holes.
Try to follow the lines drawn and just go around the ball drilling holes about ½" apart and around ½" deep. Be careful and don't be concern if the holes are a little off line.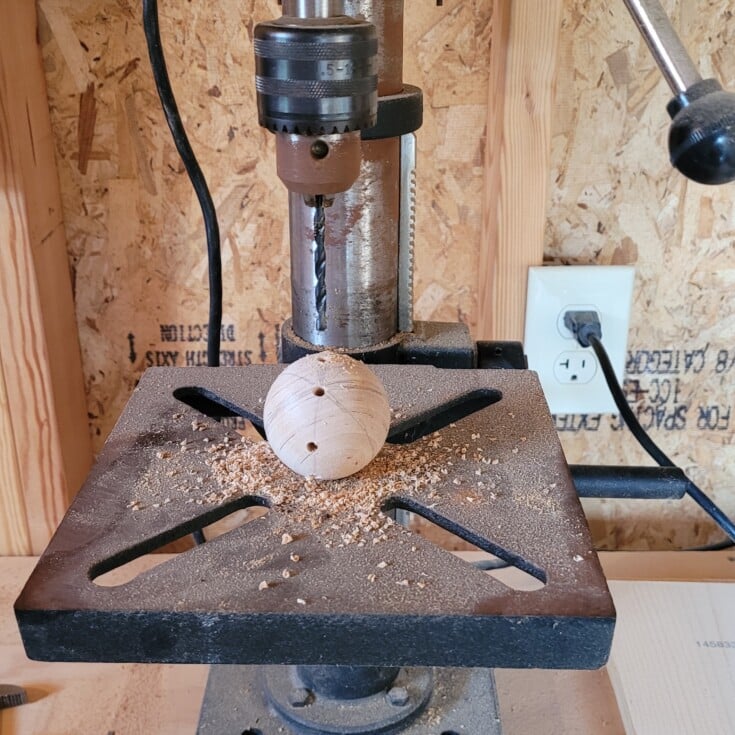 The last hole needs to be a little large to accommodate the metal rod that will be holing the screwball flowers up.
Give each wooden ball a quick sanding.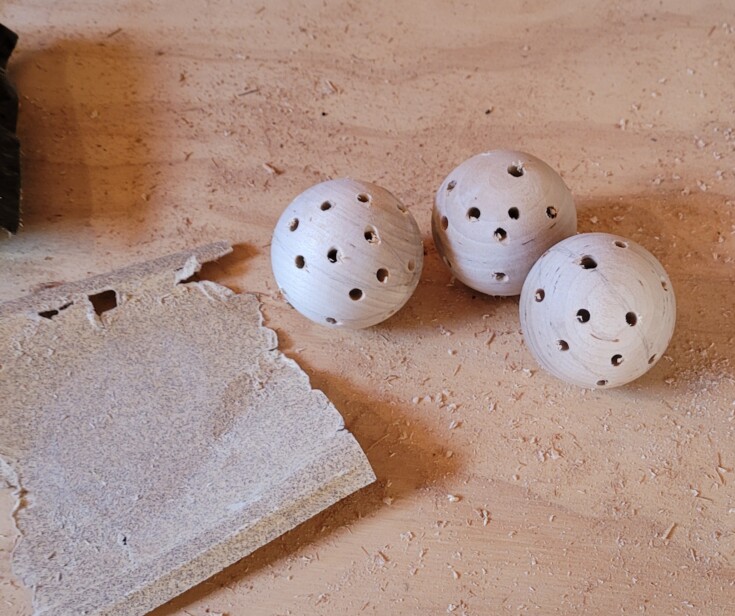 Now for the fun part! Screwing all the wood screws into the wooden ball.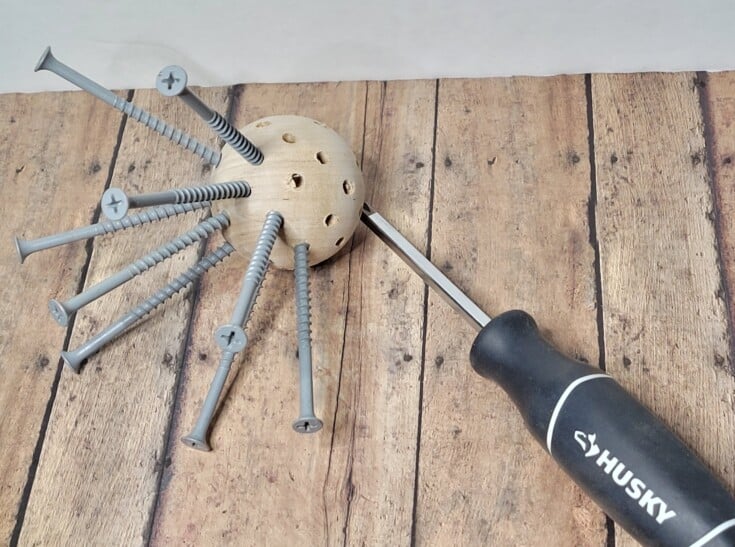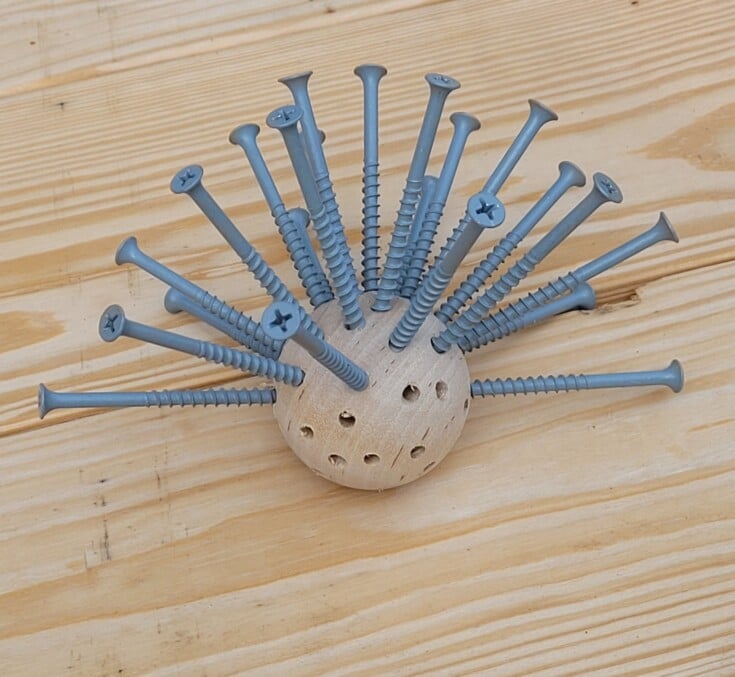 I went through two boxes of wood screws and still was about five short. So, I just used some screws that I had on hand even though they were a little shorter. Once done your really couldn't tell the difference.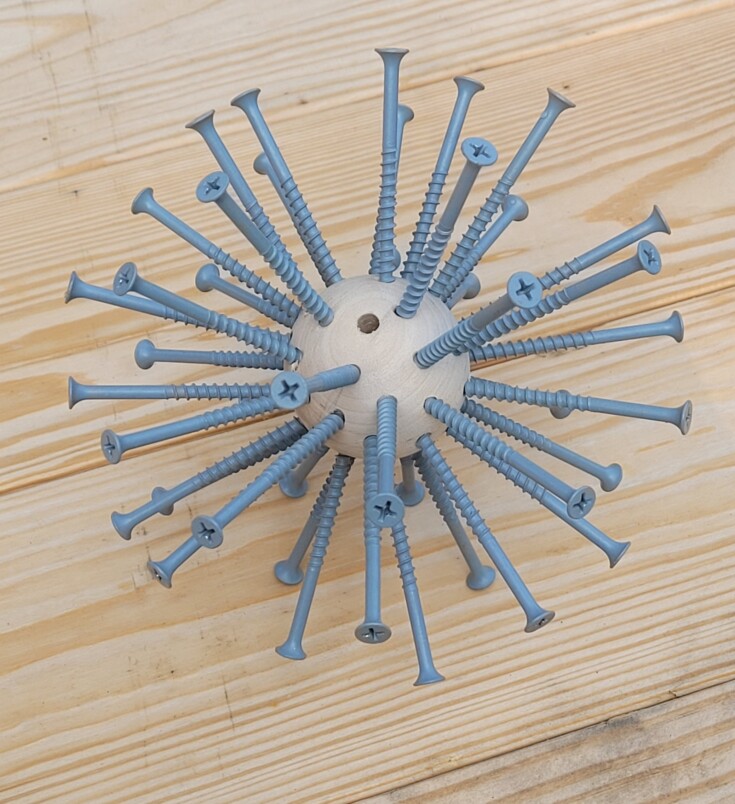 When all the screws are in place paint each flower, a different color using spray paint.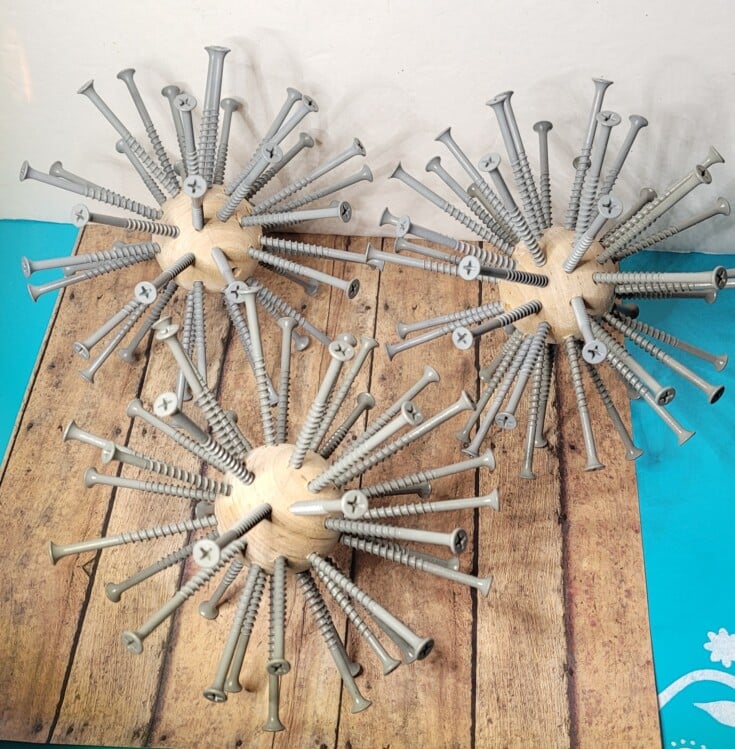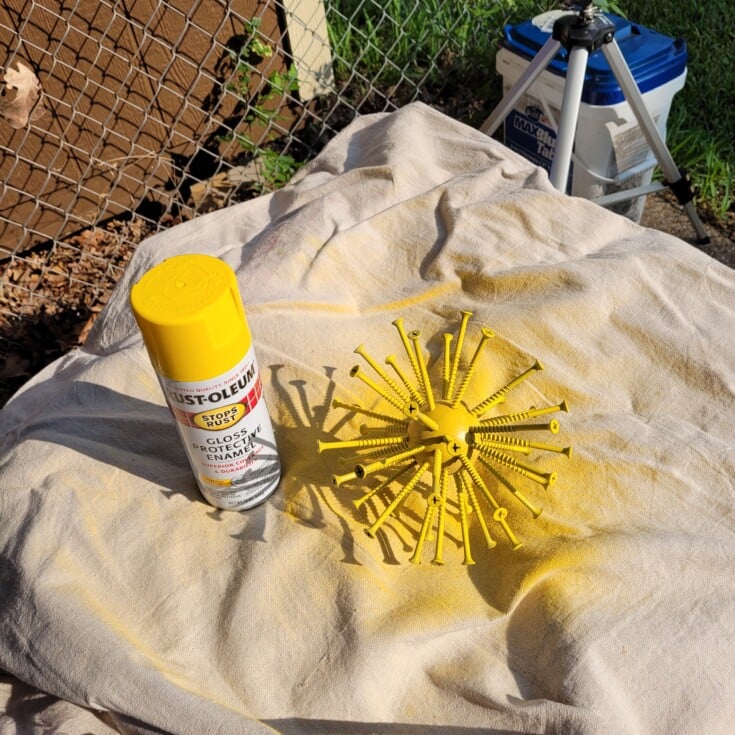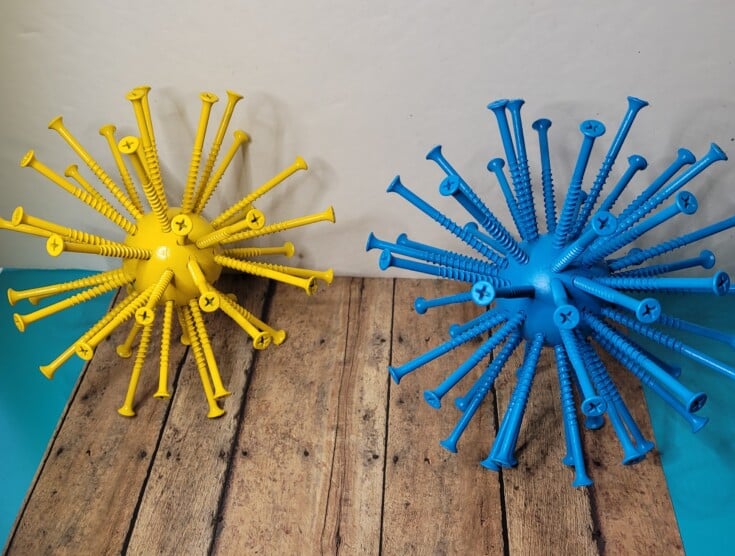 Once all 3 diy screwball flowers are dry take the metal rods and hammer them into the ground at different heights and place the flowers on top of the rod in the larger hole.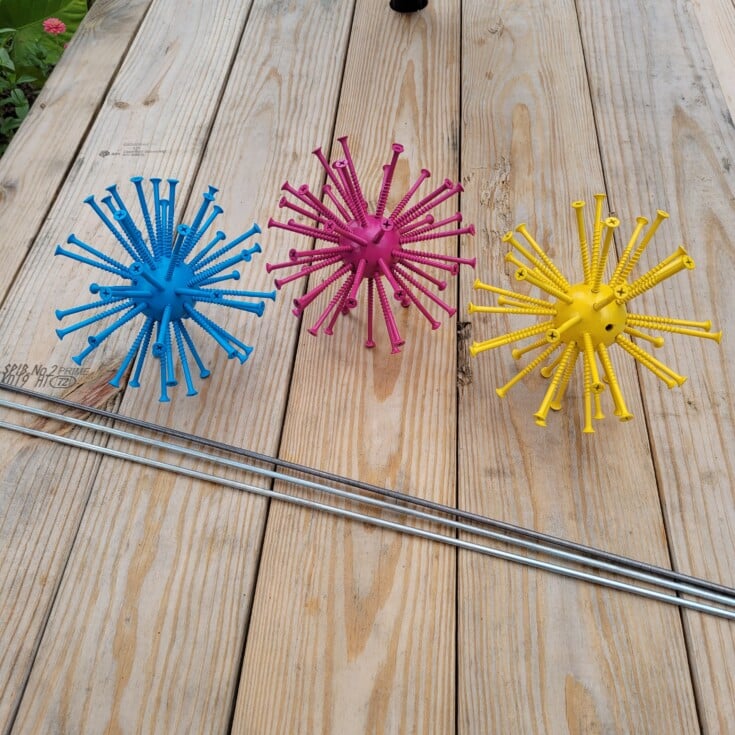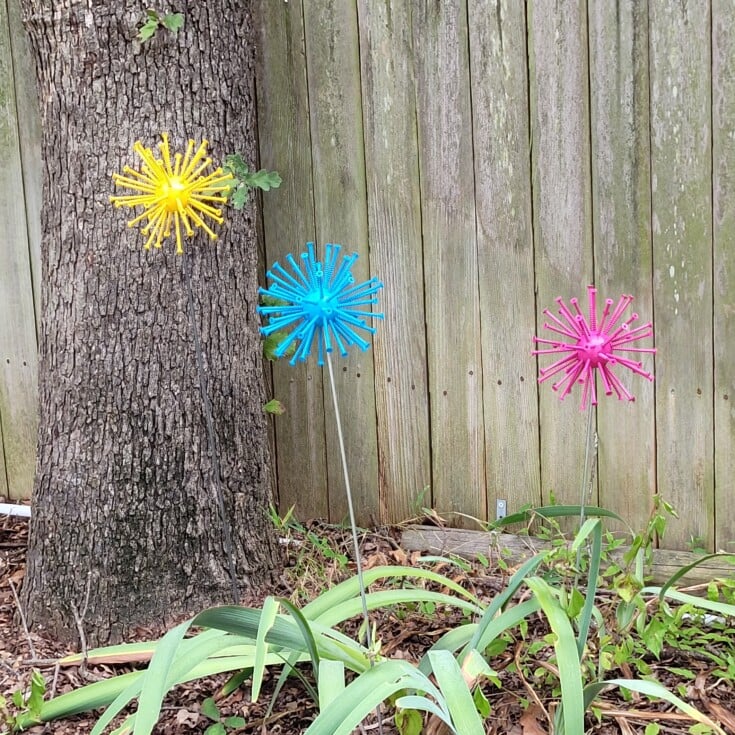 That's it for these fun diy screwball flowers. Perfect yard art! Don't you think?
Supplies for 3 Diy Screwball Flowers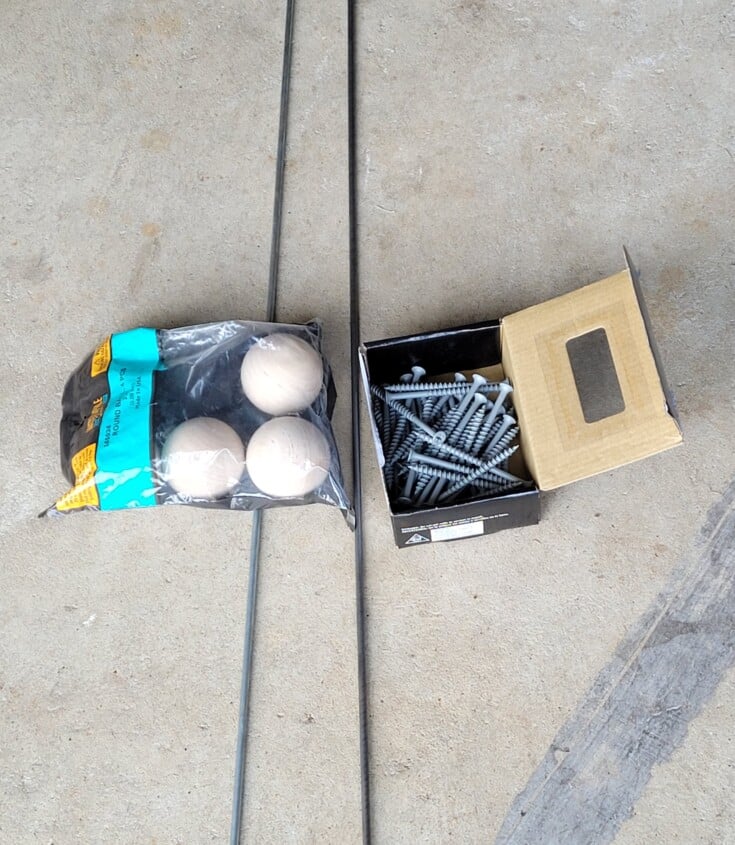 3″ wood balls
2 boxes of Exterior wood screws 3"
3 Metal rods 3 – 4 foot in length 5mm round
Drill press and bits
Spray paint pink, blue, yellow
Screwdriver
More Yard Art
Lamp yard art
Super easy diy yard art
Repurposed pitcher with bling