Hi All! Today I am going to share with you how to make a stenciled sign for the laundry room. This is one of the stencils out of the $10 pack I purchased at Walmart.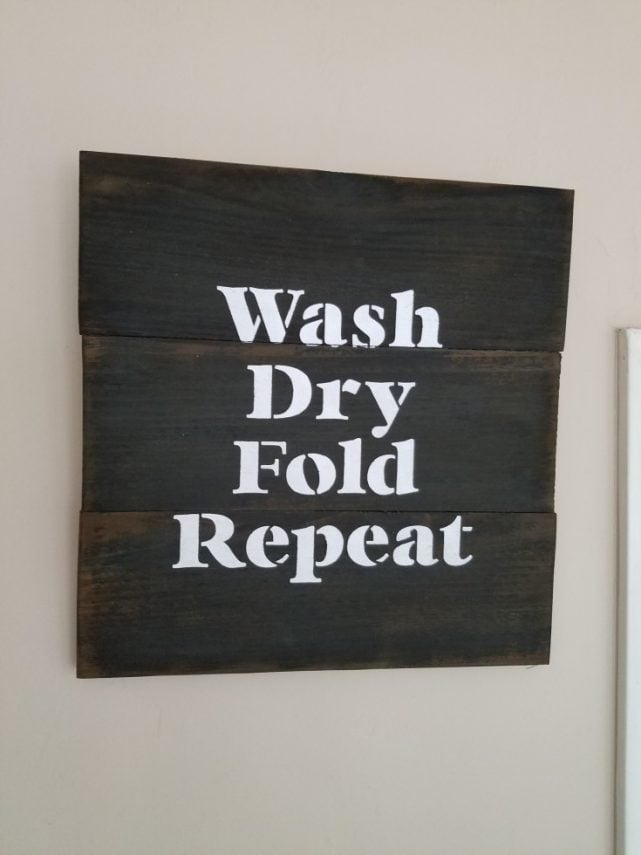 I painted this sign in black because latelt I've been want to make some things up in black. But I think that this sign would look great hanging in any laundry room, and the colors can be customized to match the room.
***This post contains affiliate links, if you click on an affiliate link & buy something I may receive a small commission at no extra charge to you. The affiliate money I earn helps pay the expenses to keep this site running. Please read my full advertising disclosure for more info. Thanks so much for your support!***
Material List for Laundry Sign
3 Cedar fence pickets 15" in length
Wood aging solution
Waverly black chalk paint
Stencil – Wash Dry Fold Repeat
White Acrylic paint
Paint brush
Stencil brush
2 Thin strips of trim 14" in length
Screws 1"
Wire (I use annealed wire in a lot of my projects)
Wire cutters
Pliers
Miter saw (Love my Miter Saw)
Screw driver
Drill and countersink bit (I have a Ryobi drill I use and love it)
Palm sander
Let's Make a Stenciled Sign for The Laundry Room
First cut your wood pickets to 15" lengths, and your trim approximately 14" in length.
Use your sander to smooth out the rough spots on the picket to make the surface smooth for painting.
I'm sorry but once again I got in a hurry and didn't get photos of some of the steps. But it's pretty simple so I can just walk you through the steps.
Lay your pickets side by side with the smoother sides facing down and the rougher sides facing up because these will be the back of your sign.
Mark off where you need to predrill your holes on your trim. This will keep the trim from splitting when you screw them down to the back of your sign. The trim is going to hold the laundry sign together.
Use a countersink drill bit.
Now add some wood glue to the back side of the trim, lay it in place over the three pickets then screw it down. Do the same for the other piece of trim.
Next, I painted my boards with black chalk paint leaving some of the wood showing through.
Once dry I gave my laundry sign a quick sanding to knock off some of the paint. Then I added some wood aging solution on the parts of the wood that is showing through, and on the edges.
Now center the stencil onto your wood sign, then use white paint and a stencil brush to stencil in the letters.
Now flip your stenciled sign for the laundry room over and add some hanging hardware. Instructions for making your own hanging hardware.
You may want to predrill these holes as well so yours doesn't split on you like mine did.
Of course, you could add a sawtooth hook instead. But I like making my own when possible. The hanging hardware is sturdier, and stronger for a large sign.
That's all there is to making a stenciled sign for the laundry room. Do you have any signs in your laundry room that you've made?
More Diy Signs You May Enjoy!
You are Loved
How to make a large monogram letter sign
Easy handmade fall signs