Hi all! Today I am sharing a tier tray Valentine Décor project, that's made using a small wood frame from the thrift store. Super cute and easy project that's perfect for a tier tray along with other Valentine décor.
Recently I bought a TV for my craft room so while working on craft projects I am watching YouTube craft video's and getting lots of idea's. I love the Dollar Tree videos. The only problem is when I see something I want to try the Dollar Tree never has the items for the project. But their still fun to watch and I have been getting more done because I am staying in my craft room for longer periods.
I'm trying to get back into a routine like I was before my mother starting going downhill, and last year's heart break. Guess it's true, crafting is good therapy for the mind and soul. Guess watching it is too. LOL
I'm even a week ahead on my post scheduling. Crossing my fingers, I can stay ahead and get even further ahead. Ok let's get started with this easy tier tray Valentine décor project.
***This post contains affiliate links… We are a participant in the Amazon Services LLC Associates Program, and affiliate advertising program designed to provide a means for us to earn fees by linking to Amazon.com and affiliated sites at no extra charge to you. Please read my full advertising disclosure for more info. Thanks so much for your support!***
Tier Tray Valentine Décor Supplies
Small wood frameScrapbook paper
Large wood heart
Small wood heart
Wood Love ornament (found at Dollar Tree)
One tumble block (found at Dollar Tree too)
White chalk paint
Black, red, and expresso brown acrylic paint
Finger sander
Paintbrushes
Wood glue
Hot glue
Mod Podge
Scissors
Diy Tier Tray Valentine Décor
Start by giving the wood frame two coats of white chalk paint, front and back.
Give the large heart and tumbling block two coats of white chalk paint as well.
Measure the inside of the frame and cut your scrapbook paper to fit. If the frame comes apart, that would make it easier. But the back of this frame had been glued in.
Next, I used a small paint brush to add some black acrylic paint into the grooves of the frame, then wiped off. I tried my antiquing stain first but did not like the results and had to repaint my frame white. The little frame was distressed with my craft sander, then I Mod Podged the scrapbook paper in place.
Then, I used wood glue and glued the large heart in the center of the frame.
I used expresso acrylic paint and a little water to stain the love ornament. Wiping off the excess paint.
For the small red heart, I tried the hot glue and wood glue technique that I had seen on a YouTube video. Where you add your wood glue, then a little hot glue that holds it in place until the wood glue dries. Glue the love ornament on using thot glue and wood glue as well
Flip the frame over and glue the tumbling block onto the bottom back of the frame. This will help sturdy the frame so that it can stand freely on a tier tray.
And that's it for this tier tray Valentine décor! I think that this project turned out sooo cute! Do you have a tier tray that you decorate for the holidays?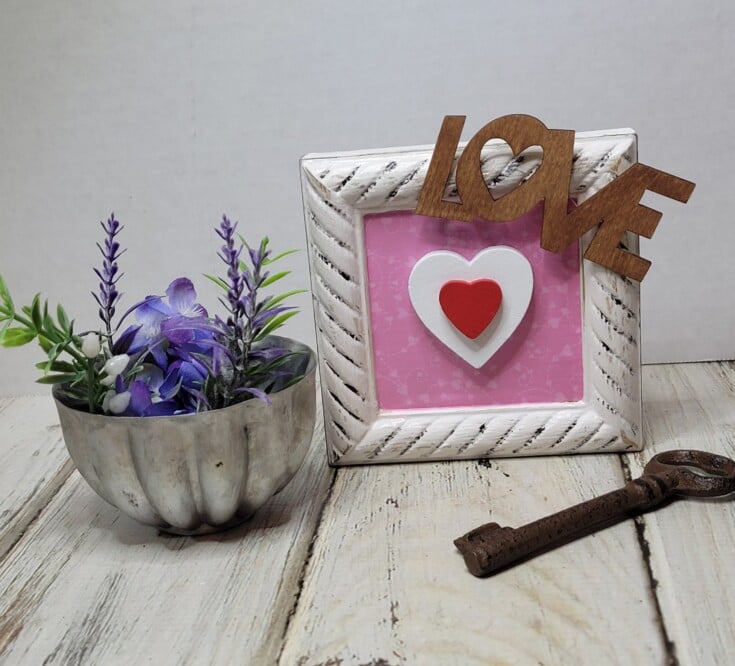 More Fun Valentine Projects!
Diy Valentine day jars
Repurposed cutting board – Valentine decor
You are Loved sign
You and me block