Hi All! Today I am sharing a really easy project. My upcycled country kitchen tray that was made from what I believe was a metal pan out of a toaster oven. I picked it up on one of our junkin trips and it's been sitting in my junkin stash ever since. Until now, it is the perfect size for one of the five stencils that I received from Country kitchen stencil. Here's the first stencil I tried out on a wooden cabinet door .(Farm Fresh Eggs sign)
***This post contains affiliate links, if you click on an affiliate link & buy something I may receive a small commission at no extra charge to you. The affiliate money I earn helps pay the expenses to keep this site running. Please read my full advertising disclosure for more info. Thanks so much for your support!***
Supplies for Upcycled Country Kitchen Tray
Thrifted metal pan
4 wooden ball knobs
Gorilla super glue gel
White chalk paint
Black chalk paint
Paintbrush
Country kitchen stencil
Stencil brushes ( I like these best)
Upcycled Country Kitchen Tray
I started off by cleaning my metal pan. Then I applied two coats of white chalk paint to both sides. Letting each coat dry thoroughly. Each wood ball knob received two coats of white chalk paint as well.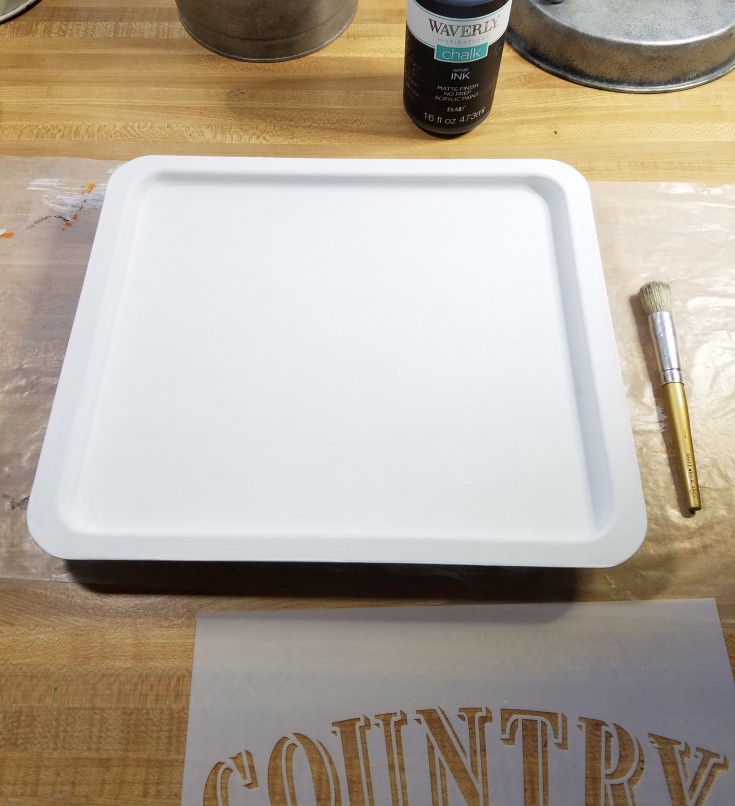 Next, I stenciled country kitchen in the center of the tray using black chalk paint.
Once that dried I flipped it over and glue the four wooden knobs down using gorilla glue. One knob in each corner. I let that dry overnight.
Next day I just flipped it over and it's done. I now have a pretty upcycled country kitchen tray. I can't make up my mind whether to distress the tray or leave as is. What do you think? Distress or leave as is?
More Fun Upcycles!
Repurposed wood chair turned shelf
Diy solar light chandelier
Repurposed cutting board and rusty grater