Hi All! Before I share my unknown garage sale upcycled yard ornament, I want to explain why I haven't been around lately. Also, I would like to let you know that I will be cutting my post back to twice a month. I have had a cough going on for years now but over the last few it has gotten a lot worse so I finally started going to see the doctors. Started out going to an allergy doctor and he had me convinced that I had food allergies (corn and dairy) and taking his allergy drops I would get better.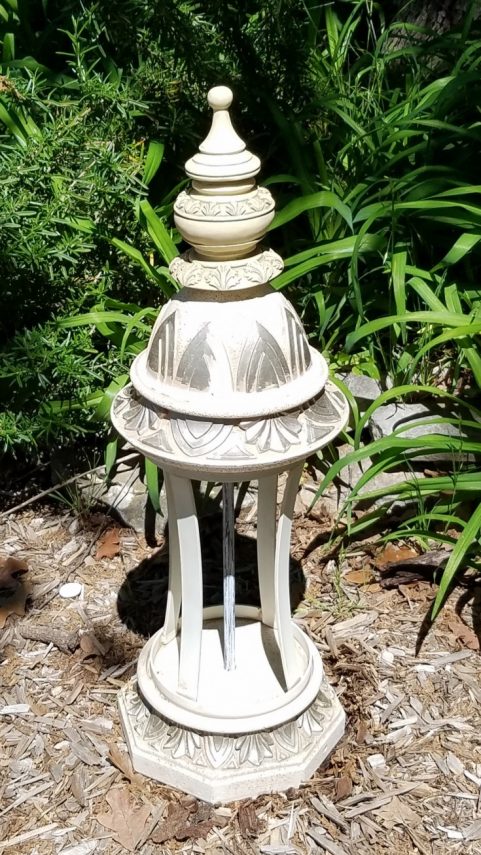 Well at first, I got somewhat better than it started getting worse. The allergy doctor kept telling me once he got the correct dosage it would improve, well after two years I started doing some research on my cough myself. Never thinking that I had acid reflux because I never had any heartburn but while researching, I ran across silent reflux disease and I had a lot of the symptoms, and their self-help would help to calm the cough. I'm sure I have food allergies as well but there was more going on.
With reflux disease, you don't always have heartburn and I don't so that's why I never considered that. So, I scheduled an appointment with a gastroenterologist and had an EGD done, and a swallow test. With all my coughing I now have a hernia in my esophagus and some acid reflux. The gastrologist doctor wanted me to go see a pulmonologist. First things first is I had to get a family physician on my side of town for referrals guess they don't like you scheduling your own appointments they want referrals.
Then he sent me to the pulmonologist and I has to go get x-rays to make sure nothing has gone into my lungs. He is also checking me for asthma and I may have to go for allergy testing as well. But I will be going to a different ENT and allergy doctor. NO more drops! I just get so aggravated thinking about he could have stopped this sooner if he would have looked into it more instead of pushing those darn drops. So now I have a hernia! GRRRR! I am also being scheduled for a CT scan. Oh, how I dislike doctors but I am tired of this coughing so I just have to struggle through this.
You would think that would be enough, but no! The family physician found a couple of spots that he wants a dermatologist to look at so add that to my list of doctors I will be seeing or have already seen. As you can see I have been very busy! When I'm not at my full-time job I'm running to see doctors or to the hospital for blood work or another procedure. With the little extra time I have left I try to catch up on my housework or gardening/yard work. This is why I will be cutting back in my posting to only twice a month at least until things settle down. Now without further Ado, I will share my upcycled yard ornament.
Upcycled Yard Oranament
I found this unknown item at a garage sale recently from one of my Facebook friend that was living in Burleson. She notified me of the sale and I went and found so many cool items, but couldn't bring it all home with me. But I did find quite a bit that I couldn't pass up.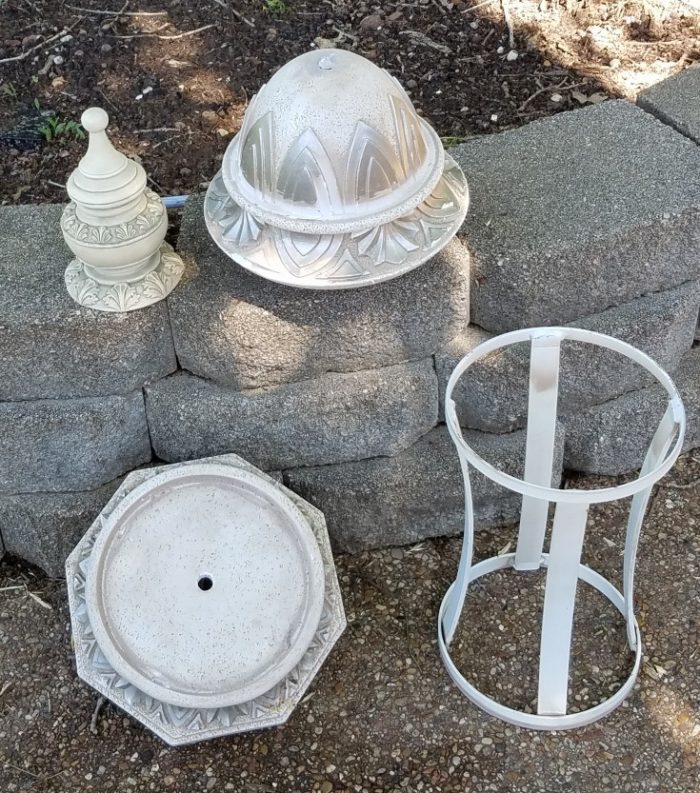 I've been looking for some things that I could upcycle into yard art and this jumped out at me and said buy me I would make a really cool and simple upcycled yard ornament. Simple it was, I think that it must have been some kind of a lamp or light because it had a hole through each of the parts. The top piece was a completely different item and it's different in color but I figured no one would really notice.
All I had to do was drill a hole in the bottom of the top piece then cut a dowel to run through all the pieces to hold them together. Then add the top piece finishing off my garden art. Pretty cool upcycled yard ornament huh! And you can't really tell the top part is from something completely different.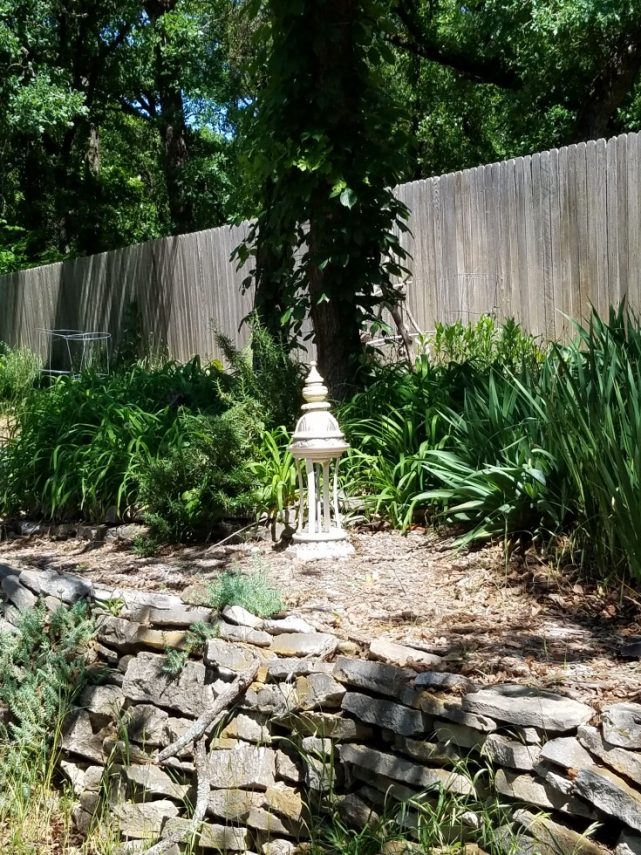 I went looking for a fake plant to put in the center but didn't find what I was looking for. Not sure whether I should leave as-is or at something to the center. What do you think, leave upcycled yard ornament as is or add something else? Love to hear your ideas!
More Fun Upcycles!
Upcycled wood frame and spindle
Two-tier faux galvanized tray
Repurposed cutting board and rusty grater
Repurposed wood chair turned shelf