Hi All! Today I will be sharing a wooden cutting board makeover. This is the same cutting board that I used in the Liquid Chalk Markers Review post. It has just been sitting there with a much-needed makeover. I have been loving all the buffalo check projects that are floating out there on the web. So much that one of the new stencils that I had ordered was the buffalo check. My favorite colors in the buffalo check are red and black. So, this wooden cutting board will be with the black and red buffalo checks.
***This post contains affiliate links… We are a participant in the Amazon Services LLC Associates Program, and affiliate advertising program designed to provide a means for us to earn fees by linking to Amazon.com and affiliated sites at no extra charge to you. Please read my full advertising disclosure for more info. Thanks so much for your support!***
Supplies for Wooden Cutting Board Markover

Thrift store cutting board
Black chalk paint
White chalk paint
Red chalk paint
Buffalo check stencil
Grateful stencil
Stencil brush
Paintbrush
Wooden Cutting Board Makeover
Since the wood cutting board is already black all I needed to do as far as prep work was to give the front a couple more coats of black paint to cover the wording.
Once dry I centered that buffalo check stencil on the cutting board and proceeded to stencil in the red using Waverly crimson chalk paint.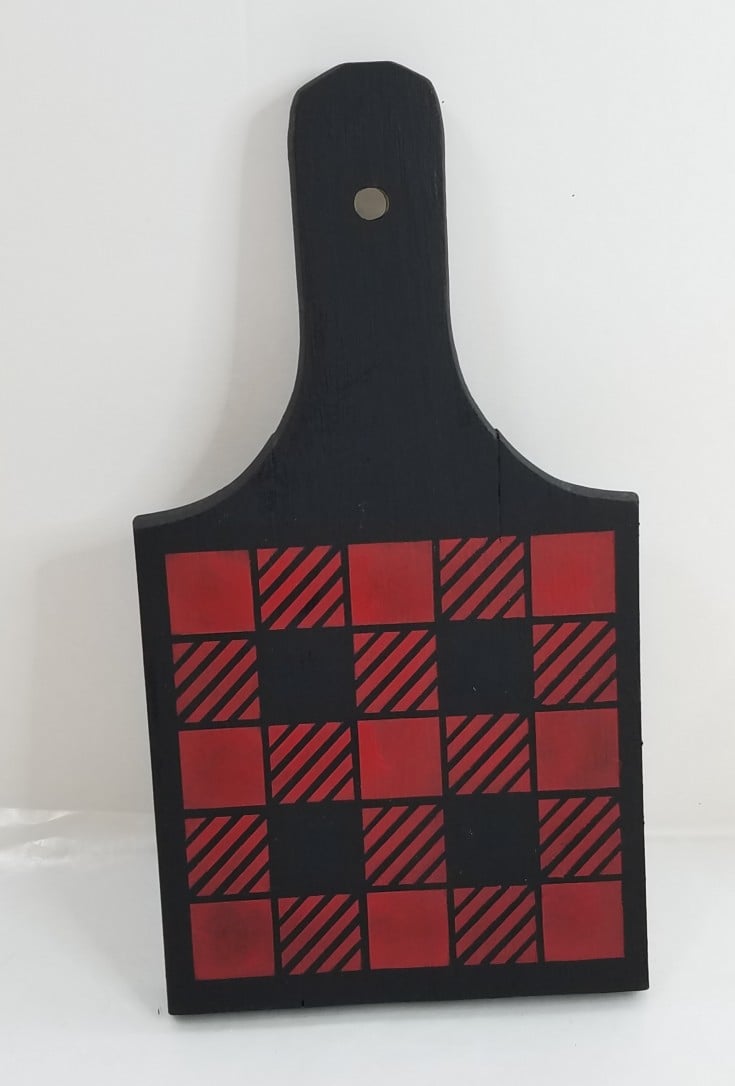 Afterward, I stenciled the word grateful over the buffalo check print using white chalk paint.
That's it for this super easy wooden cutting board makeover! Do you pick up cutting boards at the thrift stores to makeover?
More Cutting Board Makeovers You May Enjoy!
Repurposed Cutting Board and Rusty Grater
Repurposed Cutting Board Decor Valentine's Day
Cutting Board Faux Clock
Chalk Board Pumpkin from a Cutting Board