Hi all! Today I am sharing a collection of St. Patrick's day craft ideas that I have collected from other diy craft blogs. There's lots of fun projects to try from St. Patrick's day wreaths, garland, repurposed jars, leprechauns, and more. Keep scrolling down the page, and click on either the link or the photos to take you to that pacific project.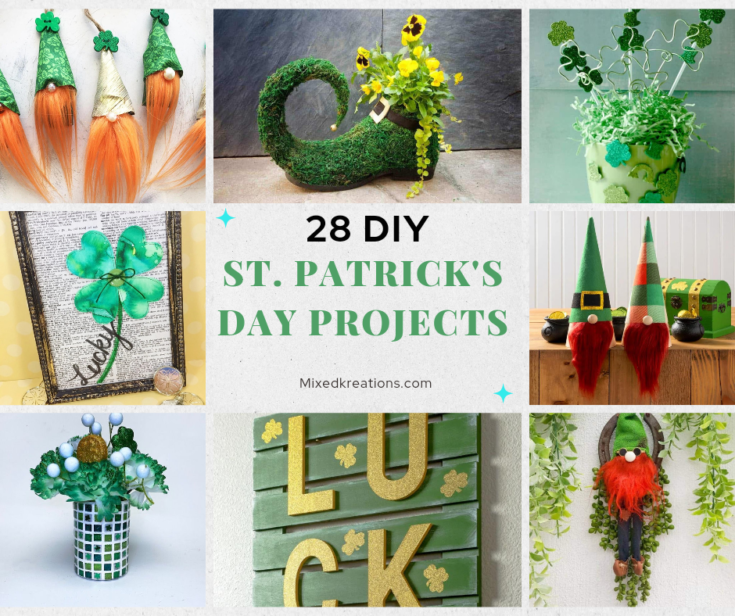 1. Create Easy Watercolor Shamrock Cards with water-based markers for St. Paterick's Day LUCK! Hop on over to Creatively Beth for step by step instructions.

2. Bring the luck of the Irish into your home and make an easy Leprechaun charm. Hop on over to A Crafty Mix for this cute project.

3. Repurpose a shoe that lost it's sole mate into this adorable Leprechaun Shoe planter. Another fun project by A Crafty Mix

4. These lucky St. Patrick's Day Gnomes are so cute and the perfect addition to add to your other seasonal decor. Find this project over at Diy Candy

5. How to repurpose a can into a mosaic vase for St. Patrick's day decor. By Artsy Karma

6. This lucky shamrock sign made from wood can be found over at Artsy Fartsy Mama

7. Here's a DIY framed St. Patrick's day art work made with wood heart cut-outs over at Sustain My Craft Habit

8. Here's a fun St. Patrick's day project made from a thrift store frame and some cork board. By Sustain My Craft Habit

9. If you like crossword puzzles and other activities then you got to check out these printable activities for St. Patrick's day over at ColossalUmbrella
10. Add this easy St. Patrick's Day Good Luck sign made from wood to your seasonal decor by Diy Candy

11. There are so many things you could add to this Lucky St. Patrick's Day Mason Jar gift besides lottery tickets. Fill it up with gold coins, shamrock cookies or other cute St. Patrick's Day treats! So much fun! You can find this fun project over at Bitz N Giggles

12. Decorate for St.Patrick's Day with this Shamrock Tree on Canvas. This shamrock craft makes a fun project to do with the family or friends! Crafts By Amanda

13. Saint Patrick's day garland craft with free templates. Follow easy step by step instructions and templates to decorate your home for St. Patrick's day. By Arty Crafty Bee

14. Create a quick and easy Rainbow Shamrock Wreath for St. Patrick's Day with versatile craft felt by Creatively Beth

15. For more St. Patrick's day craft ideas check out these inexpensive St. Patrick's day Diy decorative spheres made from Dollar store supplies. Check out this project over at Our Crafty Mom

16. If you like to cross stitch hop on over to Craft With Cartwright for 20 free St. Patrick's Day cross stitch patterns.

17. This St. Patrick's day centerpiece is super cute and the supplies can be found at the Dollar Tree. By The How To Home

18. Looking for unique treats to make St. Patrick's Day extra special! Candy Coated Peanut Butter Candies create the perfect backdrop for this magically delicious Mason Jar Leprechaun found over at Creatively Beth

19. This lucky wine cork gnomes by Craftidly are adorable.

20. This pretty shamrock wreath for St. Patrick's Day is made from chunky yarn. Get the how to's over at Finding Zest

21. If you work at a desk this would be a fun way to decorate for St. Patrick's day and a way to store your pencils. By The Gingerbread House

22. Make this cute St. Patrick's day wreath from Dollar Store items. Another project by Our Crafty Mom

23. Super cute 7-minute Dollar Tree craft for St. Patrick's day over at Heathered Nest

24. The Lucky In Love Shamrock shiplap sign is the perfect addition to your St. Patrick's day farmhouse decor. By Drug Store Divas

25. Greet your guest with this beautiful St. Patrick's Day Luck Of The Irish wreath by Ann's Entitled Life

26. Super easy Shamrock Bandana wreath made from a variety of green bandana's for St. Patty's Day by Craftidly

27. This lucky beaded garland is my latest St. Patrick's Day project.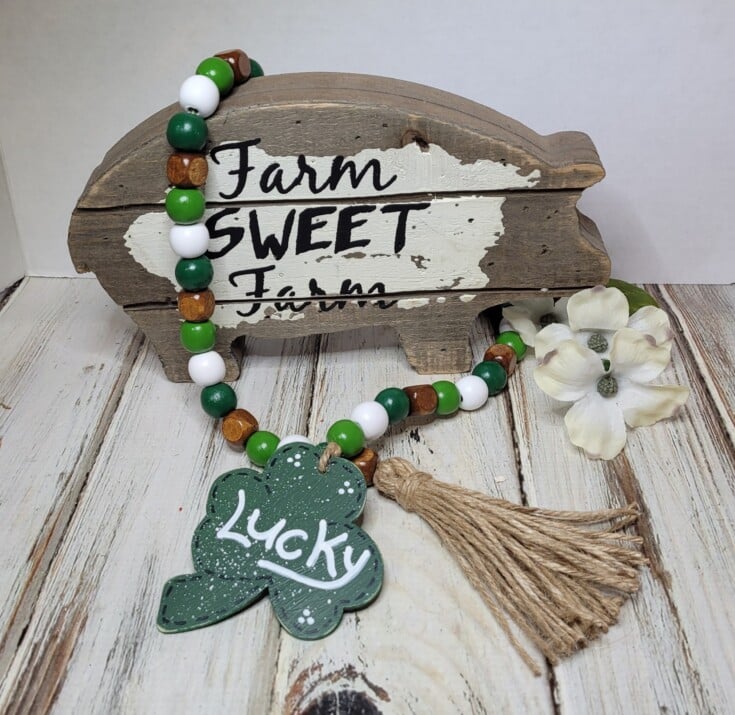 28. Here's another one of my St. Patrick's day craft ideas from upcycled jars. They are perfect for utensils, vases, treat holder, etc.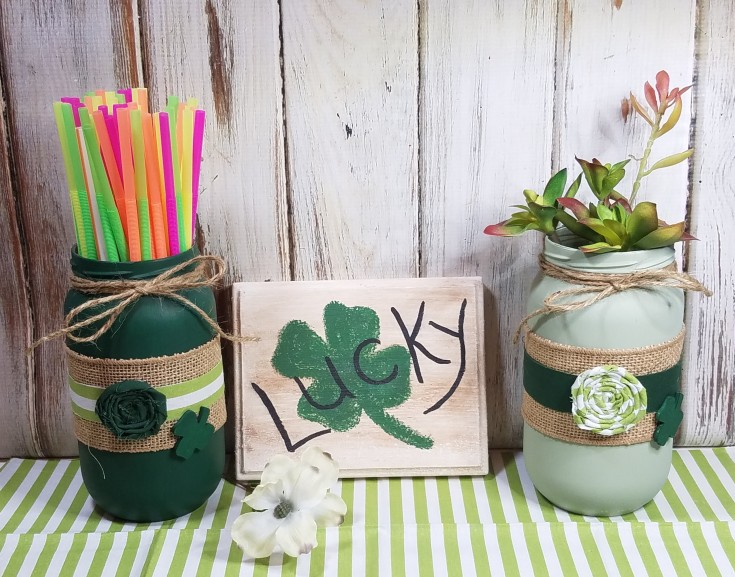 That's it for these 28 St. Patrick's day craft ideas! I hope you enjoyed the roundup and found some craft ideas that you want to try out.
***This post contains affiliate links… We are a participant in the Amazon Services LLC Associates Program, and affiliate advertising program designed to provide a means for us to earn fees by linking to Amazon.com and affiliated sites at no extra charge to you. Please read my full advertising disclosure for more info. Thanks so much for your support!***