How to Make a Candle Sconce Birdfeeder
Hi All! Today I will be sharing a super easy project, a repurposed candle sconce, and saucer birdfeeder. Got to keep my little feathered friends fed so they will continue coming around!
For this project, you will need a candle sconce that you can probably find at any Goodwill or Thrift Store. If you choose a sconce that has several areas for candle than you will need extra saucers for each.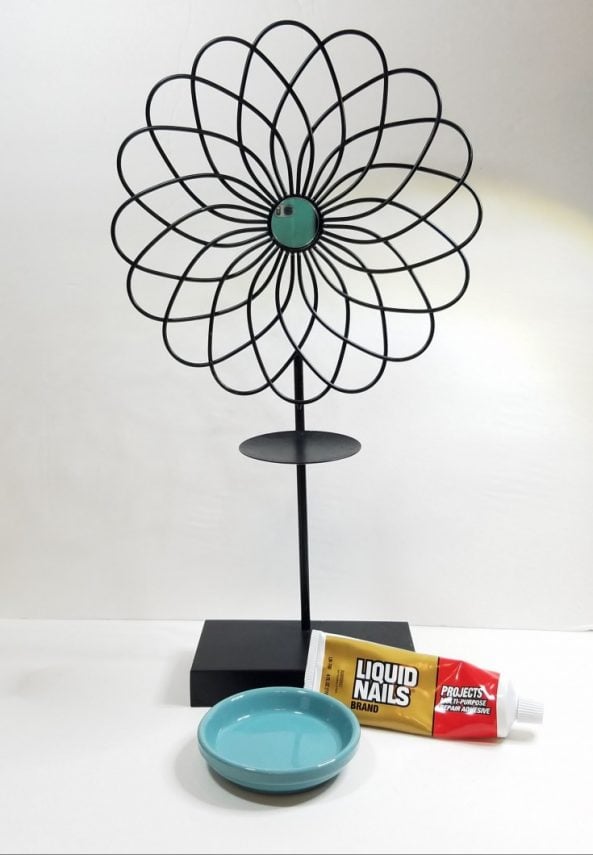 A small saucer and some liquid nails.
Wash and dry the saucer and candle sconce.
Next glue the saucer on the sconce where the candle sits. Let dry overnight.
Find the candle sconce birdfeeder a home out in your yard/garden.
Fill with bird seed and sit back and watch your feathered friends flock to their new feeder. You can tell spring is back because some of my perennials are sprouting up in the background. Yay!
That's it! Easy Peasy way to make a repurposed candle sconce birdfeeder. Have you repurposed any thrifty finds into birdfeeders? If so, I would love to hear about them. I'm always looking for more fun ideas.
***This post contains affiliate links, if you click on an affiliate link & buy something I may receive a small commission at no extra charge to you. The affiliate money I earn helps pay the expenses to keep this site running. Please read my full advertising disclosure for more info. Thanks so much for your support!***
Supplies Needed
One freestanding candle sconce
Liquid nails
Saucer
Birdseed
More Fun Upcycled Birdfeeders
How to make a redneck birdfeeder
Repurposed birdfeeder from two thrift store finds