Hi All! Today on the blog I am going to share a super simple way to repurpose a wooden cutting board. Cutting boards are an inexpensive item that can be found at Thrift Stores and turned into cute signs for next to nothing. Just add a little paint and stenciling. I purchased this one for 50 cents and I'm going to turn it into a Bless This Mess sign with just a few coats of chalk paint and stenciling. Can't get any easier than that for a repurposed cutting board.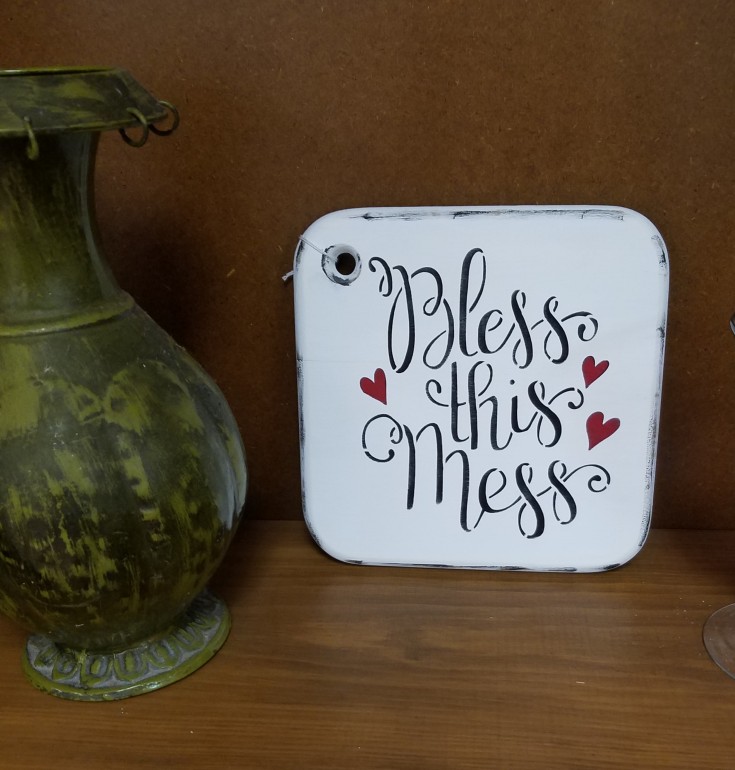 Repurposed Cutting Board
Start off by giving the wooden cutting board a sanding if needed.
Then wash with hot soapy water.
Next, apply the color of choice. I will be using two coats of white chalk paint on both sides.
Once dry I used one of the new stencils that I bought when I was in a stencil buying frenzy on Wish.
Using black chalk paint I stenciled in Bless This Mess.
The hearts were stenciled in using red.
And when everything was thoroughly dry I went back and distressed the edges.
Floated some black around the edges of the hearts.
And added some black paint smudges to the edges of the cutting board, adding to the distressed look of the Cutting Board.
That's it for my super simple Bless This Mess sign made out of a Repurposed Cutting Board.
***This post contains affiliate links… We are a participant in the Amazon Services LLC Associates Program, an affiliate advertising program designed to provide a means for us to earn fees by linking to Amazon.com and affiliated sites at no extra charge to you. Please read my full advertising disclosure for more info. Thanks so much for your support!***
Supplies Needed for Project
Wood cutting board
Chalk paint red, white, black
Paintbrush
Stencil
Stencil brush
Sandpaper
More Fun Cutting Board Makeovers!
Cutting board and rusty grater recipe holder
repurposed cutting board decor
wood cutting board makeover – Grateful
chalkboard pumpkin from a cutting board